Let's take a field trip?... Best field trip ever!...
Susan Zupan - June 08, 2016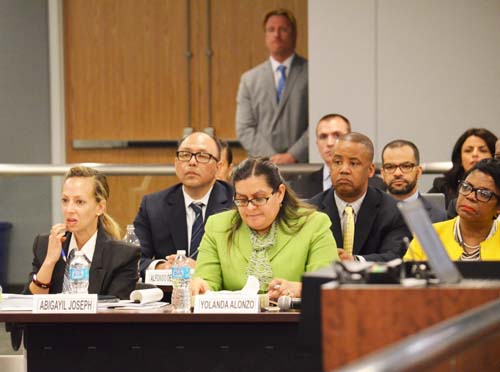 There are ten highly paid "administrators" of the nation's third largest school system in the photograph above. All are paid more than $150,000 per year and oversee the education of the nearly 400,000 children in Chicago's real public schools, charters, and other schooly thingies that are currently awarding "credit" for schooling in Chicago. Only one of the people in the above photograph (taken at the May 25, 2016 meeting of the Chicago Board of Education) has ever taught in a Chicago public school or served as principal in a real school. The rest of them are patronage hirelings. As part of the end-of-the year quiz here, can you identify the one ex-teacher in the above group -- and then give the name and title of all the others (including the guy working in the back)? As a bonus question, please tell how many of those in the above photograph have the title "Chief of Staff." Substance photo by George N. Schmidt.While there may be some actual classroom teachers in Chicago who are ending the 2015 - 2016 school year with a smile, most of us have been stressed out more than ever before. No union contract. Confusion from the "top" of the union leadership (a "flat contract" -- really!). And constant attacks on our profession and professional integrity from a growing number of bureaucrats who have either never taught (starting with Forrest Claypool) or who seem to hate teachers the further they get up in the salary schedule.
It's EOY ("end-of-year" as opposed to BOY and MOY and everything in-between) in the all-season, never-ending testing that takes place in the Chicago Public Schools (CPS). So here is a little teacher-made test for readers of Substance to ask themselves and determine: DO I REALLY-REALLY-TRULY KNOW CPS?
Please read the informational text below. Your task is to determine the general genre category of the text: fiction (as in fake) or nonfiction (as in not fake, ergo, real)? The answer is at the end, but a totally enforceable honor system is in place so try not to peek ahead.
This will serve as a high stakes indication for you to self-evaluate and reflect on whether or not you meet the standard for really-really-truly comprehending what it is like to work in and/or be a student in CPS on any given daily or weekly basis. Scoring is done on an individual case-by-case basis with scores of either 100% or 0%, so you will be thusly self-labeled by a more-or-less, non-50th percentiled, U-shaped as opposed to bell-shaped curve.
DO I REALLY-REALLY-TRULY KNOW CPS TEST?
Time limit: You will need approximately 15 minutes or "as long as it takes." Directions: Begin reading now. When you are done, answer the question below (already given above).
Text Title: Elementary School Attendance Incentive Field Trip
Simple CPS Checklist for Attendance Incentive Field Trip, Including Helpful Q & A Throughout: [ ] Pep Rally. Have a general pep rally for attendance at the end of the day before Spring Break (04-15-16), doing this, of course, after the administration pops into classrooms for official REACH Informal Observations saved for that day. Be sure to launch such an assembly unexpectedly on the faculty and staff and students that very same day.
Especially direct for teachers to have all their students bring their things to the auditorium so they can be jammed into the seats with their bookbags, coats, etc.; everyone will then be able to dismiss after the attendance pep rally in massive amounts from the auditorium in the expected orderly manner as follows such preparations. But don't forget that there is also an already scheduled, after-school fundraiser for kids to purchase chips, etc., on this date, so just add the attendance pep rally into that last-day-before-the-Spring-Break mix now, too. At the rally, be sure to include random encouragement for student attendance on the day after Spring Break (04-25-16)!!!
Mention that there will be a prize.
Remember to make sure that no one knows exactly what, but that it will be something. Let everyone know only that the prize is Network-sponsored. [ ] Announcement of Prize for Attendance Incentive. Be sure to not actually announce that the prize was/is a field trip. Make sure the field trip prize is sprung upon or sneaks up on the school fully two weeks later, the very week of the trip, which will now be on the Friday of the week before THE most high stakes testing is to begin for the school, NWEA testing. Just start passing out field trip forms to the winners on that Monday. Mostly expect the teachers to manage everything else, but realize that, from beginning to end, no teacher input is needed or should be sought for this whole thing.
[ ] Winning Attendance Criterion for Field Trip. The criterion for the CPS/Network-sponsored attendance incentive field trip is that if all the students in a classroom were in school on that one day after Spring Break, all those students can now go on a field trip on another day! Hey! This Friday! Field trips are the greatest thing for kids!! There will be tremendous student excitement generated throughout the school for this trip among the winning classrooms!!!
[ ] Trouble-Shooting Q & A. Q: What about the "non-excitement" or just plain possibly distressed feelings of the students in classrooms that did not win the "attendance incentive" field trip given for that one-day-of-attendance? A: Expect the teachers to manage that as well as their own shock and awe.
Q: What if a student who is otherwise truant in attendance showed up on that day in a class with everyone else there? A: The whole class, including that usually-truant-in-attendance student, gets to go on the one-day-of-attendance incentive field trip, along with their own shocked-and-awed teacher.
Q: What if one student who is otherwise truant or another who is sick or has a family emergency did not show up for attendance on that one day in a class with every other student there? A: No one in that class is allowed on the attendance incentive field trip. Q: What about the students throughout the school who have perfect attendance so far all year? A: Any students with perfect attendance the whole year cannot go on the one-day-of-perfect-attendance field trip if they are in a classroom with other students who did not have perfect attendance on that one day. These perfect attendance students will continue, along with others, to get a pencil or other such appropriate prizes for each month of perfect attendance. The same classrooms that do not contain students who are chronically truant in attendance will continue to over and over receive monthly incentives such as an extra recess. But this grandest of all prizes of a field trip is awarded for only that one special administrative/Network-chosen day of classroom attendance. Why would such a great attendance incentive such as a field trip have anything to do with some 175 other possible days of any students' attendance in a school year?
Q: What if every student in a classroom is present, but CPS's official attendance-taking marks as absent home-schooled students (for various temporary and legitimate reasons)? A: Again, what part of this do you not understand? No one in that class is allowed on the field trip. The class did not have official CPS 100% perfect attendance on the one day chosen for the one-single-day-of-perfect-classroom-attendance-grand-prize-of-a-field-trip incentive contest! [ ] Choice of Field Trip (Where to go? What to do?) For The CPS/Network-Sponsored, One-Day Attendance Incentive Field Trip. School with all its usual academics, for the winning classrooms full of students, will be stopped on this one day, in honor of the other one day of attendance. This is in order for the winning classrooms of students to go to the Girls Softball Big East Championship game (Butler Bulldogs versus DePaul Blue Demons) for which at least one CPS Network was sponsoring the attendance incentive giveaway of free tickets. However, the winning school(s) must now come up with the funds for busses. No, the students have never heard of any of this before. It is only teachers who need to educationally justify field trips, in the context of their curriculum, for which approval is then needed from the Network.
[ ] More Trouble-Shooting Q & A. Q: What if your school is on the border of Indiana southeast and the softball game (which students should genuinely enjoy) is at the Rosemont Horizon northwest of Chicago? A: The kindergarten and other primary grade students from the winning classrooms will be just as fine as the intermediate and upper grade students sitting on a bus for the one-and-a-half hour bus ride there, then sitting in their seats at the game for about one hour to watch approximately 2-3 innings of the game, then getting back on the bus for the ride back so that they can dismiss at their usual time from their school. Q: How will funds be raised for the busses? A: Here's a suggestion: Have the school sponsor "$2.00 out-of-uniform days" for the rest of that whole week and whatever is needed of the next, including taking money to pay for the field trip busses from kids who are not allowed to attend the field trip. The students who aren't going and who might not want to help pay for such a trip can then also feel the sting of being in a school all week in their uniforms with lots of other happy kids around them being happily out-of-uniform as well as happily going on the field trip that Friday. Q: What about the potential for bullying regarding any CPS newly-created classroom situations for some students? A: Those who are left-behind, ostracized, abandoned, disrespected, demoralized and labeled as "the students in the classrooms with the bad attendance," will just have to deal with it. Expect the teachers to manage any of that. If any student(s) in such a classroom circumstance demand(s) to know, "WHO WAS ABSENT THAT ONE DAY!?" expect the teachers to redirect that CPS/Network-sponsored predictable bullying. Perhaps they can ask the students: Does it seem reasonable to hold something like this over/on any other kid's head for his/her one day of absence that no one really knew about? Students should reasonably be able to comprehend that that is not very realistic or fair (or sane), and they should continue to be supportive friends with all of their classmates. However, having had thoughts and discussions about all that, they may become even more outraged at the circumstances of the field trip. The students who were absent on that one day, and thusly according to CPS/the Network were labeled as totally responsible for their classmates not going on a field trip because of their absence, will just have to deal with it. Expect the teachers to manage that.
Just as on the flip side, expect the teachers in the classrooms of students toward whom some might feel one or two should not be going on a field trip (for example, students who exhibit behavior that may be a safety and security risk for self and/or others as per prior and ongoing behavior demonstrations), or many might feel students in general should not be going on a field trip anyhow for just one day of attendance, to manage any inflated, grossly magnified sense of accomplishment. These teachers will also handle the possible emotions of other students, especially siblings, who might feel bad for other students, such as friends and siblings in other classrooms, not allowed to go on the field trip as per the administrative regulations.
Threaten to write up disagreeable teachers.
Q: What if parents speak out against this field trip? A: For inclusive purposes, ask some of those parents whose children are not allowed on the trip to be chaperones, which, in fact, need to be rounded up big time now on such short notice. If any parents do not wish to attend the field trip that his/her child is excluded from, that is their choice. Q: What if one of the teachers of one of the seven classrooms of students excluded from the other ten classrooms going on the trip decides that that Friday now seems like a good day to order pizza for her students for lunch, something they earned with points in their homeroom, but the principal decides to inexplicably deny that request? A: Perhaps the teacher might send an email to the principal informing that s/he will file a grievance and go higher-up within CPS (for what that is worth) to appeal that decision which s/he considers to be only further inexplicable bullying and punishment of his/her students. Also perhaps the teacher might openly remark in the office after dismissal that she will call Channels 2, 5, 7, 9 and FOX 32 to report that a classroom of students can't even order pizza for lunch on a day when they are the only ones left behind from a virtual school-wide field trip in an otherwise abandoned building (and particularly so in said case). Probably, the principal might reconsider. The teacher can then possibly write something up for Substance later.
More Directions: You have completed your first reading of the text. Either reread the text (for a more thorough close or careful reading) or attempt now to answer the question.
QUESTION: What is the general genre category of the above text – fiction or nonfiction?
ANSWER: Nonfiction. Welcome to CPS. Score yourself accordingly. BONUS: Can anyone spell, please, at least for starters: E-L-E-C-T-E-D S-C-H-O-O-L B-O-A-R-D? Further info on CPS schools and/or students in attendance at Girls Softball Big East Championship game from information on DePaul University Athletics website: "There are 800 students coming from CPS Network 13, an enthusiastic contingent that includes students from Dunne STEM Academy and Taylor Elementary School. Dunne students were the winner of CPS Network 13's 'Spring Break Attendance Challenge' while Taylor was the runner-up." Other schools include: CICS-Bucktown (150); Beasley Academic Center (130); Ellington (50); and Budlong (50).