Sheet metal workers reject contract, begin strike in Cook and Lake counties...
John Kugler - June 02, 2016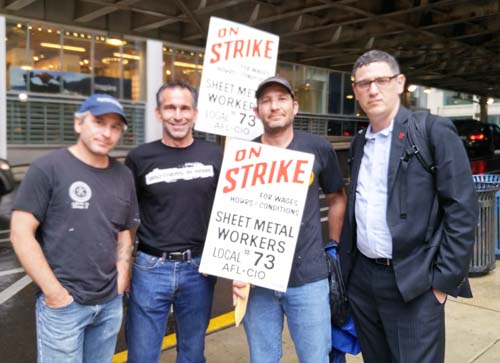 Chicago Teachers Union Vice President Jesse Sharkey (right) joins striking sheet metal workers. Substance photo.Chicago sheet metal workers have rejected an inadequate contract proposal and gone on strike beginning May 31, 2016 in Cook County and Lake County Illinois. Chicago Teachers Union officials and rank and file members are joining the picket lines in solidarity.
PRESS RELEASE:
Sheet metal workers on strike in Cook and Lake County.
CONTRACT REJECTED
*** STRIKE ACTION NOTICE ***
Dear Brothers and Sisters,
As you are aware, our contract agreement between SMACNA Greater Chicago and SMART Union Local No. 73 expired on May 31, 2016.
After the initial contract proposal vote was rejected on Thursday, May 19, 2016, negotiations with SMACNA Greater Chicago reopened. A vote on the 2nd final contract proposal was held on Tuesday, May 31, 2016.
There were 866 votes cast, with 1 spoiled ballot. The final tally is 544 rejecting the proposed contract, and 321 accepting the proposed contract.
Based on these results, the 2nd final contract proposal has officially been REJECTED by the majority of the voting members.
AS A RESULT, EFFECTIVE 12:01 A.M.,
WEDNESDAY, JUNE 1, 2016, SMART UNION LOCAL 73
IS OFFICIALLY ON STRIKE.
ALL LOCAL 73 BUILDING TRADE MEMBERS ARE
ON STRIKE - WITH THE EXCEPTION OF
MEMBERS WORKING AT PLA JOB SITES.
ALL LOCAL 73 BUILDING TRADE SHOPS WILL
BE PICKETED. ALL LOCAL 73 COMPANIES WORKING OUT OF OUR
JURISDICTION WILL ALSO BE PICKETED.
CONTACT YOUR BUSINESS AGENT FOR PICKET SIGNS.
CRAIN'S CHICAGO BUSINESS SAYS STRIKE WILL AFFECT COMMERCIAL CONSTRUCTION ACROSS CHICAGO...
June 02, 2016, Crain's Chicago Business...Strike complicates commercial construction in Chicago, By Micah Maidenberg
Sheet metal workers walked off job sites across Chicago and the suburbs, a strike that promises to slow the pace of building just as the summer construction season swings into high gear.
Members of Sheet Metal Workers' Local 73 started the strike yesterday, according to information the union posted online. The union represents workers who build out duct work used in heating and ventilation systems.
The strike will likely cause big headaches for developers racing to deliver new building projects on time, especially if members of other building trade unions honor Local 73's picket lines and refuse to work until the dispute is resolved.
Developers that fail to deliver new-construction buildings as promised could face penalties as part of leases they've already signed, not to mention angry tenants frustrated by delays.
Rocco Terranova, president and business manager at Local 73, could not immediately be reached for comment. In a posting on Facebook, the union said members rejected a contract proposal from a sheet metal employer group called SMACNA Greater Chicago by a 544 to 321 vote.
Tony Adolfs, senior vice president at the employer association, said the organization doesn't "understand why this contract was rejected and is trying to determine from the union what their demands are moving forward." On its website, the association said union members rejected a three-year proposal that would have raised wages and benefits for journeymen employees from $74.81 to $81.78 per hour over the course of the deal.
Adolfs said the union has about 1,700 active members. Yet not all of them will strike, because some developments are governed by "project labor agreements," which forbid walkouts.
Local 73 told its members to keep working at such locations, which include the forthcoming apartment tower at 1000 S. Clark St. in the South Loop and the luxury condominium building going up at 9 W. Walton St. in the Gold Coast, according to a list the union posted online.
In addition to commercial projects, the strike could affect construction at public buildings such as schools.