Another Flint, this time brought to you by Chicago's City Hall and Chicago Public Schools?... CPS pays $34 Million for 'Safety Consultants' -- but no lead testing before May 2016...
John Kugler - June 01, 2016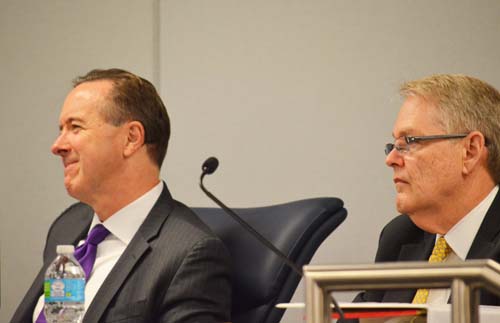 Forrest Claypool and Ronald Marmer at the May 25, 2016 meeting of the Chicago Board of Education. Claypool is "Chief Executive Officer" of Chicago Public Schools. In July 2015 after his appointment by Mayor Rahm Emanuel, Claypool appointed Marmer to be the CPS "General Counsel." Neither of them had any experience in the public schools prior to their getting those jobs in the summer of 2015, after Claypool's predecessor, Barbara Byrd Bennett, had been forced to resign as CEO because of her criminal activities. Substance photo by George N. Schmidt.How big is the "Flint" in Chicago Public Schools? And how long will it be before city and CPS officials make public the complete results of lead testing in the city's massive public school system? Substance News recently received multiple FOIA response from the Chicago Public schools that seem to be uncovering years of neglect and malfeasance when it comes to protecting Chicago children from lead poisoned water in the city schools. In a March 11, 2016 FOIA response, the Chicago Public Schools said they had no records for Lead Testing in the Chicago Schools.
On March 3, 2016 2:13:39 PM, Chicago Public Schools FOIA Center wrote:
Dear John:
RE: Chicago Public Schools FOIA Request N001456-030716 Thank you for using the Chicago Public Schools FOIA Center.
We have conducted a search for records responsive to this request.
No records responsive to your request were located.
If you have any questions, please contact me at 773-553-1602.
Sincerely,
Andrew Manson
FOIA Officer
The lead water testing FOIA request was simple and made on March 7, 2016 at 10:30 pm. My request read:
Please provide a list or records of all test results, including but not limited to, lead and copper of water in all schools and work locations for the Chicago Public Schools from July 1, 2015 to March 7, 2016.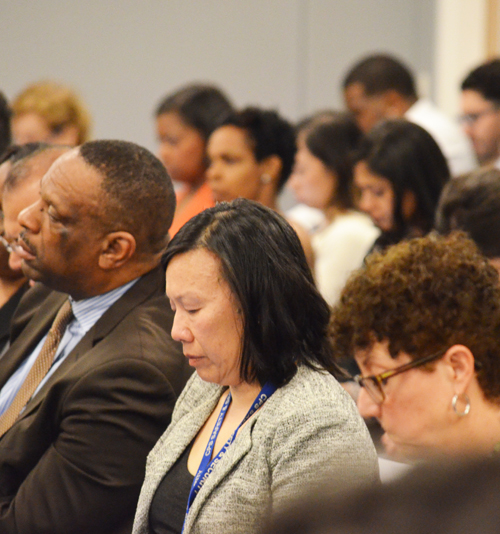 Jadine Chou is the Board of Education's "Chief Officer for Security and Safety." Above, she was sitting with other executives taking up seats supposedly reserved for the "public" during the May 25, 2016 meeting of the Chicago Board of Education. Substance photo by George N. Schmidt.The request could not have been more straightforward or simple.
In other times this information would be ho hum. But since the March 2016 FOIA request, it has been found that on May 17, 2016 at 6:11 a.m. at Tanner Elementary School in the hallway by room 307 on a 2nd water test of the Rheem Richmond drinking faucet was found to be as high as 47.5 (216.67% above) and 114 (660% above) parts per billion. The U.S. Environmental Protection Agency's acceptable standard of is 15 parts per billion.
On May 20, 2016, Chicago Public Schools "Chief Executive Officer" Forrest Claypool sent a letter to Tanner Elementary parents explaining the high levels of lead at that public school. Nowhere in the letter does it say that the water was tested on May 17, 2016. Nowhere, in the letter does it say how long after the test results were received did the water stay on at Tanner school. Nowhere in the letter does it say how long children were exposed to lead water. Tanner students are 98.45% African American. The elementary school is on the southeast side of Chicago.
At this point the story would anger most people. Others would comment by saying, It is another Flint Michigan poisoning black babies, again.
But that is not the end of the story yet. Nor it is the end of this investigation.
In documents received by Substance News after a May 20, 2016 FOIA request that was answered in a four days with the contracts for the lead testing of all the Chicago Schools.
The two companies that will be doing the lead testing for the city schools are Carnow, Conibear and Associates (600 W Van Buren St #500, Chicago, IL 60607) and GSG Consultants (855 W Adams St # 200, Chicago, IL 60607).
Both companies were tasked with testing all Chicago schools for lead in drinking water. The contracts provided by CPS showed safety consulting agreements with both companies from August 1, 2011 through July 31, 2014 and then extended from August 1, 2014 and ending July 31, 2016.
Some people might say "Great! CPS is on top of it. They found a problem, got some companies took into the problem and then fix the problem."
We at Substance News are not most people. After reading over the contracts a few times it became clear as Marcellus exclaimed: "Something is rotten in the state of Denmark."
What was smelly? Could it be the fact that both companies have been paid for safety consulting for more than 15 years? In researching CPS' procurement website and as per CPS in a May 20, 2016 FOIA response that Carnow Conibear and Associates and GSG Consultants are responsible for lead testing in CPS schools.
The FOIA request is below:
Provide all documents, vendor contracts and test results related to the news story on May 20, 2016 regarding lead testing in Chicago schools. After testing 32 buildings in the Chicago Public Schools system for lead in the water and finding one positive result, CPS plans to expand the testing program. (CPS FOIA request on 5/20/2016 7:58:31 PM)
Now is the interesting part in this story.
Remember on March 11, 2016, CPS said there was no lead testing documents from July 1, 2015 to March 7, 2016. Then on May 20, 2016 CPS names two safety consulting companies that are responsible for district water testing. CPS produces signed contracts for safety consulting from August 1, 2011 until July 1, 2016. CPS' procurement website on May 31, 2016 shows payments to these two safety consulting companies going back to 2001. A total of $34,401,206.00 has been paid to these two companies for safety consulting since 2001.
What happened to all the lead testing before May 2016?
Maybe CPS is lying about not having any lead tests before May 2016?
Maybe Chicago is the new Flint Michigan?
Maybe 34 million dollars is not enough money to keep our babies safe from lead poisoning!
CPS Safety Consultants Payments since 2001
No.
FY
Supplier Name
Amount Paid Within Fiscal Year
1085
2001
CARNOW, CONIBEAR & ASSOCIATES,
$2,200,984.00
2781
2001
GSG CONSULTANTS, INC
$1,686,866.00
1021
2002
CARNOW, CONIBEAR & ASSOCIATES,
$1,712,246.00
2706
2002
GSG CONSULTANTS, INC
$831,521.00
1054
2003
CARNOW, CONIBEAR & ASSOCIATES,
$1,345,005.00
2715
2003
GSG CONSULTANTS, INC
$791,976.00
1047
2004
CARNOW, CONIBEAR & ASSOCIATES,
$1,233,468.00
2717
2004
GSG CONSULTANTS, INC
$816,283.00
1108
2005
CARNOW, CONIBEAR & ASSOCIATES,
$879,577.00
2817
2005
GSG CONSULTANTS, INC
$555,478.00
1160
2006
CARNOW, CONIBEAR & ASSOCIATES,
$1,016,280.00
2923
2006
GSG CONSULTANTS, INC
$589,348.00
147
2007
CARNOW, CONIBEAR & ASSOCIATES,
$693,011.00
2910
2007
GSG CONSULTANTS, INC
$821,425.00
1162
2008
CARNOW, CONIBEAR & ASSOCIATES,
$610,400.00
3020
2008
GSG CONSULTANTS, INC
$418,000.00
1107
2009
CARNOW, CONIBEAR & ASSOCIATES,
$1,143,864.00
2829
2009
GSG CONSULTANTS, INC
$203,146.00
1039
2010
CARNOW, CONIBEAR & ASSOCIATES,
$896,868.00
2643
2010
GSG CONSULTANTS, INC
$804,228.00
986
2011
CARNOW, CONIBEAR & ASSOCIATES,
$830,475.00
2511
2011
GSG CONSULTANTS, INC
$569,078.00
988
2012
CARNOW, CONIBEAR & ASSOCIATES,
$962,967.00
2441
2012
GSG CONSULTANTS, INC
$1,342,344.00
887
2013
CARNOW, CONIBEAR & ASSOCIATES,
$1,973,442.00
2229
2013
GSG CONSULTANTS, INC
$2,071,516.00
844
2014
CARNOW, CONIBEAR & ASSOCIATES,
$1,262,651.00
2098
2014
GSG CONSULTANTS, INC
$1,237,074.00
813
2015
CARNOW, CONIBEAR & ASSOCIATES,
$1,361,411.00
2065
2015
GSG CONSULTANTS, INC
$1,593,099.00
735
2016
CARNOW, CONIBEAR & ASSOCIATES,
$1,082,746.00
1880
2016
GSG CONSULTANTS INC
$864,429.00
$34,401,206.00
Source Materials:
Carnow__Conibear___Associates_(8.1.11_-_7.31.14)_Original.pdf
Carnow__Conibear___Associates_(8.1.14_-_07.31.16)_1st_Renewal.pdf
GSG_Consultants__Inc._(8.1._11_-_07.31.14)_Original.pdf
GSG_Consultants__Inc._(8.1.14_-_7.31.16)_1st_Renewal.pdf
Chicago_Public_Schools_Water_Results_20MAY2016_(1)_(1).pdf
https://assets.documentcloud.org/documents/2840854/Tanner-Letter-to-Parents.pdf
http://www.csc.cps.k12.il.us/purchasing/supplier_report_2001.xml
http://www.csc.cps.k12.il.us/purchasing/supplier_report_2002.xml
http://www.csc.cps.k12.il.us/purchasing/supplier_report_2003.xml
http://www.csc.cps.k12.il.us/purchasing/supplier_report_2004.xml
http://www.csc.cps.k12.il.us/purchasing/supplier_report_2005.xml
http://www.csc.cps.k12.il.us/purchasing/supplier_report_2006.xml
http://www.csc.cps.k12.il.us/purchasing/supplier_report_2007.xml
http://www.csc.cps.k12.il.us/purchasing/supplier_report_2008.xml
http://www.csc.cps.k12.il.us/purchasing/supplier_report_2009.xml
http://www.csc.cps.k12.il.us/purchasing/supplier_report_2011.xml
http://www.csc.cps.k12.il.us/purchasing/supplier_report_2012.xml
http://www.csc.cps.k12.il.us/purchasing/supplier_report_2013.xml
http://www.csc.cps.k12.il.us/purchasing/supplier_report_2014.xml
http://www.csc.cps.k12.il.us/purchasing/supplier_report_2015.xml
http://www.csc.cps.k12.il.us/purchasing/supplier_report_2016.xml