Fraudulent LSC voting at Juarez High School challenged... 'We are challenging an election process that was tainted from the beginning in favor of candidates close to the principal and to Alderman [Danny] Solis...'
John Kugler - May 27, 2016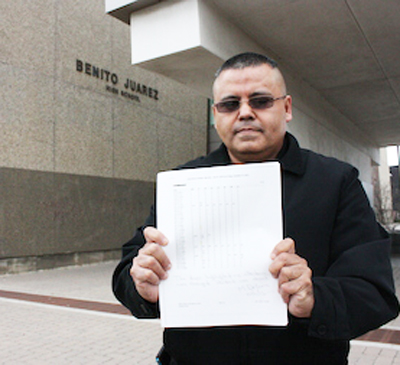 Juarez High School whistle blower Manny Bermudez stands in front of the school with some of the evidence her presented about fraud and corruption in the Juarez attendance counting. Bermudez, whose family has been active in Pilsen for generations, was driven out of the school by the principal, and recently won a grievance in his case. A hearing to rule on allegations of vote fraud and manipulation of the Local School Council (LSC) election for Juarez High School was held at Chicago Public School (CPS) headquarters at 42 W. Madison, on Thursday, May 26, 2016. Community organizers from Pilsen Alliance challenged the balloting and vote count. The claim is that the alderman, Danny Solis, and Juarez officials eliminated many voters while allowing ineligible voters to cast ballots.
One signed affidavit used as evidence in this case shows the fraud during the election process, "I further state that I should not have been allowed to cast ballot based on living outside the Benito Juarez Academy attendance boundaries," that affidavit, signed by Javier Ruiz, stated.
Byron Sigcho, Interim Executive Director of the Pilsen Alliance, made the following statement: "We are challenging an election process that was tainted from the beginning in favor of candidates close to the principal and Alderman Solis. It is unacceptable that we do not have an exact count of votes due to the mishandling of ballots and biased election judges. We had a positive hearing with an arbitration judge and we expect to have another election in the fall."
The "Juarez LSC Post-election Challenge Hearing and the Challenge Petition" was signed by 29 community members alleging the following, all supported with signed witness statements:
#1 i) People who live outside the attendance boundaries were allowed to cast votes in the Local School Council election on April 14, 2016. These were people who were neither parents of a student at Benito Juarez Academy, nor were they students at Benito Juarez Academy over the age of 18.
ii) The failure of the election judges to accurately check the attendance boundaries map allowed for votes to be counted that should not have happened if the election judges had done a better job checking the map.
#2 i) people were allowed to vote at Benito Juarez Academy Local School Council election with only one form of identification in some cases without establishing proof of residency. Furthermore, voters who cast ballot[s] with one form of identification were not provided "Affidavit of Challenged voter for" as required by election judges.
ii) The failure of the election judges to consistently request two forms of identification to all voters, in addition to failing to require voters complete "Affidavit of Challenge voter form" adversely affected [the] election because people who did not provide (2) forms of I.D. and establishing proof of residency were allowed to cast ballots as regular voters who had provided IDs and met requirements.
#3 i) Voters were not explained neither verbally nor visually pointed towards voter directions signs, by election judges that in order for their ballot to be marked valid, they must have S two intersecting lines. Election judges did not inform voters at all, how to mark their ballots. In some cases, voters had to come back to election judges how to vote after they had been provided to the voters.
ii) failure of election judges to properly inform voters how to cast ballots to avoid spoiling their ballots severely affected outcome of election as approximately 50 votes were discarded because voters marked a check mark instead of an x or cross in the vote box. LSC judge training video clearly explained to voters how to vote.
http://cps.edu/pages/LSCelections.aspx
#4 i) Approximately 50 votes were discarded by election judge Mr. Raul Proa allegedly based on putting the wrong marking check R instead of two intersecting lines S. Pollwatchers were denied confirmation that in fact ballots were in fact spoiled. No pollwatcher was allowed to visually determine and verify that the votes were legitimately spoiled.
ii) Since no pollwatcher was allowed within 6 feet of the vote count, serious doubts of the legality of the procedures taken by Mr. Proa undermined severely the outcome of the election. The election judges failed to be transparent as they refused to show pollwatcher the spoiled ballots. They were quickly stuffed in an envelope and forgotten.
Juarez Academy High School is no stranger to fraud and corruption. The school has lost multiple arbitration cases concerning wage theft, counselor reassignments, grade fixing, attendance tampering and retaliatory firings.
In a high profile case, whistleblower Manny Bermudez, the school's Chicago Teachers Union representative, was fired because of his anti-corruption work at the school and his forthright contract enforcement. After Bermudez was fired illegally, the Chicago Teachers Union worked to force the Board of Education to reinstate him to the school with back pay. Only last week, another teacher settled her case of improper layoff for $100,000 in back pay. Manny Bermudez is now fighting against his ratings that have not conformed to his contractual rights which he believes is in retaliation for his winning his job back.
"I don't care if they go after me again, I am ready," Bermudez told Substance. "The LSC case shows what this guy [Principal Ocon] is about. It is really good, he is busted. Just like when he fired me, he was wrong. Justice always wins," Manny commented on the current election fraud allegations.
Pilsen Alliance is located in an industrial area established in the mid-1800s. The Pilsen neighborhood has long been a thriving immigrant community. As the population evolved from Bohemian to Polish to predominately Mexican, the community retained its working-class roots. However, during the past ten years, significant development has occurred in the area, leading many Pilsen residents to fear that the forces of gentrification would soon displace the thriving community they had worked so hard to build. [Additional information is available at the Pilsen Alliance -- http://www.thepilsenalliance.org].