Teach for America booted out of San Francisco's real public schools... Corporate America's attack on veteran inner city teachers facing more and more close scrutiny despite TFA's media hype...
George N. Schmidt - May 13, 2016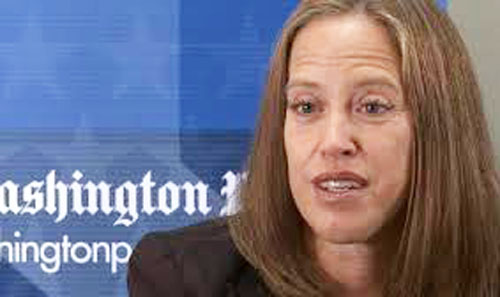 Teach for America's Wendy Kopp (above) has been a darling of the corporate media and in the forefront of the corporate "reform" attack on the nation's real public schools since she created an origin myth about Teach for America. The organization was supposedly started as an idealist's way of getting "good teachers" into the nation's public schools by recruiting the "best and the brightest" out of the Ivy League and other elite universities and sending them into public school classrooms after a five-week summer shake-and-bake program that supposedly gave them the secret tools to be successful. For years, Kopp, like other fervid celebrities created to push the attacks on the nation's real public schools, was featured around the world for a "success" that was mostly a media created myth. Washington Post photo. Despite heavy subsidies from America's billionaires, massive press coverage from the corporate media, and regular support from the President of the United States (and members of his Cabinet), the controversial Teach for America program is facing more and more challenges. The latest comes with a decision by the San Francisco Board of Education to drop Teach for America for the 2016 - 2017 school year. The reasons include regular staff turnover and the simple fact that the TFA "model" makes inner city school children the victims of TFA amateurism.
The summary of the reasons for the elimination of TFA from one of the nation's largest urban school districts was published in a lengthy story in the San Francisco Chronicle: "The city's school board made clear this week that staffing some of the city's neediest classrooms with recent college graduates who are on a two-year teaching stint and with just five weeks of training is no longer acceptable."
As critics of TFA (including this newspaper) have pointed out for more than a quarter century, the TFA hype and the so-called TFA "model" have been a mess since the beginning. It was only because of the massive subsidies from corporate America (and taxpayers, thanks to both state and national TFA promotionals) that the controversial programs has been able to exist for so long. From the beginning, TFA claimed that it could produce successful inner city teachers after a mere five weeks of summer training, because, TFA and its apologists claimed, the organization had a secret method of teaching that had been missed by the millions of veteran teachers across the nation.
In fact, the TFA formula was a case of slumming by rich kids, many of whom then cashed in their "teaching" experience and were placed in power positions from the local to the state and federal levels overseeing corporate versions of "eduction reform." The power of TFA always came not so much from its actual successes in the nation's urban classrooms, but from a combination of media hype and an anti-teacher bias that TFA's propagandists carefully nurtured from the beginnings of the operation at Princeton University a quarter century ago.
SAN FRANCISCO CHRONICLE REPORT MAY 12, 2016...
SF school leaders give Teach for America a time-out, By Jill TuckerMay 12, 2016 Updated: May 12, 2016 7:00am
PHOTO FROM SAN FRANCISCO...Kamaria Carnes (right) of Teach for America high-fives Anderson Aguilar after he finished an oral exam during her eighth-grade English language arts class at Everett Middle School in the Mission District. Photo: Connor Radnovich, The Chronicle. Photo: Connor Radnovich, The Chronicle
The taxpayer-supported Teach for America program, which supplies enthusiastic if inexperienced teachers to thousands of schools in lower-income areas across the country, has fallen out of favor in San Francisco.
The city's school board made clear this week that staffing some of the city's neediest classrooms with recent college graduates who are on a two-year teaching stint and with just five weeks of training is no longer acceptable.
The board had been set to vote Tuesday night on a new contract to obtain 15 teachers for the upcoming school year — after reaching similar agreements each of the last eight years with the national nonprofit, which receives federal grants, private donations and fees from districts.
But before the vote, Superintendent Richard Carranza pulled the contract from consideration, acknowledging he didn't have support despite a statewide teacher shortage and a local need to fill at least 500 teaching jobs by August.
The 15 teachers would have been placed in science, math, special education and bilingual education classrooms — the hardest positions to fill, Carranza said.
"I respect the board's authority to make these decisions," Carranza said in an interview Wednesday. "I just think it's a missed opportunity for us to fill 15 classrooms (with) very scarce candidates out there."
Pipeline of educators
Though the district won't hire any new Teach for America teachers, the 15 heading into their second year will continue to receive support, officials said.
Teach for America, often referred to as TFA, has long been considered a valuable pipeline of new teachers, especially in low-income communities. The young teachers don't have full credentials, but are billed as cream-of-the-crop college graduates with a desire to spend at least two years teaching in some of the country's poorest communities.
But over the past several years, the organization has been condemned by critics, including teachers unions, as a crutch that fills the country's neediest classrooms with inexperienced and cheap labor.
"Our goal as a district should be to get experienced, highly prepared, fully credentialed teachers with a track record of success into our high-needs, high-poverty schools," said school board President Matt Haney. "For now, I believe that we should press pause on our contract with TFA, as we consider how best to address our own challenges of getting the best, most-prepared teachers where they are most needed."
Financial ties questioned
Others, including school board member Jill Wynns, have opposed Teach for America's financial connections to supporters of charter schools and market-based education reform.
Teach for America was started in 1990 by Wendy Kopp, a Princeton University graduate who envisioned a domestic version of the Peace Corps. The organization provides five weeks of summer training before the school year starts, while school districts pay the teachers' salaries as well as a stipend to Teach for America.
Teachers in the program have an intern credential and must enroll in a full credentialing program while they are teaching.
Carranza said he doesn't share concerns about the teachers' lack of experience and training.
"I've seen enough TFA teachers, and some are phenomenal and some need work," he said. "That's no different from any first- or second-year teacher in classrooms I've seen."
San Francisco's current crop of Teach for America recruits includes Kamaria Carnes, who is finishing her second year in the program as an English teacher at Everett Middle School in the Mission District. She studied psychology at the University of Washington, but knew she wanted to teach.
"I really settled on the fact that I want to be in education and work with students really for the rest of my life," she said Wednesday during a break between classes.
Teach for America offered a way for her to gain experience and an income while earning her teaching credential through Loyola Marymount University in Los Angeles. She has support from not only her professors and Teach for America, but also the organization's 100 alumni still working in the district.
Carnes said she has taken on a range of roles at Everett, including starting a student council and helping set the culture and expectations as the eighth-grade lead teacher. No school board members have visited her class, she said.
'Pathway of educators'
Next year, she will remain at Everett as a full-fledged district teacher.
"To lose that pathway of educators is a loss," she said. "Nothing can prepare you for the day to day" of teaching.
District leaders, however, have complained that Teach for America workers contribute to heavy turnover in high-needs schools. Just 17 percent of the program's teachers are still with the district after five years, officials said.
"I actually commend the district and the superintendent for making that decision to back away from TFA at least for the time being," said Lita Blanc, president of the United Educators of San Francisco teachers union. "TFA actually does institutionalize turnover as a way of life."
Yet the school board did not acknowledge that Teach for America teachers are more likely to stick around during those first five years than other instructors, said Beatrice Viramontes, the organization's senior managing director in San Francisco.
Overall, 90 percent of the group's teachers come back after their first year of teaching, compared with 56 percent of those who are new to the teaching profession in general. In addition, most of the program's teachers stay for a third year after their two-year commitment ends, said both the organization and the district.
"It was disappointing that was not acknowledged," Viramontes said. "The thing they focused on was the inexperience and the type of training."
While Teach for America is considered an alternative pathway into the profession, it's not the only one in San Francisco. There are also about 80 interns who are teaching while studying for a full credential.
Demand for Teach for America remains strong in other local districts, Viramontes said, with an expected placement of 180 first-year teachers in Bay Area schools this fall in vacant classrooms, including in Oakland, San Jose and Richmond as well as charter schools in San Francisco.
'Deeply disappointing'
Still, many districts started this school year without enough teachers — and that is likely to happen again, she said.
"The reality is for some schools, principals choose between TFA, which comes with a rigorous selection process and support for two years, or an emergency teacher or a substitute," Viramontes said. "Knowing that emergency teachers and long-term subs may be the reality for some of our students is what is deeply disappointing."