RAHMWATCH: Chicago's Mayor praises 'top Chicago high schools' -- without mentioning their names or daring to go near them because their students and teachers have been leading the anti-Rahm protests!...
George N. Schmidt - April 22, 2016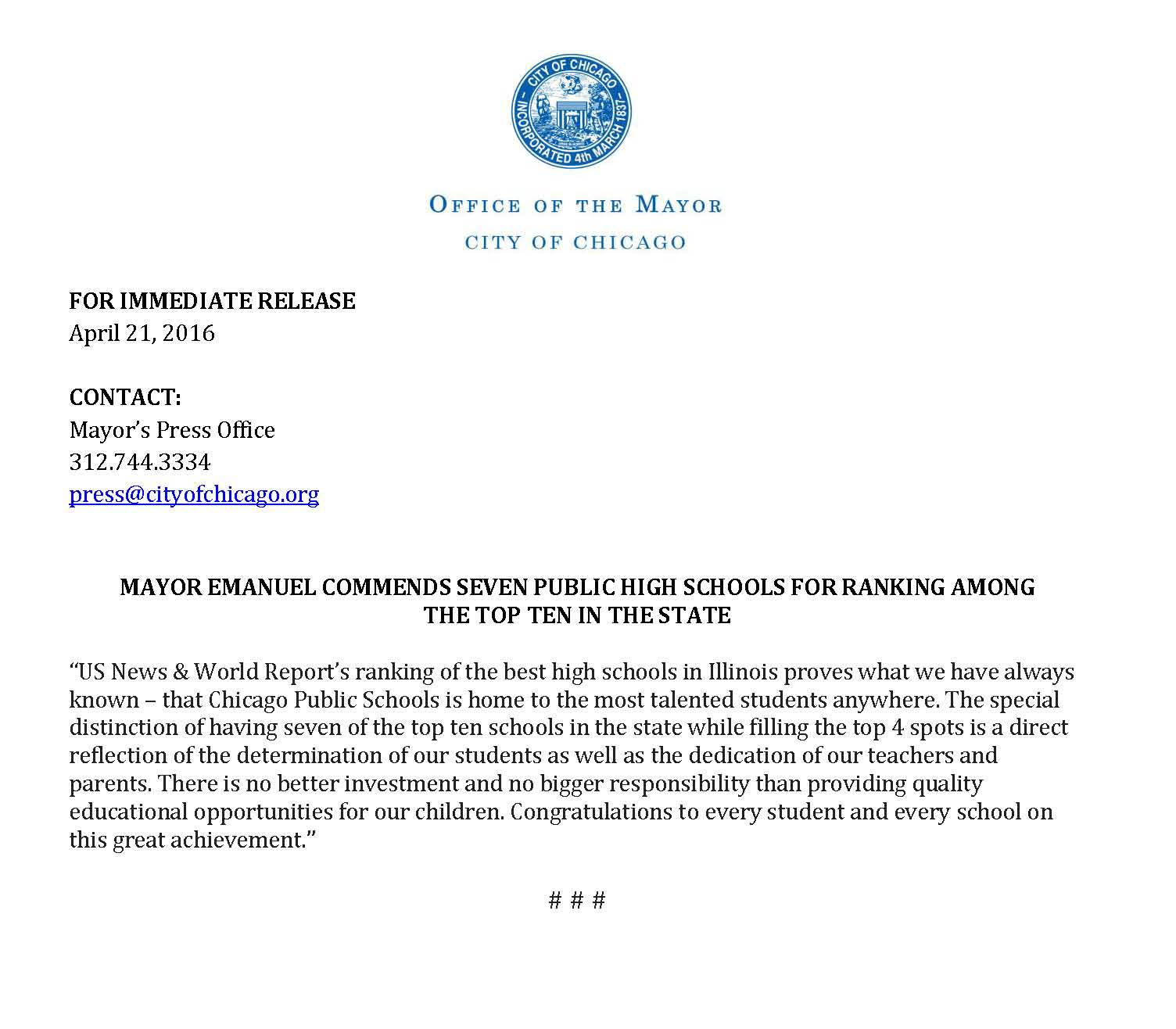 The complete City Hall press release in which Mayor Rahm Emanuel "commends" the top seven Chicago high schools (which include the top four in Illinois) without naming those schools or explaining the source for the rankings. During the previous six months, the "Mayor's Press Office" has devoted dozens of press release and publicity stunts to corporate maneuvers in Chicago, at times even using the corporate logo along with the City of Chicago logo on Emanuel's press announcements. As of early April 22, 2016, Emanuel's Board of Education remains silent on the rankings report, and Chicago's success there.In one of the oddest moments in Chicago's corporate mayor's history, Chicago Mayor Rahm Emanuel issued a press release on April 21, 2016, praising Chicago's seven "top" high schools (according to the latest U.S. News and World Report "rankings"). According to the national report, seven of the "top ten" high schools in Illinois are Chicago public high schools! (No charters, by the way). Yet Rahm's press release praises them -- without naming the schools!
Every the corporate propagandists, the strange City Hall press release (see graphic with this article) raises many more questions than it answers. Considering that Rahm Emanuel has devoted thousands of hours to corporate propaganda, posing with corporate executives (for example, ULTA) who keep their main offices in the suburbs but set up small outposts within Chicago's city limits, the refusal of Emanuel to even mention the famous seven "best" is unusual -- if not outright hypocritical.
Maybe it's because Mayor Rahm doesn't want to lavish too much praise on Chicago's top public high schools?
Of could it be that Chicago's mayor is saddened by the fact that none of his highly touted charter schools make the national list?
Or perhaps Winnetka's most famous former resident is saddened by the fact that his own alma mater -- New Trier High School -- did not make the Illinois top ten?
But there may be other reasons Rahm wants to avoid listing the best high schools in Illinois, since most of the top ten are in Chicago's public school system. But neither Rahm nor his dozen press aides is answering any questions at all about this. And as of April 22, the dozen propagandists at the Chicago Public Schools expensive "Office of Communications" haven't even noticed this bit of good news about Chicago's real public schools...
While Chicagoans will be glad to know that in addition to having (according to corporate reform "data") some of the "worst" public schools in the USA, apparently there is an unexplained paradox in all this, because Chicago also have seven of the ten "best" high schools in the State of Illinois. What this means is not something Chicago's mayor apparently wants reporters asking him questions about.
Here are the Illinois Top Ten (without adding the clutter of the schools' rankings in comparison with the rest of the USA or adding the unusual criteria that U.S. News and World Report utilizes to compiles these beloved listings)...
1 Northside College Preparatory High School, Chicago
2 Payton College Preparatory High School, Chicago
3 Young Magnet High School, Chicago
4 Jones College Prep High School, Chicago
5 Adlai E Stevenson High School, Lincolnshire
6 Lane Technical High School, Chicago
7 Deerfield High School, Deerfield
8 Phoenix Military Academy High School, Chicago
9 Lindblom Math and Science Academy High School, Chicago
10 Hinsdale Central High School, Hinsdale
First, here is the actual list of the top Chicago high schools (and their rankings in Illinois)... The only media report we've read from Chicago on this topic has been in the "Patch", so we're reprinting their report here:
25 Best Illinois High Schools: U.S. News Rankings 2016, Where does your school rank in the 2016 U.S. News and World Report list released this week? Shared from the Chicago, IL Patch
By ILLINOIS PATCH (Patch Staff) - April 19, 2016 10:01 am
Fifteen Illinois high schools rank among the 500 best schools in the nation, according to the annual U.S. News & World Report Best High Schools ranking. The 2016 list was released April 18.
Nine Chicago high schools rank in the top 25 for Illinois, along with 16 suburban high schools. The No. 1 high school in the state is Northside College Prep, ranked 39th in the United States, followed closely by Walter Payton College Prep, ranked 41st in the country.
The highest ranked suburban school is Stevenson High School in Lincolnshire, ranked 166th in the nation.
"The U.S. News rankings include data on more than 21,000 public high schools in 50 states and the District of Columbia," states U.S. News & World Report. "Schools were awarded gold, silver or bronze medals based on their performance on state assessments, their graduation rates and how well they prepare students for college."
The report includes information about curriculum, test scores and student demographics
The No. 1 high school in the U.S. rankings is the School for the Talented and Gifted in Dallas, Texas.
Top 25 Illinois High Schools. State ranking (national ranking)
• 1 (39) Northside College Preparatory High School, Chicago
• 2 (41) Payton College Preparatory High School, Chicago
• 3 (120) Young Magnet High School, Chicago
• 4 (130) Jones College Prep High School, Chicago
• 5 (166) Adlai E Stevenson High School, Lincolnshire
• 6 (172) Lane Technical High School, Chicago
• 7 (229) Deerfield High School, Deerfield
• 8 (234) Phoenix Military Academy High School, Chicago
• 9 (272) Lindblom Math and Science Acad High School, Chicago
• 10 (356) Hinsdale Central High School, Hinsdale
• 11 (362) Prospect High School, Mount Prospect
• 12 (444) John Hersey High School, Arlington Heights
• 13 (452) Evanston Twp High School, Evanston
• 14 (455) Lincoln Park High School, Chicago
• 15 (478) Glenbrook South High School, Glenview
• 16 (531) Buffalo Grove High School, Buffalo Grove
• 17 (548) Highland Park High School, Highland Park
• 18 (554) Libertyville High School, Libertyville
• 19 (580) Lake Forest High School, Lake Forest
• 20 (585) Brooks College Prep Academy High School, Chicago
• 21 (588) Vernon Hills High School, Vernon Hills
• 22 (642) New Trier Township High School Winnetka, Winnetka
• 23 (652) Rolling Meadows High School, Rolling Meadows
• 24 (661) Riverside Brookfield Twp High School, Riverside
• 25 (690) St. Charles North High School, St. Charle