CTU rejects fact-finder's report... Union leadership to hold Monday (April 19) press conference... CTU still stuck because of ancient anti-CTU laws that need to be ended...
John Kugler - April 17, 2016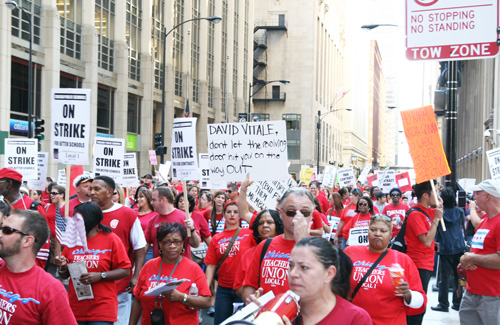 More than 28,000 members of the Chicago Teachers Union went on strike in September 2012. Above, one of the many teacher marches and protests during that event. Above, the marchers are coming down Clark St. in front of what was then the headquarters of the Chicago Board of Education at 125 S. Clark St. Substance photo by David Vance.The Chicago Teachers Union announced in a press release on April 16, 2016 that it was rejecting the report of the 'fact finder' regarding the current negotiations with the Chicago Board of Education. The union's decision thus moves the union closer to the second strike in four years. At the same time, the union and its allies prepared for a major lobbying effort in Springfield. There, the union's political allies have begun preparing Illinois for a progressive income tax and other revenue solutions to the problems of Chicago's public school -- and all other public services in the state.
In addition to a press release to the public, the CTU also sent an email to the members (second item below), reminding everyone that the House of Delegates had already approved the rejection of the fact-finder's report if there were no change from the Board's positions. According to the union, more than 1,000 unions and groups will be going to Springfield on April 20 to push for more revenue for Chicago's schools and other public services.
The union's press release is reproduced below:
Subject:NEWS RELEASE: Chicago Teachers Union Rejects Fact Finder's Report; 30-Day Countdown to Strike Begins Today
FOR IMMEDIATE RELEASE Contact: Stephanie Gadlin, April 16, 2016 312/329-6250 (office)
Board of Ed's Zombie Budget Apocalypse will Destroy Public Education... Neutral Fact Finder's report offers nothing new and is "Dead on Arrival." Union promptly rejects report and statutory 30-day countdown to strike activated
CHICAGO - Faced with a school system in an economic freefall, an extremist governor fighting to destroy Chicago Public Schools (CPS) and the Illinois educational labor law that has tied his hands, neutral Fact Finder Steven Bierig today recommended that the parties reconsider an old CPS contract offer that has already been unanimously rejected by the Chicago Teachers Union's (CTU) bargaining team. This is the same contract offer that even CPS now claims it can no longer afford due to its broke on purpose fiscal policies that have led to zombie budgets decimating public schools. The Union immediately served its Notice of Rejection under Section 12(a-10)(5) of the Educational Labor Relations Act, which means the fact finder's report is dead letter and the 30-day countdown for a possible strike under Section 13(b)(2.5) begins today.
"The clock has started," said CTU President Karen Lewis, who also noted the Union will hold a formal press conference Monday with details to be announced later. "CPS has created this fiscal mess and refuses to go over hundreds of millions of dollars in existing revenue that is already out there. Our wacked out governor isn't helping. Hand-in-hand, both will wind up hurting our members and our students in the long-run. We have no choice to prepare ourselves for a possible strike."
The previously-rejected contract proposal made by CPS on January 29 would result in teachers taking home less in earnings at the end of the proposed four-year contract than they earn today; and, educator take home pay would be less on June 30, 2019 than it was on July 1, 2014, when the last CPS raise occurred. The January 29 proposal also sought to freeze salary steps and lanes, which have been in effect for 50 consecutive years, and eliminate the 7 percent pension pickup, which has been in effect for 35 consecutive years.
Cutting educator compensation is not the answer to CPS's extreme financial problems. The district desperately needs stable, sustainable and increasing revenue to finance its operations. Without it, mayor's handpicked Board of Education can't afford any contract proposal, even its own. Mr. Bierig noted in his report that CPS now says it cannot afford its own January 29 proposal any more. In his dissent to the Neutral Fact Finder's report, Union panel member Atty. Robert Bloch noted that "CPS finances have surpassed the danger zone and are now nearly at meltdown. We need revenue solutions to finance public education, not more cuts to the system, which has already been cut well past the bone and now threatens the vital organs."
The fact finder released his report today immediately following the CTU's notice of rejection. Under the Educational Labor Act, the 30-day countdown for a possible strike begins meaning the earliest public school educators could withhold their labor is May 16 about a month before the school year ends. The Union is not required to strike, but it has the right to strike at the conclusion of this 30-day period, provided it first serves upon CPS a 10-day notice of intent to strike. The Union's membership has already authorized a strike; and, should one be necessary to secure a fair contract the CTU House of Delegates will deliberate to set the date of the strike.
Lewis added, "We have to talk to our people. We don't know if we are going to force the school year to a close now or strike when the next school year begins. Either way, we won't be held hostage by the Board's zombie budgets. They need to go after the banks, TIF funds, and other forms of short- and long-term revenue that is sitting right in front of us. If they are serious about helping our students and preserving public education in our city then they will do everything they can to stabilize our schools---and that does not mean hurting teachers, paraprofessionals and clinicians over and over again."
Note: Media will be notified Monday, April 18th, of the time and location of the formal news conference to release further details of the CTU rejection of the fact finder's report. No other comments will be made until that time.
CTU APRIL 16 EMAIL...
Today, fact-finder Steven Bierig released his report of recommendations for our next contract. The recommendations were virtually unchanged from the district's proposal earlier this year, which the Chicago Teachers Union bargaining team rejected for its failure to address the difficult conditions in the schools, the lack of services to our neediest students and the long-term fiscal crisis that threatens to gut public education in the city. As a result, CTU leadership has rejected the current recommendations, which we signaled we would likely do in yesterday's communication.
As we anticipated, Bierig kept his report within the same narrow scope in which Chicago Public Schools prefers to talk about our contract, limiting the horizon of what is possible for our schools and our city. Our House of Delegates previously authorized CTU officers to reject the fact-finder's package of recommendations if it did not meet three basic criteria. In order to be acceptable the package would need to:
Create enforceable class size limits so the Chicago Board of Education doesn't increase the number of students in our classrooms through attrition and layoffs.
Be economically reasonable. Educators have to live in the city, pay property taxes and dedicate their lives to this incredible profession. We cannot accept a situation where our standard of living is lower by the end of a multi-year contract than at the beginning.
Close devastating loopholes. The biggest drivers for the district's fiscal crisis are charter expansion and debt service. We need a real charter moratorium, an end to school closings and consolidations, a dedicated pension levy, and a commitment to enacting progressive revenue solutions to stabilize our schools for the long-term benefit of our students and their educators.
The CTU will continue to update our members on developments at the bargaining table and among lawmakers as they progress. We will also continue to organize for our members, even as you enjoy a well-deserved spring break. If you plan to be in town this Wednesday, April 20, please join us and more than 1,100 union and community groups to build our solidarity and our collective power in Springfield. Sign up to get on the bus at the CTU website.
Finally, please note that rumors sap our strength. The stakes are high for our schools, so it is understandable that our members are anxious about the present and the future. One result of anxiety is that rumors begin to proliferate. At the CTU, we are hearing a number of unsubstantiated and untrue rumors that appear to be in circulation. Unless you hear confirmation from CTU leadership, please do not give them force. If you hear a rumor, talk to your delegate. Anything that sounds serious or credible should be communicated to your school's field representative or organizer for union staff to pursue.