Working class solidarity at Nabisco...April 1 press conference at the 'Nabisco' plant on the Southwest Side calls for boycotts of corporations that export Chicago jobs after getting tax breaks from the State of Illinois...
Susan Zupan - April 02, 2016
Chicago Teachers Union Financial Secretary Michael Brunson stands with Edward Burpo of the bakery workers union as the CTU helps lead protests against the export of Chicago jobs to Mexico by the owners of the Nabisco plant. Substance photo by Susan Zupan.The 10:30 morning rain on April 1, 2016 did not dampen the spirited chanting of a couple hundred picketers flanking both sides of Kedzie Avenue outside of the Nabisco plant located at 73rd Street and Kedzie Avenue on Chicago's southwest side. Rivers of red clothing ran along both sides of Kedzie as Chicago Teachers Union (CTU) members, as part of their one-day unfair labor practice strike, joined with Chicago Jobs with Justice, United Electrical Workers (UEW), and the Bakery Confections, Tobacco, and Grain Millers (BCTGM or "the Bakers' Union") International Union Local 300.
A three-person percussion band, set up under a rain tent, joined in the rally, as well as bazillions of supportive honking cars, trucks, and other vehicles driving on Kedzie Avenue this morning. All joined together to protest the recent layoffs of 300 workers. In July of 2015, this same Chicago plant shipped 600 jobs to Mexico. In 2015, a Nabisco bakery in Philadelphia was closed.
Before this reporter arrived at the plant, after picketing at her own school as a teacher as part of our first actions for the day, Nabisco workers were scheduled to join the CTU picket line at Tarkington, a nearby PreK through Grade 8 elementary school located at 3330 W. 71st Street. Afterward, they would then march together to the Nabisco plant.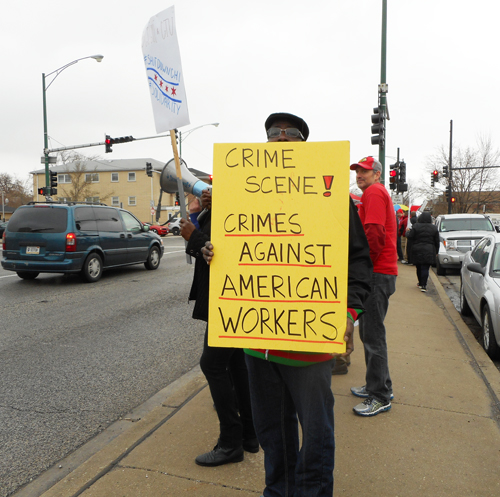 One of the most poignant signs held during the protest at the Nabisco plant on April 1, 2016. Workers were reminded that the promotion of so-called "free trade" by the administrations of Bill Clinton and Barack Obama had resulted in the injustices being dramatized by the protest in conjunction with the CTU. Clinton pushed "NAFTA" (which allowed the export of millions of jobs, first to Mexico) and Obama is still promoting "free trade" (this time, through the Pacific) based on the same international capitalist ideologies. Substance photo by Susan Zupan.Presidential candidates Bernie Sanders, Hillary Clinton, and Donald Trump have each in his/her own manner weighed in on the Chicago job losses from Nabisco, which is part of a portfolio of the Mondelez International food conglomerate based in Illinois. Today, a few local leaders, introduced by Susan Hurley of Chicago Jobs with Justice, weighed in on American worker themes of the loss of living wage jobs at Nabisco, for mostly Black and Latino communities and Chicago workers. She noted that the protest was about those jobs leaving Chicago and Illinois, as well as the United States -- from a company that received tax breaks from Chicago and Illinois supposedly to remain local.
Michael Brunson, Recording Secretary of the Chicago Teachers Union, told the crowd that he had previously worked at "Nabisco." He said that he as others would always call "Nabisco" -- as opposed to "Mondelez". He worked there for about 18 years, he told those at the protest. He said he worked with some of the best people he's ever known -- aunts, uncles, "it was a family business."
He was there in 1993 when Nabisco was given $90,000,000 in tax breaks.
Oreo is the #1 cookie, and Premium crackers are the #1 cracker. But now the company is going to pick up and leave, with jobs for Black and Latino workers accounting for 70% of the plant? He asked aloud to Governor Rauner, "You say you want jobs in Illinois? Well, jobs and people are leaving Illinois. Stop allowing them to leave."
He encouraged the workers at Nabisco to not let them divide-and-conquer you – White against Black, Black against Brown, young against old, degreed against non-degreed. Stand together. Stand up.
Edward Burpo, President of BCTGM Local 300, said that the plant had been there for 60 some years; he had been there for 40 of those years. Thousands of American workers made Oreos the greatest cookie, but now the company was leaving the country for Mexico? That was putting America last. We need to put America first. Especially with education, politicians needed to put America first. The next generation were the kids getting their education now. If Governor Rauner put them first, they'll put what's best for America first.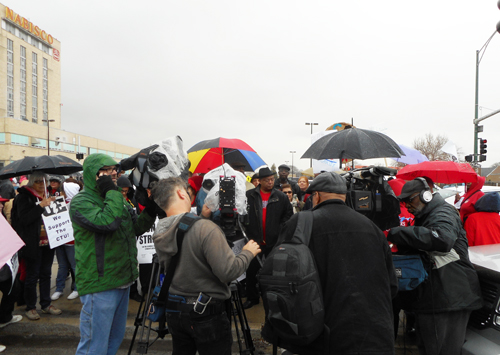 Standing in the shadow of the huge sign over the factory where he worked before becoming a teacher, CTU Recording Secretary Michael Brunson hosts a well-attended press conference during the union's "Day of Action" on April 1, 2016. Brunson and the other speakers reminded the public that the owners of the "Nabisco" plant were exporting American jobs to Mexico after the corporation that owns the plant in Chicago received massive tax breaks supposedly to keep the jobs in Chicago. Substance photo by Susan Zupan. Burpo urged everyone to "buy American", and, particularly, American-made food products. Sabrina Polk, a 36-year worker at the plant, a mother of two sons, spoke of an atmosphere at the plant that had become "horrible" due to the job losses along with management pitting groups against other groups (as described by Michael Brunson above). She said that they stood with CTU in fighting for job security, healthcare benefits, and pensions.
Reverend Jesse Jackson, Sr., Rainbow PUSH Coalition, asked, "When is enough enough?" Jackson was commenting on consumer consequences and union-made products. He reminded everyone that in April 1968 Dr. King was killed while working for living wages for American workers, sanitation workers in Memphis. Fifty years later, more and more have less and less, but those making more and more were paying less and less taxes. He commended teachers for leading the way. We will have more demonstrations. We are not alone. We will help make America better.
Expanding the issues in his speech, Rev. Jackson noted how much Chicago was paying for its mistake. Instead of $600 million for police misconduct, he said, we need to invest in education. The greedy were taking jobs to Mexico. Slave labor must not be allowed to undercut organized labor. They may not take jobs from us. We will not surrender. In Dr. King's words, "Keep hope alive."
The following is further information sourced from the In These Times report and commentary "As Nabisco Skips 600 Jobs Out of Chicago to Mexico, Maybe It's Time to Give Up Oreos" by Marilyn Katz (July 31, 2015): Mondelez CEO Irene Rosenfeld's salary in 2014 was $21 million. If she "could learn to live on $2 million a year, that $19 million could be used to save 600 jobs…" at their sustainable wages [for the workers] of up to $26 an hour. From another perspective, Rosenfeld's salary "would take any worker in the plant 500 years to earn." Marilyn Katz wrote: "I won't be eating Oreos. A small and ineffective gesture, perhaps…" One strong message from today's Nabisco rally and press conference? They don't make it here? We don't eat it here. They don't make it here? We don't buy it here. Mondelez International made $11.5 billion in profits in 2015