Vallas admits he's been a Republican for years. Will America's privatization mayor -- Richard M. Daley -- be next?
George N. Schmidt - February, 2009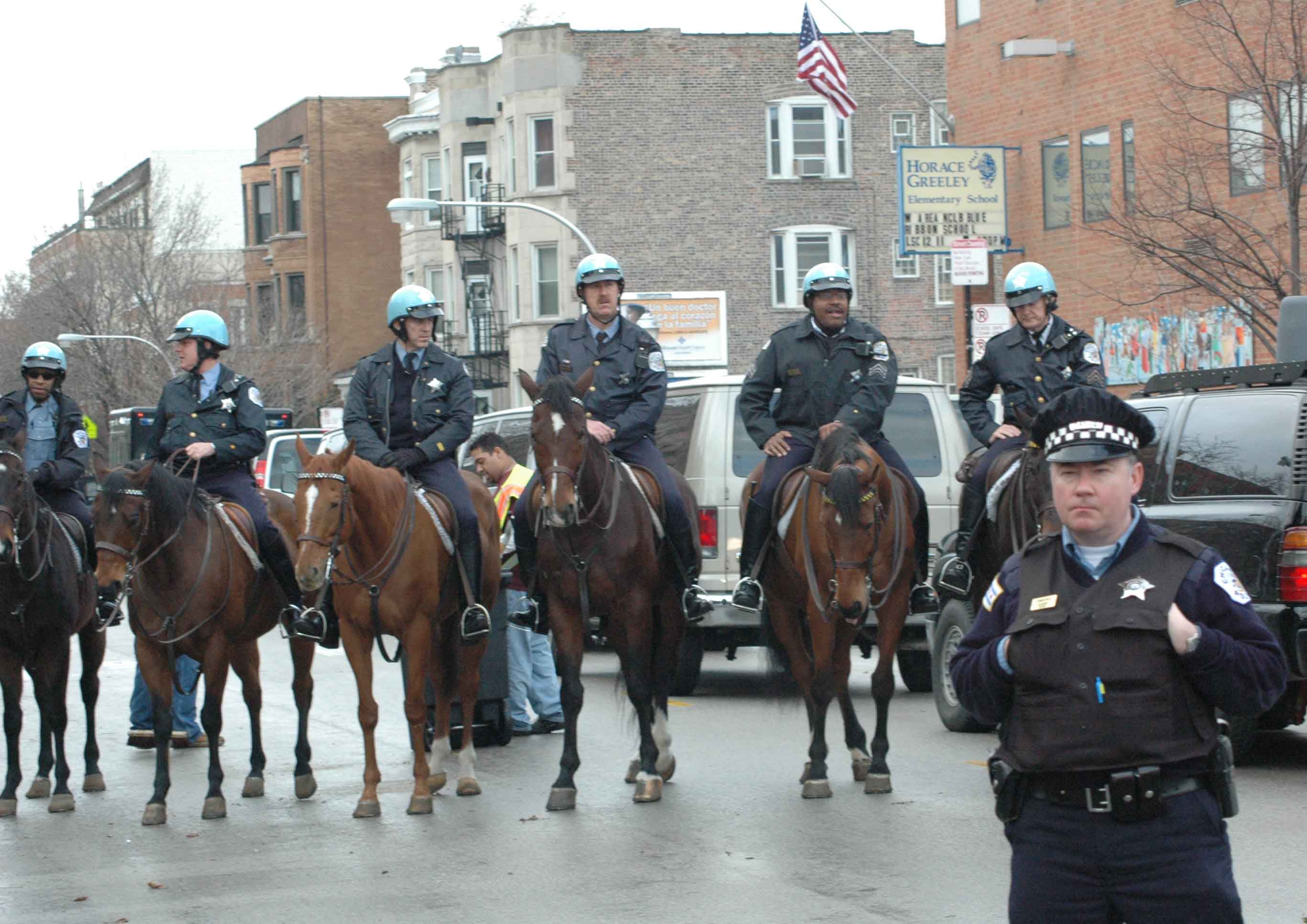 When then-President George W. Bush needed a secure backdrop for the celebration of the anniversary of No Child Left Behind, Bush chose Chicago, not a Republican city, because Chicago's mayor Richard M. Daley had most closely followed Republican prescriptions for corporate "school reform" and because Chicago could provide Bush and Daley with the kind of massive security that would keep militant protesters away. Above: While Bush appeared inside the Horace Greeley School in Chicago with Daley and Congressman Rahm Emmanuel, Chicago and federal security had the school ringed with layers of security, including the horse cavalry above. Snipers were seen on the roofs surrounding the schools. Substance photo by George N. Schmidt. In a media blitz that continues the hagiographic coverage of the career of Paul G. Vallas in Chicago's corporate media, Vallas told the Chicago Sun-Times on February 4 that he was going to return to Chicago to run for President of the Cook County Board and told Sun-Times columnist Mark Brown on February 5 that he has always been a closet Republican.
"'I've always been comfortable with the Republican Party, and I've always worked closely with Republicans,' Vallas said, citing his work with the Illinois Legislature," Brown reports in the April 5, 2009, Sun-Times at Page 8. "As far as a philosophical awakening, Vallas said there was none," Brown continued. "...Vallas said he has always been a conservative Democrat who favored Republican-backed education measures such as school choice and charter schools and has 'never opposed vouchers.'"
Substance provided readers with large amounts of information regarding the corruption of Chicago "school reform" during the years that Paul Vallas served as Chief Executive Officer (CEO) of the Chicago Public Schools. Some of that material is collected in the March 2002 Substance (available at our "old" Web site at http://www.substancenews.com/archive/March02/index.html) under the headline "The Paul Vallas Hoax." Despite the numerous examples of corruption during the Vallas years, Chicago's corporate media continued to give Vallas good publicity, while law enforcement agencies including Cook County State's Attorney Dick Devine and Illinois Attorney General Lisa Madigan failed to investigate numerous instance of corruption that were reported under Paul Vallas at CPS.
Daley brags about massive privatization giveaways of public assets
In the same edition of the Sun-Times, Chicago's conservative mayor, Richard M. Daley, is quoted complaining about city workers who are not willing to work unpaid overtime. Defending the most massive privatization of public assets of any city in the USA, Daley said that he has been privatizing because city workers don't serve 'customers' well. According to an article by Fran Spielman ("Mayor: City employees no match for private sector", Chicago Sun-Times, February 5, 2009), "Mayor Daley said Wednesday that he unloaded four of Chicago's most valuable assets for a $6 billion mountain of cash, in part, because city employees are clock-watchers who don't think about the customers."
During the past decade, Daley has sold off the Chicago Skyway, Midway Airport, the city's downtown parking garages, and, most recently, the city's parking meters is a massive privatization thrust.
In the public schools, which he did not mention in his words to the Sun-Times, Daley has been privatizing public schools as quickly as possible by closing down regular public schools on any pretext and flipping the buildings and other assets into the hands of private operators -- mostly but not all charter schools -- after the city pays millions of dollars to renovate the structures. The most ambitious of the mayor's plans to privatize public education in Chicago is called "Renaissance 2010." Developed by the Civic Committee of the Commercial Club (Chicago's Business Roundtable), "Renaissance 2010" has declared that all public schools are a failure and should be replaced by private charter schools.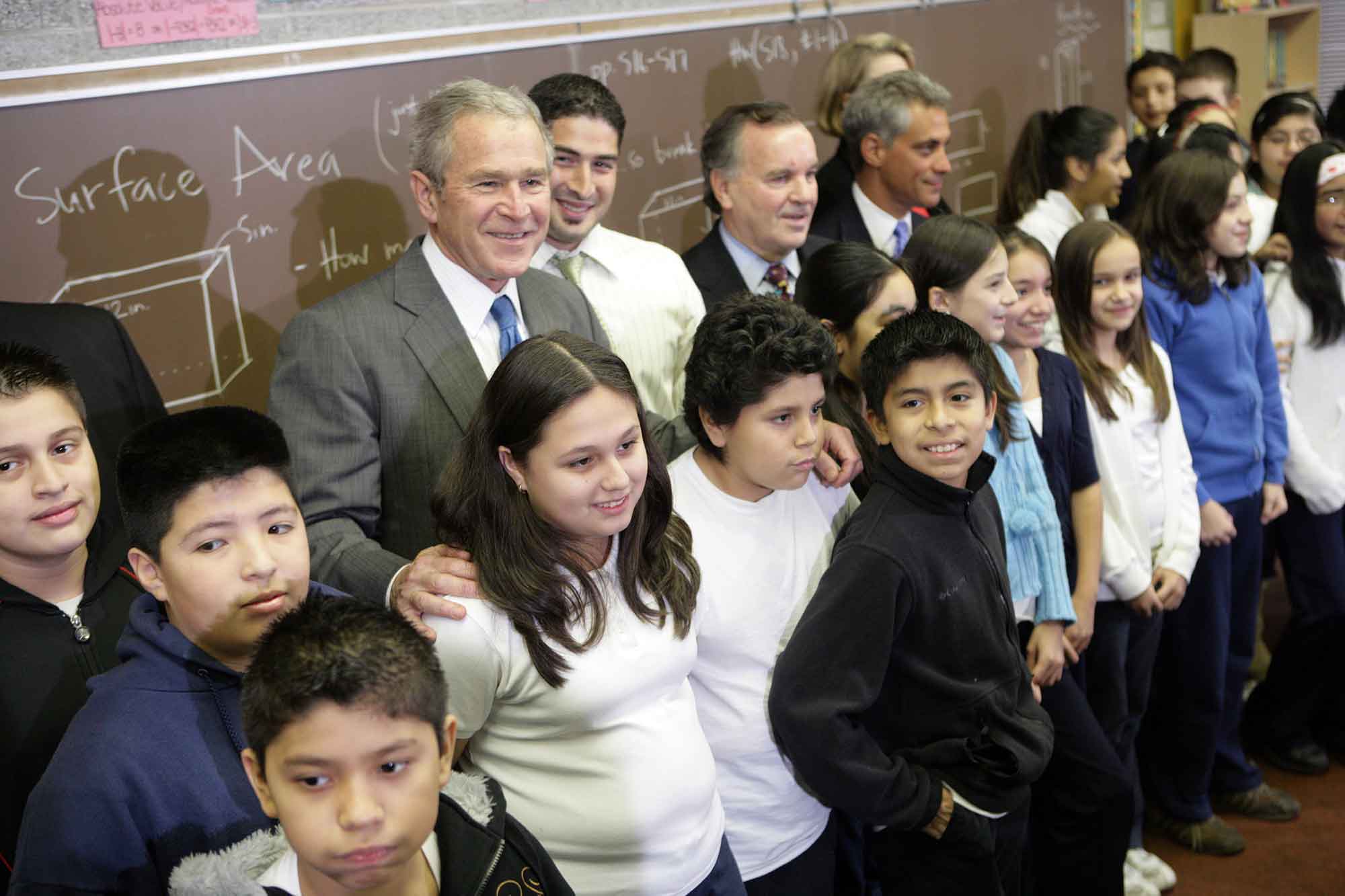 President George W. Bush at Chicago's Horace Greely Elementary School on January 7, 2008, to celebrate the sixth anniversary of No Child Left Behind. Bush chose Chicago because it had been the Bush administration's big city choice district for seven years. Left to right standing behind the children: U.S. President George W. Bush, Greeley Elementary Principal Carlos Azcoitia Jr., Chicago Mayor Richard M. Daley, Congressman Rahm Emmanuel. Obscured behind Emmanuel is U.S. Secretary of Education Margaret Spellings. During the Bush years, Chicago received tens of millions of dollars in extra U.S. school funds to promote privatization, charter schools, scripted learning programs, and merit pay. Congressman Emmanuel, now White House Chief of Staff, provided earmark funds to Chicago to promote Mayor Daley's military high schools program. Photo courtesy of White House Press Pool, provided to Substance. In January 2008, then President George W. Bush chose Chicago as the site for his 'State of the Schools' speech on the anniversary of the 2002 passage of the federal "No Child Left Behind" law, telling reporters that he and Mayor Daley had always agreed on how to reform education.
Duncan promoted Republican administration's merit pay program for Chicago teachers
The most recent appearance of a major Republican education leader in Chicago came a week before the December 16 announcement that President Barack Obama was appointing Chicago schools Chief Executive Officer Arne Duncan as U.S. Secretary of Education.
On December 11, 2008, Chicago schools chief Arne Duncan made his final appearance on a public platform with outgoing U.S. Secretary of Education Margaret Spellings. Appearing at the Westcott Elementary School on Chicago's South Side, Duncan was joined by Mayor Daley, Chicago Teachers Union President Marilyn Stewart, and others to give out checks to teachers and other school staff for the completion of the first year of the REAL program, a teacher merit pay plan endorsed and funded by the U.S. Department oif Education.
THE COMPLETE TEXT -- WITH ALL GRAPHICS -- OF THIS ARTICLE WILL BE PUBLISHED IN THE FEBRUARY 2009 PRINT EDITION OF SUBSTANCE. THE PRINT EDITION WILL BE MAILED TO ALL SUBSCRIBERS ON FEBRUARY 17, 2009.