'Thank you for you patience... your estimated wait time could exceed 30 minutes...' but actually runs to nearly two hours for CPS in January 2016...
George N. Schmidt - January 14, 2016
As I write this, I've been listening to a recorded phone message from CPS since 11:20 a.m. It's now 12:50 p.m. The current owners of the CPS "Talent Office" have created what one day would have been a satire on the "Your call is very important to us..." rif from corporate America. But this would even be rejected by Second City of Saturday Nigh Live. The phone is on speaker so I can do other things, including writing this article. We just received, again for the 60th or 100th time, the message that says: "Thank you for your patience. We are experiencing very high call volume today. Please stay on the line..."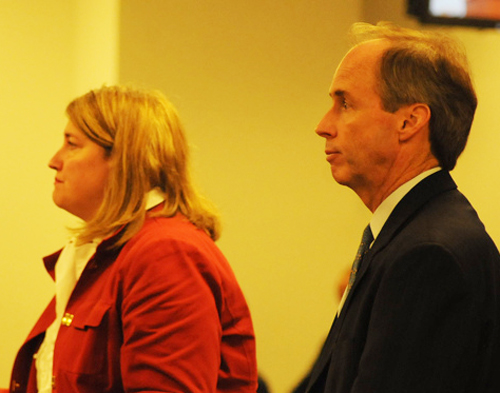 Although the Chicago Board of Education approved an escalating number of privatizations of basic services during her time as "Chief Human Capital Officer" at CPS, during those years her office (which changed its name to the "Talent Office" by the end of Winckler's time) generally maintained the staff and hours to do its basic services, from teacher hiring to substitute teacher services for the schools. Since Winckler left two years ago, following the escalation of the privatization policies of the Board of Education after Rahm Emanuel became mayor, the privatization of the "Talent Office" has fundamentally undermined all of the services once assumed to be central to the delivery of public schools services in the nation's third largest school system. Substance photo from a meeting of the Chicago Board of Education by George N. Schmidt.Only this is not satire, or a joke. The CPS robot currently has several voices, and three or four messages, all of which say they are thanking me for my patience. Then they say (depending upon something they don't reveal) that the "wait time" is either "30 minutes" or "20 minutes," or "ten minutes." Right now, as of 12:52 a.m., the voice told me that my "estimated wait time" is "approximately ten minutes."
The reason for this is that yesterday, we received a phone call from Vital Rehabilitation Services, which has been providing me with physical therapy after I was cleared by the therapists and nurses from home visits following my hip replacement surgery. The surgery was done on November 16, 2015, and I was in post op and then at Avanti for about a week. I am on my wife Sharon's United Health Care CPS police (Health Plan 80840, etc.).
On January 13, 2016, I received a phone call from Vital Rehab. They said that my insurance was not honoring the claim for my therapy. I had a prescription from the surgeon who performed the operation for three days of therapy for eight weeks. The therapy began on January 4 and I had had five sessions by the time they called to say I couldn't come in again until the "problem" with the medical insurance was cleared up. I told them I would call United Health tomorrow and find out what is going on.
At around 11:00 this morning (January 14, 2016) I called United, and almost immediately was talking with a human begin. She told me that our family's policy had been cancelled by CPS on December 31, 2015! She said that we would call CPS "Human Resources" (most recently called the "Talent Office") together.
And then this odyssey began. I told the United Health Care representative that I would stay on the line with her at she dialed the CPS number they had at United Health Care. She dialed, and we both were put on hold. I set the telephone to Speaker so I could listen while doing other things.
That was at 11:20 a.m.
Now it's 1:00 p.m., and I'm still listening to the CPS messages. When they are not thanking me for my "patience," CPS is announcing that it is holding "regional arts day" for parents and kids this Saturday. Between doses of electronic music and thankings for my "patience" I learn, over and over and over, that I can call "cpsarts.org" to learn more about Saturday's "Regional Arts Days" being held at three high schools across the city.