NIX THE NETWORKS? No way. Claypool plans to expand mid-level bureaucracies (and secret outside consultants) while focusing end-of-the month cuts at the schools and among lowest level remaining CPS 'central' workers...
George N. Schmidt - January 13, 2016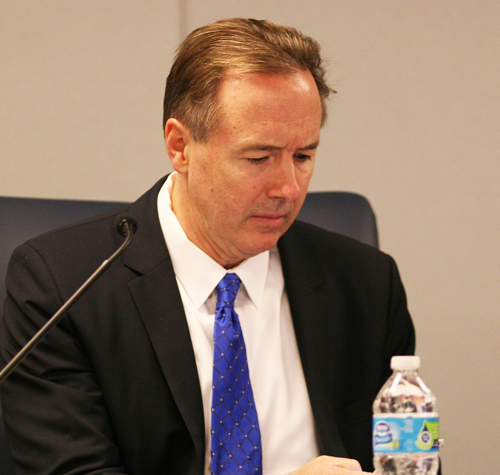 By the time the Chicago Board of Education met on September 29, 2015, Forrest Claypool, the fourth "Chief Executive Officer" for Chicago Public Schools dubbed by Mayor Rahm Emanuel in four years, had completed most of the million dollar "team" of outsiders he had been appointing. Although Claypool continued adding outsiders (often, cronies who had been with Claypool at the Chicago Transit Authority) after September 2015, he expanded his privatization agenda by adding consultants who have yet (as of January 2016) to be noted in the public records of CPS. Substance photo from the September 29, 2015 Board meeting by David Vance. Despite the call from at least a part of Chicago's ruling class for massive cuts (or elimination) from the so-called "Networks," sources at CPS indicate that at the end of January, when second semester plans must be made final, Chicago Public Schools "Chief Executive Office" Forrest Claypool will continue to expand the ranks of outsiders like himself and to cut back, again, among educators and others serving children directly in the schools. 'Chiefs of Schools' have been told to expect expanded positions in each of the Chicago Public Schools' 13 'Networks.' Cuts will all come from the ranks of those directly serving children, either in the schools or in positions elsewhere.
And Claypool has been expanding expensive consultants without public revelation, according to sources inside CPS administrative ranks.
After a five-part series on how to "reform" CPS appeared in Crain's Chicago Business in December 2015, there was a great deal of speculation (including by this reporter) that Claypool would actually be making significant cuts in the more than $20 million in annual costs in the so-called "networks" at CPS. Currently, CPS has 13 named "networks" and three additional entities that are, in effect, networks. For nearly ten years, the leaders of the "networks," currently called "Chiefs School Officers," have gotten away with coming from out of town and not ever getting Chicago or Illinois teaching or administrative credentials. From the far North Side's (Network 3) "Chief Officer" Randal Josserand to the South Side (Network 10) "Chief Officer" Underdue, CPS has continued to practice of hiring, for major administrative positions, outsiders (Josserand first out of Kansas; Underdue from Georgia) who have apparently been vetted by the national corporate "school reform" activists, virtually all of whom follow the corporate reform agenda with not relationship from local realities.