Labor Beat: Letter to Urban Prep: Reinstate Fired Teachers...
Larry Duncan - August 13, 2015
A new Labor Beat video was released on August 12, 2015, reporting on the latest challenge to Urban Prep charter schools. Urban Prep, which promotes itself and its founder relentlessly, has fired a large number of teachers and staff who are trying to unionize. Although the actions of Urban Prep chief Tim King is illegal under Illinois labor law, King's publicity machine continues to get favorable press for King and Urban Prep, despite the facts.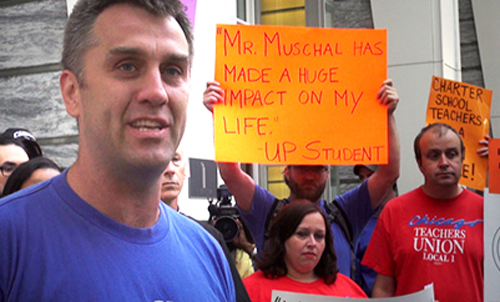 Chicago Alliance of Charter Teachers and Staff (Chicago ACTS) President Brian Harris. Substance Photo by Larry Duncan / Labor Beat.Readers can view the video at: http://youtu.be/LODfdffwn34
A protest rally took place on Friday, Aug. 7, 2015 calling on Urban Prep chairman Joseph McCoy to hire back 16 teachers who were fired for supporting a union. Two fired Urban Prep Academies teachers, LaTroy Farrow and Mathias Muschal, were invited to speak, and solidarity statements were presented by religious representatives from Arise Chicago and trade unionists from CTU and SEIU Healthcare Illinois/Indiana.
A letter addressed to Urban Prep Board Chairman Joseph McCoy, demanding that the charter school network hire back the 16 fired teachers, was personally delivered by a delegation from the assembly to the Bryan Cave Law Firm in Chicago's Loop, where McCoy is managing partner and where the protest took place.
"The employer cannot legally make significant changes to working conditions without consulting with the union, without negotiating," explained Chicago Alliance of Charter Teachers and Staff President Brian Harris. "Certainly, firing fifteen percent of their staff is a significant change in working conditions. And this is the law. They cannot do that. And they certainly cannot do it to punish people for forming a union. A charter operator, a recipient of tens of millions of dollars from the taxpayers, charged with educating hundreds of Chicago students, needs to have much more of a commitment to following the law than Urban Prep management has."
Speeches and interviews: CH Hawking, Exec. Dir. Arise Chicago; LaTroy Farrow and Mathias Muschal, both fired from Urban Prep for joining union; Brian Harris, President CACTS; Rev. John Thomas, Board Member, Arise Chicago; Brynn Seibert, A Vice Pres. of SEIU Healthcare Illinois/Indiana; Tabatha Kraft, member Chicago Teachers Union.
Length - 10:53. Direct link to video: http://youtu.be/LODfdffwn34
Produced by Labor Beat. Labor Beat is a CAN TV Community Partner. Labor Beat is a non-profit 501(c)(3) member of IBEW 1220. Views are those of the producer Labor Beat. For info: mail@laborbeat.org , www.laborbeat.org . 312-226-3330. For other Labor Beat videos, visit YouTube and search "Labor Beat". Labor Beat is on as a cable-tv series in six U.S. cities; check our website for more info.