President Obama is pushing charter schools... 'Overall, Congress has spent $3,352,841,281 to create and expand charter schools...' Who is watching their 'performance'...
Neal Resnikoff - May 01, 2015
While most attention to the federal government's education plans has focused on the renewal of the Elementary Secondary Education Act (ESEA) and the reduction, according to some, of the penalties of "No Child Left Behind," the federal eduction budget shows that the Obama administration remains firmly committed to privatization of the nation's public schools. The following was shared with us by PURE: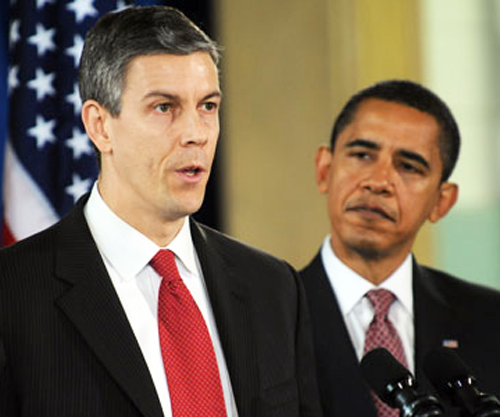 Chicagoans Arne Duncan (above left) has now become the longest serving U.S. Secretary of Education in history, having begun his term in January 2009 at the time his former Chicago neighbor, Barack Obeama, was sworn in as President of the United States. Duncan and Obama are both "free market" conservative ideologues who have pushed an agenda that includes the massive privatization of public schools through charter school expansion. Duncan began that work while he was serving as "Chief Executive Officer" of Chicago's public schools between July 2001 and December 2008.From: PURE News
Did you know that President Obama has asked for an extra $120 million for charter schools in his FY16 budget? The increase would bring the total amount of federal funds for charter schools to $375 million, a 48 percent increase over last year.
Overall, Congress has spent $3,352,841,281 to create and expand charter schools.
Yet a new report by the Center for Popular Democracy (CPD) and the Alliance to Reclaim
our Schools just documented over $200 million in charter school waste and fraud:
http://populardemocracy.org/sites/default/files/Charter-Schools-National-Report_rev2.pdf
Who is watching the charter schools???