LAWSUIT: Rousemary Vega and family want the lifetime 'ban' by the Board of Education lifted... Couple removed from CPS meeting, barred, sue claiming free speech rights have been violated by Vitale, Ruiz and the Board....
George N. Schmidt - April 14, 2015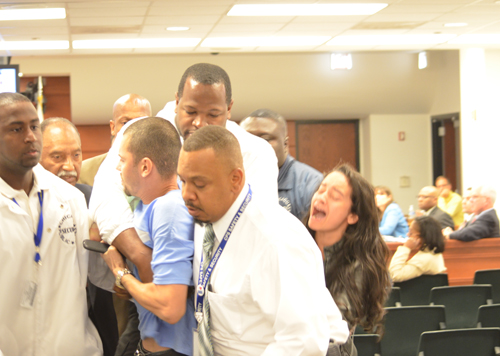 Six CPS security people surrounded and dragged out Jesus Burgos, husband of Rousemary Vega, during the July 23, 2014 meeting of the Chicago Board of Education after Vega called out Board President David Vitale and Vice President Jesse Ruiz as "liars" in the middle of the meeting. Like many dramatic moments of public outrage during Board meetings, the official CPS video of the meeting (which the public can locate at www.cps.edu, then go to Board Meetings) scrubbed out the violent attack on the family. In their lawsuit, the family charges that the security people who overwhelmed Burgos beat him in the elevator between the fifth and first floors before they let him off in the building lobby. Substance photo by David Vance.A Chicago couple who were dragged out of a Board of Education meetings on orders of Board President David Vitale and then barred from meetings for all eternity on Vitale's orders to Board security chief Jadine Chou have sued the Board of Education, charging that their first amendment rights are being violated. The stories are being reported this morning in the Chicago Sun-Times and elsewhere.
Since the July 23, 2014 meeting of the Chicago Board of Education, Rousemary Vega and Jesus Burgos, her husband, have been barred from entering the headquarters of Chicago Public Schools during Board meetings. The ban, which appears to be a lifetime ban, is being enforced for CPS by Jadine Chou, who is currently the school system's "Chief Officer for Security and Safety."
The lawsuit was filed by the parents, who have four children, following their attempts since July 2014 to attend Board meetings. The original assault on the family took place during the July 23, 2014 Board meeting. Since then, the Board has moved its offices to 1 S. Dearborn, after taking the old downtown Sears Store off the corporation's hands (just as the Board took the derelict Commonwealth Edison building off the utility company's hands when it moved from 1819 W.Pershing Road to the Loop), but the ban on Vega and Burgos remains in effect.
SUN TIMES REPORT ON VEGA LAWSUIT: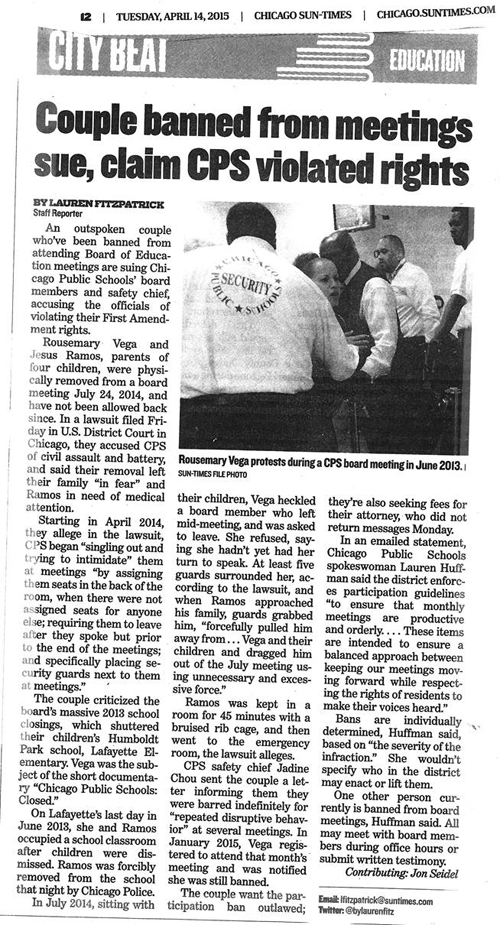 While the Chicago Tribune ignored the bullying of Rousemary Vega and her family, the Sun-Times and Substance covered it.http://chicago.suntimes.com/news-chicago/7/71/516284/couple-removed-cps-board-meetings-sue-board-alleging-violation-free-speech-rights Couple removed from CPS meetings sue, say free speech rights violated
An outspoken couple who've been banned from attending Board of Education meetings are suing Chicago Public Schools' board members and safety chief, accusing the officials of violating their First Amendment rights.
Rousemary Vega and Jesus Ramos, parents of four children, were physically removed from a board meeting July 24, 2014, and have not been allowed back since. In a lawsuit filed Friday in U.S. District Court in Chicago, they accused CPS of civil assault and battery, and said their removal left their family "in fear" and Ramos in need of medical attention.
Starting in April 2014, they allege in the lawsuit, CPS began "singling out and trying to intimidate" them at meetings "by assigning them seats in the back of the room, when there were not assigned seats for anyone else; requiring them to leave after they spoke but prior to the end of the meetings; and specifically placing security guards next to them at meetings."
The couple criticized the board's massive 2013 school closings, which shuttered their children's Humboldt Park school, Lafayette Elementary. Vega was the subject of the short documentary "Chicago Public Schools: Closed."
On Lafayette's last day in June 2013, she and Ramos occupied a school classroom after children were dismissed. Ramos was forcibly removed from the school that night by Chicago Police.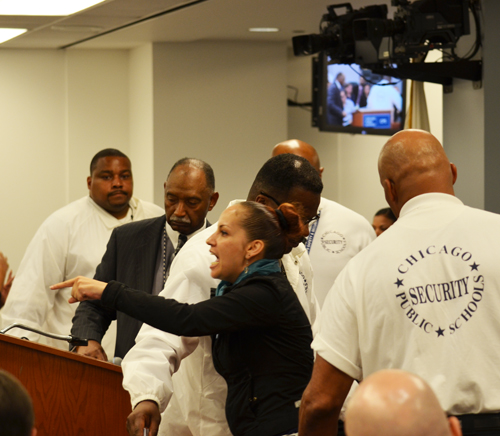 Parent activist Rousemary Vega (above, pointing) was swarmed by five security people at the May 28, 2014 meeting of the Chicago Board of Education. Substance photo by George N. Schmidt.In July 2014, sitting with their children, Vega heckled a board member who left mid-meeting, and was asked to leave. She refused, saying she hadn't yet had her turn to speak. At least five guards surrounded her, according to the lawsuit, and when Ramos approached his family, guards grabbed him, "forcefully pulled him away from . . . Vega and their children and dragged him out of the July meeting using unnecessary and excessive force."
Ramos was kept in a room for 45 minutes with a bruised rib cage, and then went to the emergency room, the lawsuit alleges.
CPS safety chief Jadine Chou sent the couple a letter informing them they were barred indefinitely for "repeated disruptive behavior" at several meetings. In January 2015, Vega registered to attend that month's meeting and was notified she was still banned.
The couple want the participation ban outlawed; they're also seeking fees for their attorney, who did not return messages Monday.
In an emailed statement, Chicago Public Schools spokeswoman Lauren Huffman said the district enforces participation guidelines "to ensure that monthly meetings are productive and orderly. . . . These items are intended to ensure a balanced approach between keeping our meetings moving forward while respecting the rights of residents to make their voices heard."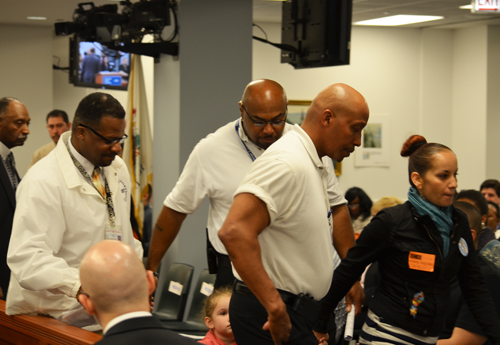 Removing Rousemary Vega from the May 28, 2015 meeting of the Chicago Board of Education were four security staff, while Vega clutched the hand of her daughter. Substance photo by George N. Schmidt.Bans are individually determined, Huffman said, based on "the severity of the infraction." She wouldn't specify who in the district may enact or lift them.
One other person currently is banned from board meetings, Huffman said. All may meet with board members during office hours or submit written testimony.