How corrupt is Rahm?... Call him 'Mayor One Percent', 'Mayor Coverup', or 'Mayor Privatization'... note the racism and corruption of Emanuel... Activists demand that Rahm disclose secret emails with millionaire donors... Election day in Chicago and 'The whole world is (again) watching!'...
George N. Schmidt - April 07, 2015
[Editor's Note: As Chicago voters and activists began turning out for a very busy day on April 7, 2015 (election day in Chicago), the scandals involving the corruptions of incumbent Mayor Rahm Emanuel continue pouring out. By Sunday, April 5, even the Chicago Tribune had to admit that Emanuel's entire game plan was to cover up and stage events, while hiding from actual voters. In order to get away with that plan (he did it successfully in 2011), Emanuel has to rush to carefully controlled media events, without letting the public know. He is then able to turn these events into "news" controlled by his propagandists and Hollywood backers. The key to Emanuel's ability to push the spin out to TV is his plutocratic base -- millionaires and billionaires who pay huge sums to Emanuel, and who usually get contracts and other benefits in exchange. But it's only been the past couple of weeks that the corporate media in Chicago has even begun to expose what readers of Substance and a few other outlets have known for years: the whole thing is a staged scam. Here we are publishing the exposes of the final days before Chicago votes on its mayor. George N. Schmidt, Editor, Substance, www.substancenews.net.]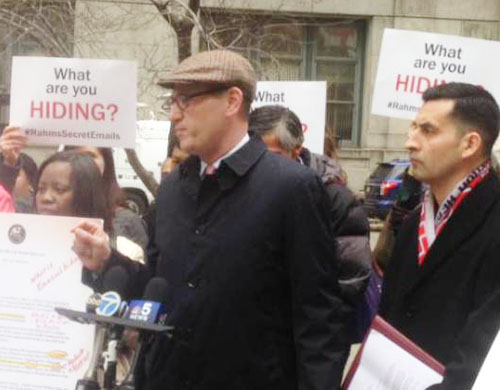 City Hall press conference April 6, 2015.Progress Illinois report courtesy of Arlene Gloria Hirsch via CORE...
Demands For The Release Of Emanuel's Donor Emails Intensifies
Calls grew louder on Monday for Mayor Rahm Emanuel to release emails that he and his administration exchanged with Grosvenor CEO Michael Sacks, one of Emanuel's top political donors.
Cook County Clerk David Orr, Chicago Teachers Union President Jesse Sharkey and others held a press conference outside City Hall Monday demanding that the emails be turned over ahead of Tuesday's mayoral runoff election between Emanuel and challenger Jesus "Chuy" Garcia.
It's the second City Hall press conference on the subject following the International Business Times' Thursday report stating that its open records request for over 1,500 such emails was denied by the Emanuel administration.
"The emails of public officials are a matter of public record," Sharkey said at the news conference, according to the Chicago Sun-Times. "What is Rahm Emanuel hiding by refusing to release these emails?"
Orr added, "The state law makes clear you cannot come with these excuses."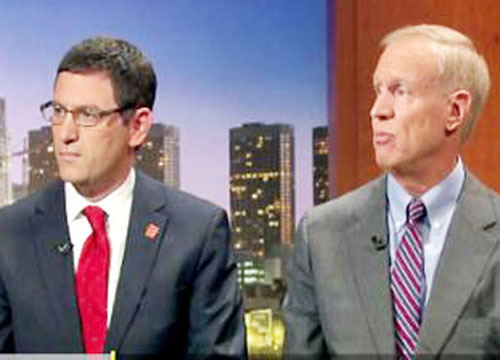 Bruce Rauner (right) could barely control his ire when confronted on WTTW with Jesse Sharkey's fire. "It is not an undue burden," he added, "to tell us about all these emails which might explain why Chicagoans are being taxed when they shouldn't be."
Emanuel's campaign and affiliated political committees have received $1.6 million in donations from Sacks and his wife, who have reportedly given the mayor other gifts as well. Sacks was appointed as vice chairman of World Business Chicago, a public-private agency, by Emanuel. Sacks, who was also appointed to Emanuel's Economic Council, helped with the mayor's changes to the parking meter deal.
"Michael Sacks in turn is one of Chicago's wealthiest and powerful unelected officials. People like himself and Ken Griffin have given over $1 million each to Rahm Emanuel's efforts," Sharkey said. Emanuel administration spokeswoman Shannon Breymaier told the newspaper that City Hall officials are "reviewing the records" and determining what content contained in the emails is exempt under the state's open records law and can be redacted. The review process is expected to take 77 hours, she said.
"This administration takes our commitment to transparency and accountability to our residents very seriously, which is why we have released literally millions of records under FOIA [the Freedom of Information Act] over the last four years," Breymaier said. "While we told Mr. Cunningham-Cook, ahead of his blog post, that we were willing to work with him to help narrow his voluminous request under FOIA law - as we regularly do with other FOIA requesters - so he can receive his records more quickly, he has rebuffed our attempts to work collaboratively. Even though he has refused to narrow, we are nevertheless reviewing the records and will respond to him as soon as possible."