Philantropreneurs are really Plundrpreneurs... 'When the Feds bolster GatesBroadWalton handouts with RttT rules and CCSS tests and unions hold out their hands and grovel for a seat at the money table, kids suffer...'
Susan Ohanian - April 04, 2015
[Editor's Note: Thanks to Susan Ohanian (www.susanohanian.org) for reminding us how propaganda often comes disguised as good works... With Chicago obsessed about Easter and Passover (and no one thinking about elections on this "Holy Saturday" -- hah!), we were happy to hear that someone was thinking outside the theistical boxes this weekend. Part of the reason for the reminder was that on Wednesday, April 1, a large number of Chicago teachers were angry -- because union politics are still somewhat conflicted. Some delegates in Chicago were even outraged -- because CORE had to print and distribute Opt Out materials to the 600 members of the Chicago Teachers Union House of Delegates to help continue to build the Opt Out movement in Chicago's 600 public schools. This effort was taking place while the official union materials packet for the meeting contained the usual propaganda for "Common Core." The Common Core materials were officially presented to the union's delegates courtesy of the CTU "Quesst Center." From what Substance can now determine, the debate over the propaganda use of "philanthropy" will have now moved from the critique of the 2010 AFT convention (Seattle, where Randi Weingarten feted Bill Gates while Randi's supporters booed those of us who walked out or didn't cheer Billionaire Bill) to local union critiques. George N. Schmidt, Editor, Substance].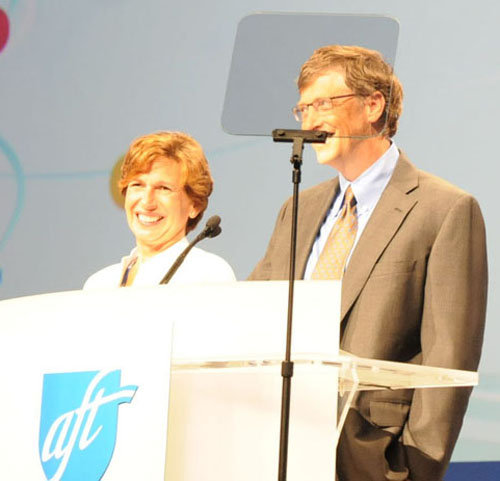 Some delegates to the 2010 American Federation of Teachers convention in Seattle protested when AFT president Randi Weingarten (above left) invited Bill Gates to give one of the keynote speeches to the convention, but the protesters were drowned out when Weingarten's loyalists from Baltimore and New York gave Gates a standing ovation. Within four years, the policies of the AFT that had encouraged the benign view of Gates's "philanthropy" had been modified, and Weingarten stopped praising Gates. On April 1, 2015, Weingarten, speaking to the Chicago Teachers Union House of Delegates, denounced the business model of corporate "school reform." Substance photo from July 2010 by George N. Schmidt. Familiar Lesson of Science Give: Government Looks to Philanthropy to Get Stuff Done
Ohanian Note: Here are just a few reasons why I'm very apprehensive about the Feds calling on philanthropists to fund science projects. When the Feds bolster GatesBroadWalton handouts with RttT rules and CCSS tests and unions hold out their hands and grovel for a seat at the money table, kids suffer.
Chicago, IL -- Chicago Public Schools CEO Arne Duncan, The Broad Foundation Founder Eli Broad, New Schools Venture Fund President Kim Smith and New Leaders for New Schools CEO Jon Schnur announced a $1.4 million investment to help make Chicago the flagship program of a national effort to recruit and train outstanding new urban school principals.-- Press Release, April 30, 2002
WASHINGTON -- The American Federation of Teachers welcomes the unprecedented support of the Bill & Melinda Gates Foundation for efforts to improve teaching and learning through grants totaling $290 million to school systems in Hillsborough County, Fla.; Pittsburgh; Memphis; and a group of charter schools in Los Angeles. "These Gates Intensive Partnership grants will show that when dedicated adults engage in true collaboration, the real winners are the students, AFT President Randi Weingarten said.--Gates Foundation Press Release: AFT Congratulates Recipients of Gates Foundation Grants, November 2011
Whatever nuances differentiate the motivations of the Big Three [Bill and Melinda Gates Foundation, Eli and Edythe Broad, Foundation, and the Walton Family Foundation], their market-based goals for overhauling public education coincide: choice, competition, deregulation, accountability, and data-based decision-making. And they fund the same vehicles to achieve their goals: charter schools, high-stakes standardized testing for students, merit pay for teachers whose students improve their test scores, firing teachers and closing schools when scores don't rise adequately, and longitudinal data collection on the performance of every student and teacher.-- Joanne Barkin, Got dough? How Billionaires Rule Our Schools, Dissent, Winter 2011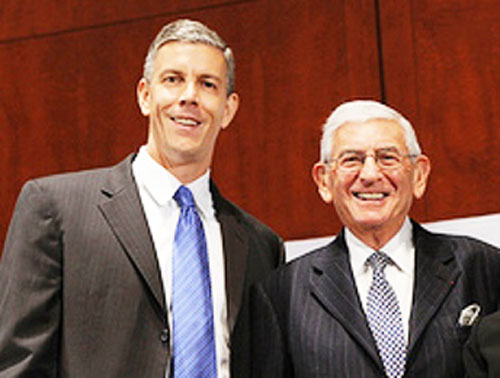 Above, U.S. Secretary of Education Arne Duncan (left) and billionaire Eli Broad (right) cooperate to push the corporate "education reform" agenda against the nation's real public schools. Broad's various entities trains cadre of principals and administrators like Chicago's current "Chief Executive Officer" Barbara Byrd Bennett to oversee the schools much like the overseers of the 19th Century did, implementing racist and anti-democratic programs forcing public schools into privatization straight jackets. "Philanthropy New York" is bringing together for the first time ever in one forum: * U.S. Secretary of Education Arne Duncan * New York State Education Commissioner John B. King, Jr. *New York City Education Chancellor Dennis Walcott *Beth Fertig (Moderator), Education Correspondent, WNYC-- Press Release,June 4, 2012
Bill and Melinda fund ideas, not ideologies. . . . I am so convinced that the Gates Foundation is sincere. . . .I read them [Common Core State Standards]. And then, I liked them. --Lily's Blackboard [president NEA], Why Arne Duncan needs to listen to Bill and Melinda, June 12, 2014
One of the interesting things about [Microsoft billionaire and education reformer] Bill Gates -- and I've gotten the opportunity to interview him several times -- is that he really has learned a lot from his experience and his own views have evolved on some of these questions. But because . . . his foundation prioritizes using student test scores to rate teachers, that was picked up by the Obama administration and spread nationally. So while Gates might be adding nuance toward thinking how he's doing his grant-making, it's difficult for all of the states and the federal government who have embraced these policies to make a similar change.--Dana Goldstein, in Arne Duncan's 'staggering statement': Why ed reformers are having second thoughts, Elias Isquith, Salon, Sept. 24, 2014
Aren't 'philanthropreneurs' just 'plunderpreneurs' with good PR? --Evgeny Morozov, Twitter, April 2, 2015
In 2010, five [Supreme Court] judges created the notion of corporate personhood -- giving companies unfettered right to dominate elections. After all, Exxon is just a citizen like you and me. And in 2014, those five judges gave corporations a soul, a further expansion of business entity as a citizen. Well, they tried to. As the saying goes, a corporation will never truly be a citizen until you can execute one in Texas.--Timothy Eagen, The Conscience of a Corporation, New York Times, April 3, 2015
from Inside Philanthropy, 2015-03-26 by L.S. Hall Not along ago, if a president wanted to solve a problem, he invited top congressional leaders to the White House. These days, he seems just as likely to call in top philanthropists and foundation chiefs.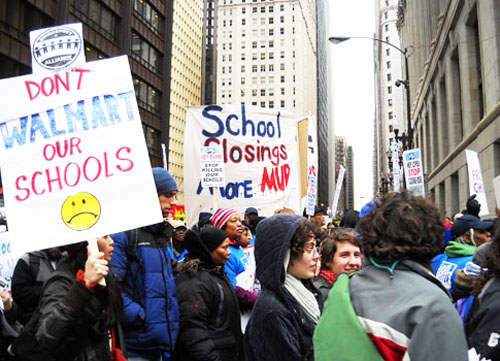 For more than a decade, the Walton family foundations have been providing hundreds of thousands of dollars to Chicago's ever expanding charter schools and helping to destabilize the city's public schools. Above, a Chicago demonstration outside Chicago's City Hall chanted against the attacks on public education beneath the fifth floor office of Chicago's corporate hack mayor Rahm Emanuel.For one thing, these folks have spare cash--in contrast to an increasingly strapped federal government, in which non-defense discretionary spending is now on a downward glide path to levels not seen since World War II, as measured by GDP. That shrinking pot of money includes everything from environmental protection to education to space exploration.
It also includes scientific and medical research. But these are grim days for science funding as budgets are kept flat or cut across most areas of non-mandatory spending. And if Tea Party types in Congress aren't moved by urgent warnings that the U.S. is falling behind in science, what's a president to do?
Call in big private funders, that's what.
The recent White House Science Fair showcased the work of bright young students whose work excelled at STEM competitions and science fairs across the country. The event also gave President Obama the opportunity to announce new commitments from the private and nonprofit sectors to support scientists in the early stages of their careers, as well as encourage more young people--especially from historically underrepresented groups--to pursue STEM studies and careers. Most notably, the president's announcements included a new philanthropic initiative that unites three leading funders of scientific research to provide new support to scientists who are in the early stages of their careers.
As competition for grants has intensified and budgets have grown tighter, it has become increasingly difficult for new scientists in the early stages of their research careers to establish and develop programs of research. In the last 20 years, the U.S. has seen a decline in National Institutes of Health research award success rates, as well as an increase in the average age of first-time R01 grantees.
The Bill and Melinda Gates Foundation, the Howard Hughes Medical Institute, and the Simons Foundation are the three funders under this new Faculty Scholars Program. The three funders will put a combined $148 million into the program for its first five years.
We've seen this movie before. Just last year, President Obama mobilized leading foundations to support "My Brother's Keeper," an initiative to help close the opportunity gap for young men and boys of color. Here, too, the White House has looked to private funders to help solve a major national problem that a strapped and divided government was fumbling.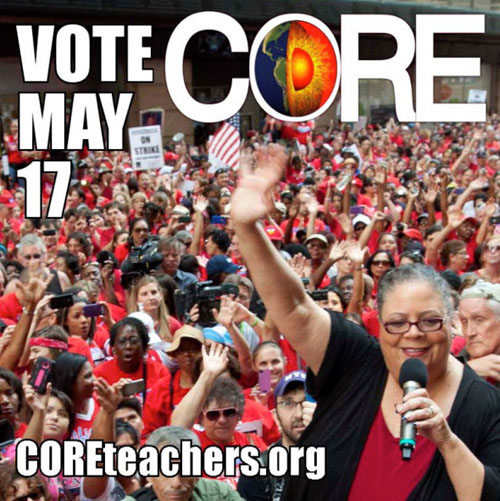 The 2010 election of Karen Lewis and the CORE slate to lead the 28,000-member Chicago Teachers Union slowly evolved into a game changer in the national resistance to the corporate "school reform" agenda. Combining community outreach, detailed research, astute communications, and a militant fight for the union's members that resulted in the seven-day Chicago Teachers Strike of (September) 2012, the CTU leadership, the CORE caucus, has helped spread the changes nationwide. CORE (the Caucus Of Rank and file Educators) was re-elected by an overwhelming 80 percent majority in May 2013, demonstrating that the CORE agenda for public schools and democracy and against corporate "school reform" was supported by the vast majority of those who work in the nation's third largest school system.Of course, some version of this same script plays out all the time at the local level, where public institutions like parks and schools increasingly rely on philanthropy. These gifts often come with strings attached, and underscore a broader shift of power away from the public sector and toward private wealth. That's not great for democracy.
As for the new science initiative, the program will award up to 70 grants every two and a half years to early-career scientists whose work shows promise. Individual grants will range in size from $100,000 to $400,000. In addition, the awardee's institution will receive an amount equal to 20 percent of the yearly grant for administrative costs.
To be eligible for a grant under this new initiative, candidates must have a Ph.D., M.D., or equivalent; be in a tenured or tenure-track position of assistant professor or higher at an eligible U.S. institution of higher education; have four to ten years of post-training professional experience; and be principal or co-principal investigator on at least one active, nationally competitive grant with a term of two or more years between April 2013 and July 2015 (see this link to the HHMI website for the application eligibility section).
Scientific research funding programs are firmly in the wheelhouse of scientific funders such as HHMI and Simons. Gates has not operated STEM-specific funding programs, but it funds many STEM-related initiatives through its education and global health programs. Besides, the Gates Foundation's size alone makes it a significant player in any funding area it chooses to enter. With this program, HHMI, Simons, and Gates are emphasizing a need in the STEM funding arena that we write about often--a solid base of research funding for scientists in the early stages of their careers--and have applied their considerable resources to the problem. At least somebody has some extra resources these days. � L. S. Hall with Ohanian documentation, Inside Philanthropy, 2015-03-26