RAHMWATCH: Since 2011, Rahm has doubled residential water (and sewer) bills. But that's not a 'tax increase', just one of those 'revenue enhancement' thingies Rahm's foisted on Chicago while scripting each chapter of 'Chicagoland'...
George N. Schmidt - March 10, 2015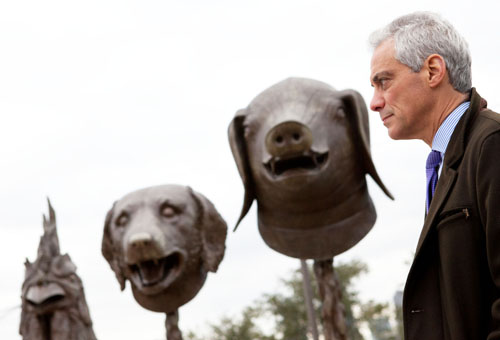 The photograph above, like dozens of others since 2011, was produced at taxpayers' expense and distributed to the media by the so-called "Mayor's Press Office" on October 29 2014. Substance will leave it to our readers to guess or figure out what that particular publicity stunt was for.If you own a Chicago home, say in the "Bungalow Belt" (as I do), your water (and sewer) bill just came, and it's due next week. And if you've saved your paperwork (as we often do here in the "Bungalow Belt"), you will notice that since Rahm Emanuel was inaugurated as Mayor in May 2011, your water bill has doubled.
Yes, DOUBLED. So, to put it all in another context, while Chicago's mediagenic mayor was stuffing every corporate holiday stocking with gifts from our tax dollars (take your pick: the DePaul McCormick Place arena in one of my favorites, but far from the only one) he was picking our pockets, even for nickels and dimes.
This month, we have to pay a bill to CITY OF CHICAGO, DEPARTMENT OF FINANCE -- WATER BILLING in the amount of $563.83. That bill is due on St. Patrick's Day, March 17, 2015, although I doubt that our mayor will see the humor in all that part as he marches in one of the parades (if he dares by then show his face in public).
A mere four years ago, we were asked to pay a bill to CITY OF CHICAGO, DEPARTMENT OF WATER -- REVENUE DIVISION in the amount of $273.26. That bill was due on February 9, 2011, which was just after Chicago's voters elected Rahm Emanuel following that media blitz crafted by Rahm's video crew after he posed with all those black and brown people at the "L" stops and got the OK from Barack Obama in the mayor's race.
By my count, this year's $536.83 is more than double what we had to pay -- for the same water and sewer services -- when Richard M. Daley was still mayor. But, of course, Rahm hasn't "raised" taxes -- he's just been been ripping us off on just about everything else that working people pay in Chicago, while shoveling money out the door fast as he can to the kinds of people he worked with on Wall Street after talking to them for years about giving money for the elections of Richard M. Daley, or Bill Clinton, or Barack Obama -- and finally for Rahm himself. There are, thanks to the Chicago Tribune and Chicago Reader investigations, dozens of examples of these kinds of ripoffs, although our favorite at Substance is Rahm rich buddy Deborah Quazzo, who got on the school board after Rahm's richer buddy, Penny Pritzker, went to Washington to work for Barack Obama.
Er... some would say, "to serve the public..."
You might say that the only thing that could be worse is if he turned the water and sewer systems over to one of those so-called "public private partnerships" -- which is really RAHMSPEAK for PRIVATIZATION. Then, behind a smokescreen of free market efficiency (remember when you were going to save all that money on your phone bills and electric bills?) another group of Wall Street or LaSalle St. cronies of the mayor and the mayor'd buddies rakes the cash away from the working class and middle class and into the pockets of the "one percent" and the "one percent of the one percent". Rahm Emanuel, remember, is the guy who majored in ballet in college but was then discovered by Wall Street, pirouetted into a three-year gig as an "investment banker", make $18 million (more of less) and then resumed his life in "public service." Instead of preaching to kids about going all that STEM stuff, maybe Rahm can reveal the secret sauce that garnished his wages when he was able to earn $6 million a year for himself by the sweat of his brow.
You don't get that kind of payday pouring tar on roofs or cleaning up burst water mains six or seven days a week like Chicago workers do.