CORE organizes to help aldermanic candidates after six CORE members running for City Council pitch their candidacies at a special caucus meeting
George N. Schmidt - January 13, 2015
A special meeting of CORE, the Caucus Of Rank-and-file Educators, was held on January 12, 2015 so that CORE members could hear from aldermanic candidates who are members of CORE. CORE itself has not endorsed candidates, not having the capacity to review all credentials of all possible candidates, but CORE leaders (a steering committee which includes this reporter) wanted CORE members who are running for seats in the Chicago City Council to have the opportunity to make an appeal for support to the caucus's members.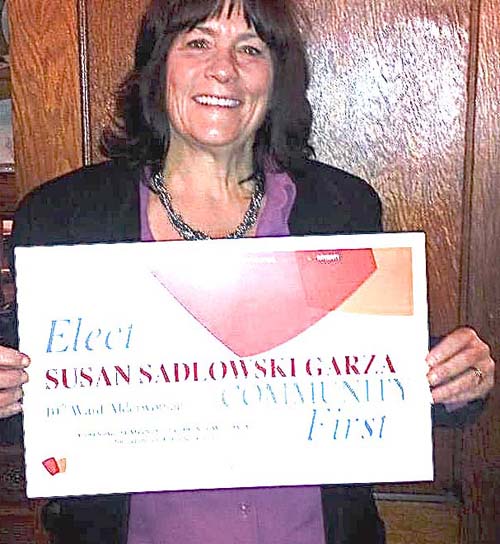 Sue Garza.All but one of the candidates who had been invited showed up and that candidate sent her campaign manager. Although a much larger number of aldermanic candidates has won the support from the Chicago Teachers Union, a number of the candidates actively sought the support of CORE members. The candidates who spoke to the CORE meeting were Sue Garza, Ed Hershey, Tim Meegan, Zerlina Smith, and Tara Stamps. Diane Deleiden did not appear, but spoke through her campaign coordinator, Liz Brown.
Those who made their appeal were:
Sue Garza 10th ward against incumbent John Pope. (Far Southeast side: The "Bush," east side, Hegewisch, Jeffery Manor, South deering, Slag Valley, and South Chicago).
Dianne Daleiden Against incumbent Pat O'Conner in the 40th Ward (Andersonville, West Edgewater, Ravenswood, Lincoln Bend, Lincoln Square, Bowmanville, Budlong Woods, Arcadia Terrace, Rogers park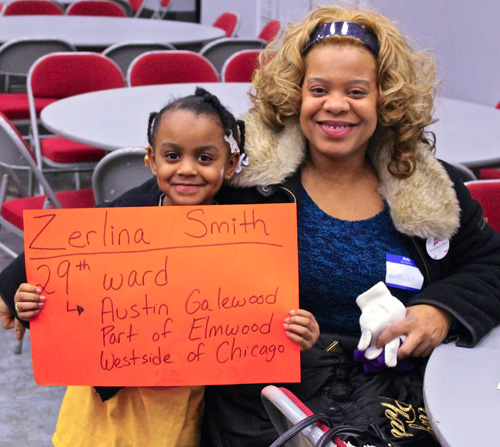 Cherish Smith holds up the sign directing CORE members to the table to support her mother, Zerlina Smith, who is running for alderman of the 29th Ward against incumbent Deborah Graham. Substance photo by Bob Simpson.Zerlina Smith 29th ward against incumbent Deborah Graham (Austin Galewood, part of Elmwood. and a strip of the far West Side of Chicago)
Edward Hershey running against Danny Solis in the 25th ward (Pilsen, Chinatown, parts of UIC/West Loop/Tri-Taylor, Little Italy, and a small part of McKinley Park)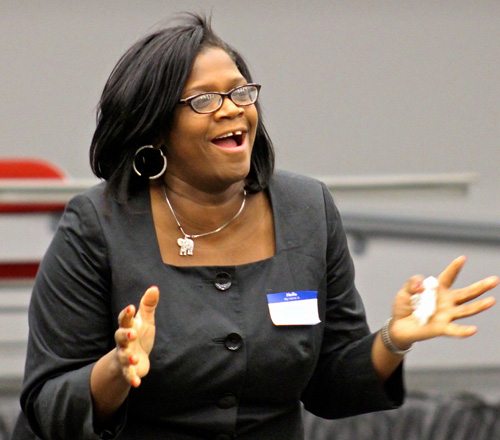 Jenner Elementary School teacher Tara Stamps (above at the January 12 CORE special meeting) is running for alderman of the 37th Ward against incumbent Emma Mitts. Substance photo by Bob Simpson.Tara Stamps running against incumbent 37th Ward alderman Emma Mitts (Austin, West Garfield Park, West Humboldt Park, North Austin).
Tim Meegan running against incumbent Deborah Mell in the 33rd Ward (Albany Park, Irving Park, Ravenswood Manor, some Avondale).
Sue Garza, a counselor at Jane Addams Elementary School on the Southeast Side, told CORE that she is running for alderman of the 10th Ward in opposition to the incumbent alderman, John Pope. Garza told the group that he family had lived in the community for 150 years, back to the days when an ancestor had a log cabin at Wolf Lake. Sue Garza's father, Ed Sadlowski, was a leader of the Steelworkers union.
The CORE caucus has been the leading political caucus within the Chicago Teachers Union since 2010, when the caucus won the elections that put Karen Lewis and her CORE team into power at the CTU. A CORE slate won re-election to the leadership posts in the union in May 2013. Presently, more than 95 percent of the members of the CTU Executive Board are also members of CORE.
Following the presentations members of CORE joined the candidates (or their representatives) at tables to plan how to work to support the candidates. Every candidate had CORE people sign up to help out.
Following the meeting CORE co-chair Sarah Chambers sent an email to CORE members asking them to help the six candidates who came to the January 13 meeting:
"If you didn't attend the CORE meeting, it'd be great if you could sign up to support one of our CORE members who are running for alderman. Here are their wards' neighborhoods. Please contact me and I can get you in contact with the CORE captain that is coordinating with the aldermanic campaigns.
Sue Garza 10th ward. Bush, east side, hegewisch, jeffery manor, south derring, slag valley, south chicago
Dianne Daleiden 40th Ward
Andersonville, West Edgewater, Ravenswood, Lincoln Bend, Lincoln Square, Bowmanville, Budlong wood's, Arcadia Terrace, Rogers park
Zerlina Smith 29th ward Austin Galewood, Part of Elmwood. Westside of Chicago Edward Hershey 25th ward
25th ward is Pilsen, Chinatown, parts of UIC/West Loop/Tri-Taylor, Little Italy, small part of McKinley Park
Tara Stamps 37th Ward
Austin, West Garfield Park, West Humboldt Park, North Austin
Tim Meegan 33rd Ward
Albany Park, Irving Park, Ravenswood Manor, some Avondale