Paul Vallas cost Pat Quinn the election
George N. Schmidt - November 04, 2014
Virtually all major Illinois Democrats won their elections yesterday -- except Governor Pat Quinn. Quinn, like Jessie White, Dick Durbin, and Michael Madigan -- all Democrats -- was running for re-election. They won; Quinn lost. So the Quinn loss was not part of that national "Red State Sweep" or some other silliness. When the final numbers come out, the "low voter turnout" in Chicago and the rest of Cook County can be factored in as one of the big reasons for the Quinn defeat.
Why those of us who voted for Pat Quinn ("Quinn-Simon") hopefully in 2010 didn't vote for "Quinn-Vallas" in 2014 is explained in one word: Paulvallas.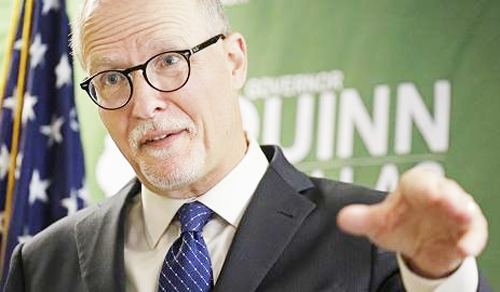 For most of the campaign, Pat Quinn's "team" tried to treat Quinn's running mate as the Voldemort of politics. Some of us got two hundred emails from the Quinn campaign -- and not one of them mentioned that Quinn had a running mate. But from the day he announced Vallas, in disrespect to all those who had elected him in 2010, Pat Quinn was never able to explain how he woke up one day and decided to save the career of Vallas, who had hit the rocks in Connecticut. Photo Progress Illinois.No matter how many urgings went up saying things like "CTU for Quinn..." (as if he didn't have a running mate), thousands of us knew -- and tried to warn -- that Quinn's secret selection of Vallas, at the urging of corporate America, proved to be Quinn's downfall. Illinois Democrats didn't get hit with any of the shrapnel from Quinn's opportunism, either. Secretary of State Jesse White won re-election with a huge majority. Despite attacks for his "insider" ness, U.S. Senator Dick Durbin also won by a landslide. The same was true across the state. The Republicans picked up only one state-wide office besides Rauner's -- Comptroller. But that wasn't the "Republican" victory that it seemed, since Jydy Barr Topinka got the support of most of the unions, including the Illinois Federation of Teachers, which made sure as late as election day that "union families" had a union palm card listing every candidate we were supposed to vote for.
Like thousands of others who have long voted "Democratic" (in the primaries), I didn't vote for Pat Quinn. I had spoken in September 2014 against the Quinn-Vallas endorsement as a delegate in the CTU House of Delegates, but the majority voted to go along with the leadership's recommendation to go with Quinn and join Quinn in pretending that Paul Vallas wasn't there. My family usually votes early, and we always want to show our children how important voting is. But since I was hobbled with a very serious back problem (seeing the doctor on November 5), I had missed the morning run to the polling place where we vote in Chicago's 45th Ward and finally decided not to go later, as my pain grew throughout Election Day.
As a result, I became part of thousands of voters who didn't vote on November 4, 2014 because (a) we knew that our candidates were going to win across the state, (b) the Vallas hypocrisy was odious, and (c) I was having trouble deciding whether to write in "Karl Marx" (in tribute to our family's German heritage) or "John Brown" (as just another footnote to our honoring the times when greater sacrifices were necessary for the sake of democracy and justice.
The "not with a bang but a whimper" part came when Quinn spent too many hours before conceding, making himself memorable one last time. Finally, aroundthre in the afternoon on November 5, the news reports began coming in that Quinn accepted defeat, so here are a couple of them:
CRAIN'S CHICAGO BUSINESS AND ASSOCIATED PRESS:
QUINN CONCEDES
(AP) — Democratic incumbent Pat Quinn has conceded to Republican businessman Bruce Rauner in the Illinois governor's race.
With 99 percent of precincts reporting, Rauner had a nearly 5 percentage point lead over Quinn. Rauner declared victory on election night, but Quinn said he'd wait for all votes to be counted. Quinn's campaigned noted outstanding ballots in Chicago and suburban Cook County.
On Wednesday, Quinn said it was clear his campaign didn't have the votes to overcome Rauner's lead.
He had sought a second full term. He was locked into one of the nation's most competitive and expensive governor's races with the Winnetka venture capitalist.
Quinn first became Illinois governor in 2009 in the wake of ex-Gov. Rod Blagojevich's corruption scandal. He narrowly won in 2010 over Republican state Sen. Bill Brady.
The concession comes more than 16 hours after most news organizations called the tight race for Mr. Rauner, and the North Shore businessman himself claimed victory.
Rauner issued the following statement:
"I thank Governor Quinn for his many years of service to Illinois and appreciate his commitment to making this a smooth transition. I look forward to getting to work to make Illinois the most compassionate and competitive state in the nation."