'Mayoral Candidates Forum' was held on December 16, 2010 so that union members and delegates could hear from all the mayoral candidates who were going to be on the February 2011 ballot
George N. Schmidt - November 01, 2014
The year was 2010. The Chicago Teachers Union has elected the CORE slate of candidates,headed by King High School chemistry teacher Karen Lewis and Senn High School history teacher Jesse Sharkey, in a runoff election in June 2010. The runoff was caused because the CTU election rules require that a candidate get more than 50 percent of the vote to win, and the incumbent "United Progressive Cuucas"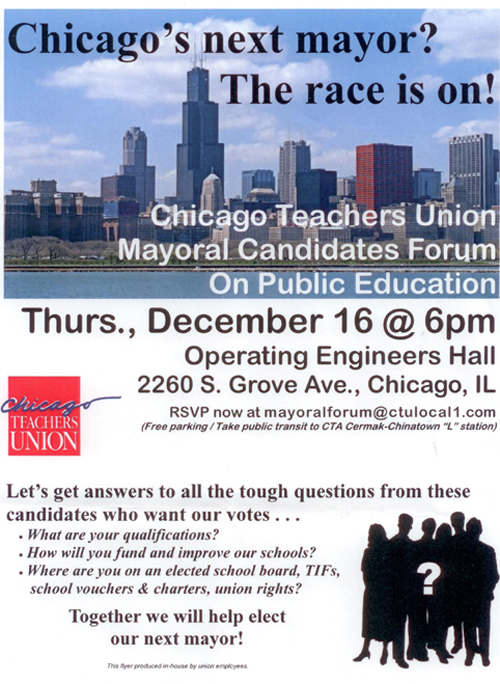 The poster from 2010, which advertised that the CTU was holding a candidates forum for all union members to hear from the candidates who had made it on to the ballot for the February 2011 Chicago municipal elections. Only one of the candidates, Rahm Emanuel, refused to attend the Candidates Forum on December 16. After much debate, the CTU House of Delegates failed to endorse any candidates.In a December 2010 story in Substance, then Substance reporter Jim Vail wrote:
"Joey McDermott, in charge of the CTU's aldermanic outreach, said that the union will host a mayoral forum on December 16th in which the Rev. James Meeks and City Clerk Miguel Del Valle have committed, with US Rep. Danny Davis likely to attend, while former Board of Ed president Gery Chico and former US Sen. Carol Mosely Braun are still undecided. The leading candidate blessed by Daley and the machine to be the next mayor has declined the invitation, former chief of staff and US Rep. Rahm Emmanuel, McDermott said.
"'If (Rahm) doesn't show, his absence will speak volumes,' McDermott told the delegates.
"McDermott said Cliff Kelley from WVON will moderate the mayor candidates forum to be held at the Operating Engineers Hall where the House of Delegates convene. After the forum, the CTU's Political Action Committee will recommend an endorsement and then the CTU delegates will vote on the endorsement at the next house meeting in January before the Feb. 11 aldermen and mayor election. A clear majority of delegates stood up when McDermott asked who would attend the forum.
"'This is the beginning of our power, our unity and our strength,' McDermott said."
One of the most complete histories of those tumultuous months can be found at www.substancenews.net in articles we published then between December 2010 and September 2011. Readers can scroll through Back Issues of Substance by going to Back Issues on the menu bar and selecting the months they wish to read. The Substance web site is organized by month, and on the first of each new month the Home Page begins with new stories, adding on a daily basis until that month ends. All stories and graphics published during the month of each Home Page are fully available through Back Issues.