'Cheerleaders' forgot to bring their weapons?... Carver 'Military Academy' cheerleaders dress (and cheer?) for war -- but Carver's football team can't win against tiny Bowen High School in Columbus Day weekend game!
David Vance - October 13, 2014
[Editor's Note: Clarification. Since the publication of this story, a number of individuals have brought to our attention a minor inaccuracy in the original. The group of young ladies in the photograph are not the Carver "cheerleaders" but the Carver Pom Pon squad. We stand by our reporter's story. George N. Schmidt, Editor].
An exciting Saturday morning of football was held in Chicago's Eckersall Stadium October 11, 2014. South Chicago's Bowen High School beat Carver "Military Academy" [high school] 61 to 12 in a powerful show of determination on both offense and defense. Bowen, with an enrollment of 375 students, was not the big heavy team. But the Bowen Boilermakers were hungry to show their school spirit. And, now they are standing tall with a 7 and 0 record.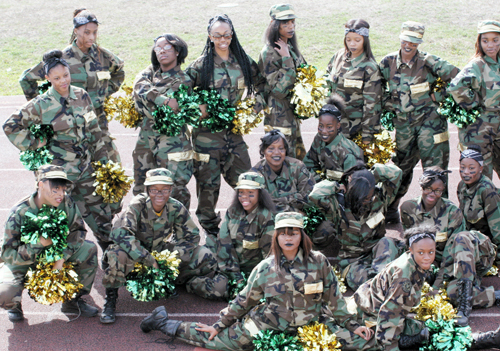 The cheerleaders [see October 23 Editor's note, in the story] from Chicago's Carver High School wore their school uniforms while holding their pom pons during the school's losing football game against rival Bowen High School in Chicago on October 11, 2014. Carver was converted into a "military academy high school" by former Chicago schools Chief Executive Officer Arne Duncan and is part of the militarization that has made Chicago's public schools the most militarized school system in the USA. Substance photo by David Vance.At half time, with the score 44 to 12, the Carver cheerleaders performed several cheers and dances -- dressed in military green camouflage Army uniforms. [Substance doesn't know whether this was a first in America's public schools, but we will continue fact checking.]
The young women looked sadly out of place, nor were all of them peppy and happy, as most cheerleaders are. Their dark green military camouflaged baggy jeans and long shirts made them look not as teenagers having fun but cheerleaders dressed for war. But it was clearly not a pre-Halloween costuming. This was Chicago in 2014.
How did this happen? A short reminder about Carver and militarization of public schools...
Carver, on Chicago's far south side, is now a military high school school. Carver was serving the neighborhood in and around the Altgeld Gardens public housing project for decades, but with the push of then CPS CEO Arne Duncan, then Board of Education President Michael Scott, and alderman Anthony Beale (9th Ward), Carver suddenly became a selective enrollment "military" public school.
The "neighborhood school" for Altgeld Gardens became Fenger High School, miles and communities away. Gang turf conflicts erupted between the students going to Fenger from 'The Gardens" and the kids from Roseland. The death of Fenger student Darien Albert occurred in October of 2009 while Michael Scott was with Chicago Mayor Richard M. Daley lobbying in Europe for the 2016 Olympics. Because the murder of Derrion Albert was caught on a camera phone video, the story became international news and Daley and Scott rushed home to do damage control.
Militarization, Privatization and Disruption of Neighborhood schools-
The militarization of Carver is one example of several neighborhoods that now suffer militarization.
Ames middle school on the north side, was just converted into a military school. While students and community organized and won in the non-binding voter referendum to keep Ames a neighborhood school, CPS with the help of alderman Roberto Maldanado (and a handful of former "movement" organizers who publicly trashed the community's real public schools) voted to disband the successful Ames Middle School and send in the Marines. See video- http://youtu.be/UeZrrR8EzLc
Bowen High School cheerleaders were more traditional as they led the pep rally for the October 11, 2014 football game against Carver Military Academy High School in Chicago. Substance photo by David Vance.Charter schools are also invading real public schools in Chicago. Bowen is an example of a "cosharing" public school with a private operator.
The disruption of neighborhood schools continues not only with closing of 50 public school buildings (Sept 2013) but, charter operators taking buildings and so called "cosharing" of public schools with private operators.
Following other unsuccessful corporate school reform experiments (including the "small schools" disruptions that went on for a decade and proved lucrative for some former "progressive" activists) Bowen was recently chopped in half by CPS. They gave Noble Charter Schools a "cosharing" space in Bowen. Bowen lost its inviting quiet new library and a proposed infant-toddler day care for young mothers. (It has a separate entrance as required for the federal grant.) Plans were being completed when, CPS CEO Barbara Byrd Bennett claimed there was unused space and a third high school was needed.
And, now the community of South Chicago has three high schools two of them are charter operated. Noble started its second year in September of 2014.
And, perhaps this is why Bowen Boilermaker pride is on display. The students are fighting for their school and having fun.
Dave Vance