LABOR BEAT: History's verdict is now in on the wars from Bush to Obama
Larry Duncan - July 02, 2014
A new Labor Beat video, "The Verdict on the Wars from Bush to Obama" is now available On YouTube at: http://youtu.be/npUGZDVitA4. The video is also archived at:laborbeat.org. And for teachers and others concerned with public education, it's important to think about the billions of dollars that aren't available for schools because of these wars.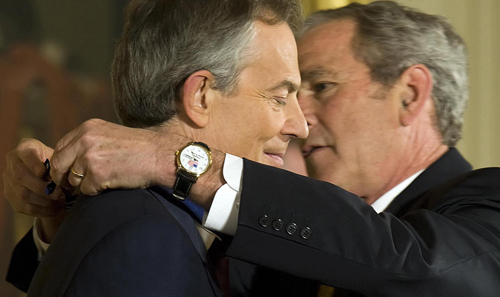 Tony Blair (left) and Geroge W. Bush were the two national leaders most responsible for the fraudulent 2003 invasion of Iraq. The subsequent endorsement of the Middle East wars by the Obama administration has come as no surprise to careful observers.The recent historic collapse of U.S. imperial strategy in Iraq (a 21st Century version of The Great Game) leaves us speechless. "Waterloo" -- originally the name of a place -- first pointed to the defeat of a long-ago hubris-stuffed emperor on the field of battle. Then it became generalized as a noun meaning "downfall." But perhaps for America's Iraq syndrome the English language will have to invent a new word.
How the Iraq debacle will now unfold is not our immediate task -- although the chicken bones augur darkly.
Instead, Labor Beat has decided that the first step would be to summarize the wretched legacy of that war (along with the wars in Afghanistan and Pakistan) up to this point.
We have gone over some 30 of our shows covering the anti-war movement since 2003 from our Labor Beat archives and have distilled into 26 minutes memorable clips, from the lie told by Bush about WMDs, thru the anti-war movement forming and growing, to police repression, war crimes, and press censorship of anti-war news; from unions getting active against the war thru the appearance of Iraq Veterans Against the War; from the election of the "peace candidate" Obama to his continuing and broadening the wars in Afghanistan and Pakistan.
The verdict on these wars is that they have wreaked havoc on human lives, international law, the national budget, and the Bill of Rights. And they're not over yet. They were conceived in a deliberate lie (certainly a high crime) by one president (Bush), who was granted a kind of immunity by the next president (Obama). Does that settle the matter? Length - 26:17