OPT OUT NEWS: More than 6,000 Long Island students Opt Out of New York State tests
George N. Schmidt - April 02, 2014
More than 6,000 students in the public schools of Long Island have opted out of the New York State testing program that began on April 1, 2014. The exams, called the ELA tests, are part of New York's launch of the Common Core. The Common Core has become so controversial now that the actual testing programs are in place in most states that several states are trying to "rebrand" it, with Florida and Arizona giving the testing associated with Common Core new names. The New York tests this year require four ours of "reading" and four hours of "math."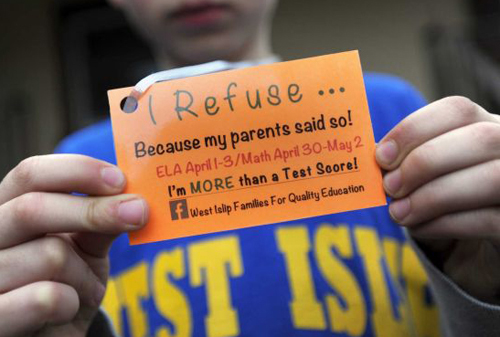 In some New York (Long Island) school district, organized Opt Out movement families are providing their children with a lanyard indicating that they are opting out of the "ELA" tests (see above). In addition to informing the schools that they want to opt out their children, the parents are making double certain that the schools and others get the message. In Chicago, panic from the administration of "Chief Executive Officer" Barbara Byrd Bennett created a massive campaign from school principals to bully children into opting "back in" to the ISAT (Illinois State Achievement Tests) after the Opt Out movement snowballed in late February and early March 2014 in Chicago. In some schools, children were threatened or humiliated when they tried to opt out, while the administration of the third largest school system in the USA is still threatening to "discipline" teachers who informed parents of their right to opt out of high-stakes testing. Newsday photo. The number is at least 6,000. The Long Island students opted out of the "reading" portion of the tests, according to Newsday. "Forty-one school districts in Nassau and Suffolk [counties], in response to a Newsday request sent to 124 districts Islandwide, said about 5,575 students refused to take the test," Newsday reported. "An additional district lumped together 224 refusals and absences. Other districts did not respond." New York newspapers have generally been reporting Opt Out news more accurately and in a more balanced way than Chicago corporate news media, which have been dominated by corporate apologetics.
No Chicago newspaper has dared to try and gather local opt out information independently of the official CPS data, which have been lowered due to massive pressure on inner city schools to reduce the opt out numbers in Chicago's most recent Opt Out, which was directed against the ISAT testing program held in March 2014. Chicago news media have barely reported on the massive bullying of children and teachers under the administration of Barbara Byrd Bennett as CPS had tried to reduce the recent Opt Out numbers in the nation's third largest school system.
The Common Core tests in New York are typical of the problems with all corporate high-stakes so-called "standardized" tests.
"When the scores are reported, the students have a different teacher," critic Diane Ravitch reports on her blog on April 2, 2014. "The scores are not broken down to show what students' strengths and weaknesses are. That means they have no diagnostic value at all. Teachers learn nothing about the students except their scores. The tests offer no clue about how teachers can help their students... The only beneficiaries are the testing corporations, the vendors of software and hardware, whose equipment is required..."
NEWSDAY STORY BELOW HERE:
Thousands of LI students refuse to take state tests. Originally published: April 1, 2014 8:28 PM.Updated: April 1, 2014 10:51 PM?By JO NAPOLITANO AND JOIE TYRRELL. jo.napolitano@newsday.com,joie.tyrrell@newsday.com
Thousands of Long Island students in grades three through eight refused to sit for the state's English Language Arts exam Tuesday as the so-called "opt-out" movement picked up momentum in districts across Nassau and Suffolk counties.
School administrators said the increase was driven by the state's rushed rollout of the Common Core education initiative and the link between teacher job evaluations and student grades.
Tuesday kicked off three days of the English exam for 204,000 students on Long Island and about 1.2 million statewide. Math tests will be administered to the same grades from April 30 through May 2.
Forty-one school districts in Nassau and Suffolk, in response to a Newsday request sent to 124 districts Islandwide, said about 5,575 students refused to take the test. An additional district lumped together 224 refusals and absences. Other districts did not respond.
The number in those Island districts surpassed last year's statewide total of "not tested" students, according to State Department of Education estimates.
A grassroots movementThe opt-out movement started last spring and has spread through grassroots activism and social media. Students opting out of tests remained a small percentage of the total taking the exams.
In the Rockville Centre district, more than 30 percent of third-, fourth- and fifth-graders sat out the exams, superintendent Bill Johnson said. The numbers were higher in the middle school, reaching 62 percent.
"This is a sad day in education," Johnson said. "We should not be in this position. We are here because the state developed a very bad test, did not implement it properly and is essentially refusing to modify its implementation."
Jonathan Burman, spokesman for the state Education Department, said his office doesn't track the number of students who refuse the tests. But he said he's confident that most parents want to know their child's progress in the subject matter.
"Why wouldn't a parent want to know how well his or her child is doing?" he said. "This year, like last year, the parents of more than a million students across the state will 'opt-in' to find that out."
But Johnson said, "We need to toss this exam and start over again -- to look at ways to shorten the test, provide immediate feedback to schools, children and families. All of which is doable."
Richard Iannuzzi, head of New York State United Teachers, the state's largest teachers union, expects the refusals to rise.
Parents have gone a year, he said, "watching a [Board of] Regents task force, a governor's panel, legislative forums, and we are in the very same place we were, and I think it has escalated the frustration and the anger."
All of the groups he named have held hearings or created special committees after parents' and educators' outcry over the rapid introduction of tougher coursework and tests tied to the Common Core academic standards.
More than 90 percent of eligible students in Center Moriches took the test, superintendent Russell Stewart said.
He said he's frustrated with what he calls the "hysteria" surrounding the exams. The tests aren't new, he said, but the fact that they are no longer transparent -- schools are not told which questions children answered incorrectly -- is problematic and has fostered "an air of distrust."
While some critics said too much emphasis is placed on the results, Stewart called the assessments "simply one data point" that can "provide valuable insight as our students are compared to like students across New York State."
Some school administrators attributed the increase over last year's refusals to peer pressure, and expressed concern about the potential effect on their districts as related to state and federal requirements for participation.
In the Plainview-Old Bethpage district, about 300 students opted out of the exam. The district anticipated that about 5 percent would refuse, but the figure doubled, superintendent Lorna Lewis said.
"There were people who had firm convictions about what the tests mean and the stress," she said. "The numbers then jumped to kids coming onboard due to peer pressure."
The state, following federal guidelines, requires that 95 percent of a district's students -- including subgroups divided by race, among other categories -- take the exams. Schools that fall short can lose their good standing.
Funding issues
Lewis said the low participation rate would identify her district as "in need." If the trend persists, the school could be forced to create a plan for improvement, and eventually could lose funding.
"They haven't been quite explicit about all the implications," she said of the state. "We do know it puts us as a school 'in need.' I don't know what they are going to do when every school is 'in need.' "
Jericho superintendent Hank Grishman said he isn't worried about sanctions or whether his district meets Adequate Yearly Progress, a benchmark set by the state.
"It's not a high priority in my mind," he said. "We have a good idea of how our kids are achieving individually and by group, and I really don't need an exterior measure to help us determine the appropriate educational programs for our kids, our courses or our grade levels."
The same holds true, he said, for any possible monetary loss.
"I'm more concerned about the social and emotional health of our kids than in losing several hundred dollars," he said.
More than 90 children in his district opted out, he said.
About 15 percent of the Middle Country district's 4,539 students refused the exam, officials said. Superintendent Roberta Gerold said she's curious how the state will handle it.
"I think it is unheard of that so many districts will be placed into a predicament that they had very little control over," she said.
Scott Limmer, 45, has two children in Lewis' district, one in sixth grade and one in eighth grade. Both sat out the exams.
"I hope the state takes notice that we, as parents, are not happy with the decisions they've made with respect to education," said Limmer, an attorney. "We are not happy with the way this is going."