'Participants may enter the waters knee high, waist high, or take the full plunge.'... Union Financial Secretary warming Up for the cold water of Lake Michigan... Polar Plunge to help Special Olympics
Susan Zupan - February 16, 2014
The 14th annual Polar Plunge Chicago is scheduled for Sunday, March 2, 2014. The fundraising from the event will benefit Special Olympics Chicago. There are close to 5,000 Special Olympic athletes in Chicago; this number includes Chicago Public School (CPS) students and the Chicago Teachers Union is working to help make it a success.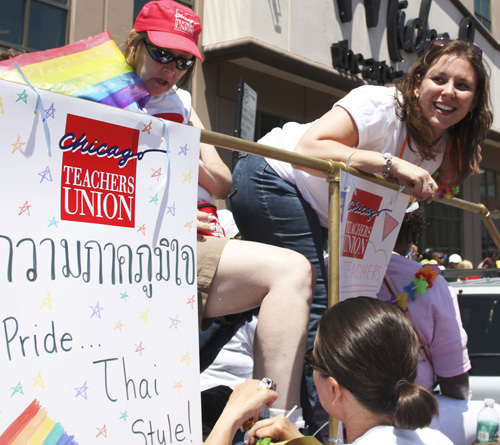 The leaders of the Chicago Teachers Union are clearly not "sunrhine soldiers," as union preparations for the annual Polar Plunge in Chicago again shows in 2014. But summer is also a time for commitment. Chicago Teachers Union Financial Secretary Kristine Mayle will be taking the Polar Plunge for the Special Olympics on March 2, 2014, but she has also been in the forefront of the union's leaders in participating in major Chicago events. Above, less than a year after she was elected to her first term as an officer of the second largest K-12 union local in the American Federation of Teachers, Mayle helped lead the CTU contingent in Chicago's annual Gay Pride parade on June 28, 2011. Substance photo by Howard Heath. Participants in groups of thirty will begin to plunge into Lake Michigan's icy waters at 10:00 A.M. March 2 at the Chicago Park District's North Avenue Beach. The site is located at 1600 North Lake Shore Drive in Lincoln Park. (South Siders, this is the beach with that giant Gilligan's Island-like, stranded boat concession stand, off the exit before the Lincoln Park Zoo exit as you're headed north on Lake Shore Drive.)
Everyone else is welcome to attend and cheer on the participants from the (relative) safety and comfort of the beach. A large contingent from the Chicago Teachers Union will be present to cheer CTU Financial Secretary Kristine Mayle, who is on leave from her job as a special education teacher to work at the union. Mayle leads the union team into the water.
According to the Special Olympics Chicago website, at least 2,000 polar plunging participants are expected. Participants may enter the waters "knee high, waist high, or take the full plunge."
Each participant agrees to raise a minimum of $150. Each participant will receive a free t-shirt and a warm towel. There will be prizes for top fundraising. There will also be top costume prizes – team and individual.
Many of those who are less inclined to dive into the icy waters have instead already donated as sponsors to the participants. But not enough, according to both union and Special Olympics sources.
As of February 15, 2014,, according to the Special Olympics Chicago website, a little over $255,000 has been raised toward their goal of $1 million.
The Chicago Teachers Union has entered a team, of which one participant will be Financial Secretary Kristine Mayle. According to the Chicago Teachers Union website, CTU's team is participating "to raise money to benefit individuals living with disabilities, many of whom are in special education programs in schools throughout the city."
"Wouldn't it be nice to see a 'Sea of Red' supporting special ed on the possibly white, snow-covered, North Avenue Beach in support of our CTU brothers and sisters and allies plunging into the cold blue of Lake Michigan on March 2?" asked on union teacher planning to attend.
It's easy for union members to offer their support, plunging or not. One way to either join in (more participants are very welcome!) or donate to support the CTU team is via the CTU website at ctunet.com. Type "Polar Plunge" into the search engine and link from there for information which includes donation.
It is also not too late for other teams to sign-up for participation via the Special Olympics Chicago website at sochicago.org, officials say. The organizers offer a free round-trip bus provided for any group of twenty or more, so schools can create their own teams if enough teachers, parents, students and others are interested.
"CPS has cut funding that they used to provide for Special Olympics coaches and programs within the schools," Kristine Mayle told Substance. Ms. Mayle noted that though she does not know the exact size or impacts of any cuts, it appeared to her that the folks at Special Olympics Chicago sounded disappointed with the "last few iterations of CPS leadership."
Cuts have hurt their CPS programming.
According to Ms. Mayle, Mayor Daley was a big supporter of and, as mayor, helped disability rights groups.
According to the City of Chicago website, "Chicago Special Olympics operates in the Chicago Park District and Chicago Public Schools from funds raised by the Special Children's Charities." Were any such funding cuts to the CPS arm of this operation particularly made after Daley left office? Chicago's current mayor seems more inclined to use the events as publicity stunts, while refusing to support Special Olympics in the schools themselves with budgeted money.
The Chicago Board of Education has changed a great deal in its special education side. The central office is no longer called "Special Education." It is now the so-called "Office of Diverse Learners." After Rahm Emanuel became mayor, the office was also purged of local leadership. The current "Chief Officer for Diverse Learners" is Markay Winston, who was imported to Chicago from Ohio. Winston was hired July 25, 2012 on the recommendation of (Rahm's first "Chief Executive Officer" at CPS) Jean-Claude Brizard to be the "Executive Officer" of "Learning Supports – Special Education." According to the Board Report which was approved without discussion or debate, Winston's annual base salary is $170,000. The Board members also voted to award her an unprecedented "Signing bonus" of $10,000 and pay what it calls "Relocation expenses" of $13,500.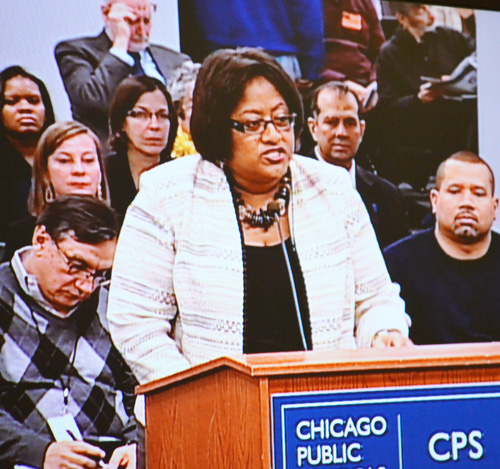 The chief of special education for Chicago Public Schools, Markay Winston, was hired by a vote of the Board of Education in July 2012 at an annual salary of $170,000 per year. The Board also gave her a $10,000 "signing bonus" and $13,500 for "relocation expenses" without ever having to explain why a bureaucrat from Chicago was the only person qualified to head Chicago's special ed department. Board members have never explained why they had to go outside of Chicago (and Illinois) to find the right person to head the special eduction department of America's third largest school system.
Do the current expensive bureaucrats running the CPS office care much about "Special Olympics"? Apparently not. As of February 16, 2014, the Special Olympics Chicago Plunge was not listed on the March 2014 calendar on the home page for the CPS Office of Diverse Learner Supports + Services (ODLSS), although the ODLSS page displays photos of CPS students who appear to be participating in Special Olympics Chicago events.
The current name for the special ed department at CPS is pronounced OODLES (as in "Ooodles of Noodles..."). That stands for "Office of Diverse Learners Support Systems" as of February 2014. Plugging "Special Olympics Chicago" into the ODLSS home page's search engine found just two results, with only one somewhat related -- for "World Sport Chicago." This is "an organization that was founded as the leadership vehicle for Chicago's bid for the 2016 Olympics," its stated legacy being "to identify and nurture athletes with visual and/or physical disabilities in Chicago."
There is a link for World Sport Chicago on the ODLSS home page under "Parent Resources." From there, "Special Olympics Chicago" is listed on a SUB MENU under "Partnerships." Repeated clicks to (double-check) this link resulted in viewing the capital letters of: CPSSPECIALEDUCATION.ORG. However, further below, it stated: "Diese Domain steht zum VERKAUF!" The translation given was: "This domain is FOR SALE!" Links presented on the page appeared to be related to various aspects of teacher certification. Nothing discernibly-connected to Special Olympics Chicago was readily available on this CPS ODLSS link for Special Olympics Chicago.
The Special Olympics Chicago Polar Plunge event can be found on a calendar for such listings via a quick search on the general cps.edu website.
There is a question of whether or not the present mayor of Chicago will participate in the Plunge. Rahm Emanuel has participated in past Plunges. Recall, however, that Rahm Emanuel, prior to his present gig as mayor of Chicago, was plunged into politically-incorrect waters in early 2010 in Washington D.C. regarding comments he made (in the summer of 2009), using the r-word ("retards"), in reference at that time to "liberal activists." This necessitated an apology from Mr. Emanuel to Special Olympics International Board Member Maria Shriver.
According to "City of Chicago," the city's official website, on July 3, 2013, Mayor Emanuel issued a "friendly challenge" this summer in regard to the start of the first citywide "Summer of Learning" for the children participating in "Rahm's Readers." Along with Chicago Bears Israel Idonije, his challenge was as follows: "If Chicago's readers finish 2 million books this summer, Israel and I will do the Polar Plunge in Lake Michigan."
Later that summer, according to a Chicago Tribune report dated August 29, 2013, it was noted that 71,260 children read 2.1 million books. According to examiner.com, these numbers were referred to as "record-breaking" by Chicago Public Library Commissioner Brian Bannon.
This reporter was unable to exactly confirm whether or not Mayor Rahm Emanuel would participate in this year's Plunge. Mike Benavente, Chicago Park District contact for Special Olympics, called me back, but I missed his calls as he missed mine. No one from the Chicago Park District or Special Olympics Chicago would simply reply "yes" or "no" via answering machine or email to the question of Mayor Rahm Emmanuel's participation.
Should Rahm Emanuel participate in Special Olympics Chicago's 14th annual Polar Plunge, as promised to the children of Chicago, for a possible winning costume entry, the following is only a Hollywood-style suggestion for the present mayor, who carefully scripts most of his public events:
Maybe Rahm Emanuel can take the "full plunge," submerging in everyday mayoral garb but emerging, with the support of an underwater entourage from the "Mayor's Press Office", as RAHMZILLA from the icy waters of Lake Michigan. RAHMZILLA can then trudge ashore in a manner reminiscent of the early Godzilla movies towards a "city" on the shore. Cardboard cutouts of CPS schools (including those with cluster programs for special education students) can be set up on the beach for Rahmzilla to set ablaze or sweep aside with his tail as he stalks toward the Chicago Skyline…
For all those participating, including (or not) the mayor, what people are doing with Chicago's Polar Plunge needs to be classified as REALLY COOL.
?