Organizing based on the 'Chicago Model'... Portland teachers vote to begin strike February 20... Portland Public Schools Supt. Carol Smith hopes substitute teachers will scab
George N. Schmidt - February 07, 2014
Portland teachers vote to walk out Feb. 20, while superintendent Carol Smith plans to put Subs under pressure if Portland teachers strike. Portland Public Schools (PPS) cancels meeting while teacher talks go on... The news stories are growing from the West Coast.
In what may become the first "post austerity" urban teachers' strike, the union teachers of Portland Oregon voted to begin a strike on February 20, noting that Board of Education negotiators talk and act as if the district was still facing that austerity of previous years, even though Portland schools have a budget surplus. Beyond that, many additional old tunes are being played as Portland prepares for its first teacher strike in history: news media look to interview scabs and potential scabs; school officials begin the "for the sake of the children" propaganda; and the school district begins trying to bribe substitute teachers with premium pay -- as along as they cross the picket lines when the strike begins.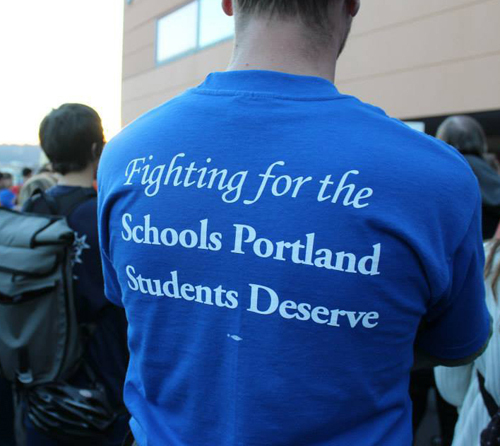 One of the slogans Portland teachers are using is based on the Chicago Teachers Union's report, "The Schools Chicago's Students Deserve." Deja vu Chicago over 40 years? In 1975, Chicago's then School Superintendent, a Kennedy guy named Joe Hannon, tried to fend off a strike by the Chicago Teachers Union by opening scab schools using scab regular teachers and substitute teachers. It was the beginning of Substance and a group that began this news service, "Substitutes United for Better Schools" (S.U.B.S.). And so substitute teachers joined the CTU picket lines with signs and leaflets that read "Subs won't scab for Hannon!" Throughout the 1975 Chicago strike, there were more regular teachers scabbing than substitutes, and long thereafter it became a matter of pride (and buttons) that "Subs aren't scabs!"
Despite the neglect by the regular teachers and much of the union leadership, Chicago's substitute teachers built and organization, brought into the union the demands of subs, and finally got equal representation (the power to elect delegates) within the CTU. Already, at its February 5, 2014 House of Delegates meeting, the Chicago Teachers Union voted unanimously to support the Portland teachers, should the brothers and teachers face the necessity of a strike. Hundreds of CTU delegates on that cold night stood in front of the officers at the end of the February 5 meeting under a sign that read CTU supports Portland teachers and sang "Solidarity Forever."
PORTLAND OREGONIAN STORY ON THE STRIKE:
Portland teachers vote to begin first strike in history
By Nicole Dungca | ndungca@oregonian.com, February 05, 2014 at 6:07 PM, updated February 06, 2014 at 8:08 AM
Portland Public Schools teachers have authorized the first strike in the history of Oregon's largest school system and set a walkout date: Feb. 20.
Nearly 3,000 Portland Association of Teachers members gathered behind closed doors at the Arlene Schnitzer Concert Hall Wednesday and emerged after about an hour with a firm yes vote to walkout.
"We are sad but empowered," said Rosa Parks Elementary teacher Stephanie Windham. "It was an uproar. We are united."
The precise language they endorsed -- "PAT shall call a legal strike" -- sounds definitive, but the vote does not automatically trigger a walkout. Schools will be open and fully staffed Thursday.
Instead, Wednesday's decision gives union negotiators permission to authorize a strike if continued negotiations do not yield a contract. PPS leaders and union representatives are scheduled to meet in another mediation session Sunday. Union leaders will submit the required 10 day notification of a strike and plan to date the walkout Feb. 20. Union president Gwen Sullivan said she hopes parents will honor picket lines and not send their children to school if a strike occurs. But teachers still want a deal. "We are hoping that ... they'??ll understand that we'??re unified, and they'??ll try to resolve this quickly," said Michele Huffman, a second-grade teacher at Whitman Elementary in Southeast Portland.
School board co-chairman Greg Belisle said he was "really disappointed" by the vote, but hoped a deal could be reached before a strike actually happens.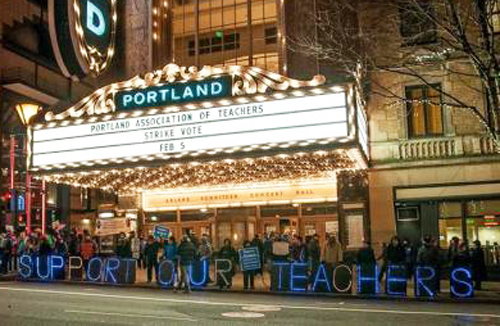 Portland teachers strike vote. Labor Notes photo."I think we've said it's really hard on our communities, and it's unfortunate that PAT took this step," he said. "I just know it's a really stressful time, and our responsibility is, in part, to make sure that regardless of what happens, we honor our commitment to create a safe environment for kids."
Lewis & Clark law professor Henry Drummonds said that strike votes sometimes help labor and management come to a deal by upping the pressure to compromise.
The prospect of a vote certainly has increased the amount of attention students and parents are paying to negotiations: Students at several PPS high schools walked out of class Wednesday afternoon or held lunch-time gatherings to protest the protracted talks.
"I view these protests as putting a lot of pressure on the district and the union to come together and sit down at the negotiation table," said Lincoln High senior Emma Hoffman, who organized a walkout of about 100 students at her Southwest Portland school. "We don'??t want to see a strike. No one wants to see a strike."
At Cleveland High School in Southeast Portland, the crowd chanted, "Whose schools? Our schools? We're the future of this nation. We deserve an education!"
"We shouldn't be fearing the next cuts to our schools," said Cleveland junior Zoe Laud. "The district should be fearing us."
Negotiations between PPS and its union began last April. Though they've made substantial progress at various points, both labor and management have said they'??re close to a deal -- conflicts remain on several issues seen as key by both sides. The sticking points include: whether to eliminate early retirement incentives, how large a pay increase teachers should receive and how big a role seniority should play in who loses their jobs in case of layoffs.
As they entered the concert hall Wednesday night, many teachers made a point of mentioning what has been one of the union'??s chief messages: They want the district to take specific steps, including hiring more instructors, to reduce class sizes.
"I wouldn't strike if this were over a percentage point over salary," said Mark Wilson, a teacher at Rosa Parks Elementary in North Portland. "??It'??s about class sizes."
Questions about the strike vote?
Join Oregonian reporter Nicole Dungca for a live chat at noon Thursday. She'll answer questions about what Wednesday's strike vote means for parents and students. You can start by sharing questions here.
Steven Orndorff, a veteran special education teacher, said he was feeling "??a combination of ire and anger"?ť toward his employers at PPS. He'??s got a plan for a strike:
"I'll rip through my retirement money, but I can still keep me fed and housed," he said. "I'll maybe go to the San Juan Islands with the girlfriend."
For Lisa Wilkins, Whitman Elementary'??s building representative for the union, teacher workload is a major concern.
As a veteran teacher who's worked in the district for 27 years, Wilkins said she feels pressured to do as much extra work as younger teachers who are more eager and more energetic.
"I have seen Portland go from a top-notch district to a district where money is misappropriated," she said.
Inside the concert hall, the mood was boisterous leading up to the vote: "I have now lost track of the number of standing ovations we've given," Madison High teacher Maurice Cowley wrote on Twitter.
In advance of the vote, five people spent about 10 minutes making arguments about striking, three in favor and two against. Teachers cast their votes by standing up. Fewer than 10 stood against a strike.
Departing teachers admitted to mixed emotions: "I don't feel like celebrating. It makes me nauseous to think if this goes through, I have to leave my kids," said Julana Torres, a teacher at Southeast Portland's Franklin High.
"I have to say, I'm really sad," said Lise Flores, a Spanish teacher at Wilson High in Southwest Portland. But we need to do it. We have to do it. And I'm hoping that they'll come around. I'm really really hoping that they come around."
Though the bargaining teams are still talking, both sides are preparing for a walkout. District officials have said they hopes to keep the doors open in the event of strike, but have refused to release detailed emergency plans. They've begun attempting to recruit substitute teachers from other school systems.
Union leaders have started scheduling "picket captain"?ť training. And this week, they filed an unfair labor practice complaint accusing PPS leaders of pressuring their own subs to cross the picket line. Those teachers have the right to refuse available work in a strike.
-- Nicole Dungca and Brad Schmidt
OTHER PRESS REPORTS ON THE PORTLAND TEACHERS VOTE:
CHICAGO TRIBUNE REPORT, FEBRUARY 7, 2014. FROM REUTERS...
Portland, Oregon, teachers vote to authorize strike, February 05, 2014, Teresa Carson, Reuters
PORTLAND, Oregon (Reuters) - Teachers in Portland, Oregon's largest school district, voted Wednesday night to authorize a strike, setting the stage for a walkout that could disrupt classes for nearly 48,000 students, union officials said.
Portland's 2,828 teachers have been engaged for months in contentious off-and-on negotiations with the district on a new three-year contract, and the strike authorization vote clears the way for a strike on February 20 if no settlement is reached, the Portland Association of Teachers said late Wednesday.
"No teacher ever wants to go on strike, we want to be in classrooms with our students," union president Gwen Sullivan said in a statement after the vote. It said the strike authorization was approved by an overwhelming majority, but the vote count was not disclosed.
The union was seeking higher wages and smaller class sizes, among other changes, the release said.
School district officials are "deeply disappointed" that teachers voted to authorize a strike, Christine Miles, spokeswoman for Portland Public Schools, said in an interview with Reuters.
"We all know a strike will be extremely disruptive to our kids, our families and our community," Miles said. The district is still hoping to make progress toward a settlement in mediated talks scheduled for Sunday, she said.
"We can still negotiate after a strike vote," Miles said. "We are still at the table. We are still trying to come to an agreement."
A strike authorization does not necessarily mean that the teachers will walk out. It does, however, allow union leaders to declare a strike if negotiations are not successful.
State law requires teachers' unions to give a school district at least 10 days' notice before going on strike.
The district already is bracing for a possible walkout with plans to keep its 78 schools open using substitute teachers if the need arises.
Some parents, however, have expressed concern at the prospect of their children crossing picket lines to attend classes or extracurricular activities during a strike.
"I don't think we would send them to school with substitutes. We support the teachers," said Ali King, the mother of two daughters in the sixth and ninth grades. "Even with qualified subs, it will be a disruptive atmosphere."
The next round of talks for the two sides in the dispute is scheduled for Sunday, February 9.
Students at several Portland high schools were planning to stage their own rallies to show support for teachers before the vote on Wednesday.
The union and school district have been at odds over class size, teacher workloads, wages and insurance coverage, but the issue of staffing levels has emerged as the chief stumbling block.
Pointing to a budget surplus projected for the coming year, the union is demanding that the district hire 176 new teachers, while the district wants to add 88 instructional positions and save more of its extra funds as a rainy-day reserve.
Teachers are asking for raises of 3.75 percent in the first year and 3.52 percent in the second year of the new contract. The district is offering a 2 percent salary hike for each of the next two years.
(Reporting by Teresa Carson; Editing by Steve Gorman, Gunna Dickson, Sharon Bernstein and Ken Wills)
PORTLAND – Teachers at Portland Public Schools voted to strike Wednesday night.
A spokesman for the Portland Association of Teachers told KGW the vote was nearly unanimous.
Teachers are required to give the district at least 10 working days notice before they could walk off the job. They voted to set the walkout date for Thursday, Feb. 20 [2014]..
If the district's teachers walk off the job, it would be the first time in Portland history.
"No teacher ever wants to go on strike, we want to be in classrooms with our students," explained PAT president Gwen Sullivan. "But Portland teachers are united and resolved to stand up for our students' learning conditions. It's time to move this to a conclusion so that we can have a contract that is fair for teachers and good for students."
Portland School Board Co-Chairs Pam Knowles and Greg Belisle said they were "very disappointed" that the PAT voted to authorize a strike.
They released a statement that said, in part: "We know that a strike would be extremely disruptive for students and families. Our goal is to reach an agreement that adds teachers to schools, adds school days, raises teacher pay and maintains strong benefits, and helps Portland keep and hire the best educators for our classrooms while keeping our spending in line with projected state funding."
The next mediation session with PPS is set for Sunday, Feb. 9. If a contract deal is reached, the walkout would be canceled.
Sullivan said the teachers feel the latest contract offer still does not address class size relief or support the students and schools who need it most. She said it also does not provide fair compensation and would force them to "teach to the test."
The district has roughly 2,900 teachers and 48,000 students.
In a letter to parents sent out before the strike vote, PPS Superintendent Carol Smith promised that the district was making preparations to keep classes going and that negotiations with teachers would continue.
"Our goal is to reach an agreement that adds teachers to schools, adds school days, raises teacher pay and maintains strong benefits," Smith said.
PPS has been notifying their contracted substitute teachers that work will be available if a strike occurs. The teachers union has complained that PPS is pressuring substitutes to cross the picket line.
LABOR NOTES STORY BELOW HERE:
Portland Teachers Vote to Strike
February 07, 2014 / Elizabeth Thiel enlarge or shrink text login or register to comment
1901 106
The February 20 strike will be the first in the union's history. Teachers are pressing for smaller class sizes. Students organized solidarity actions at every high school in the district. "If you strike, we'll strike too!" is their chant. Photo: Bette Lee.
Portland, Oregon, teachers have voted nearly unanimously to strike.
Over 2,800 members of the Portland Association of Teachers (PAT) packed the Arlene Schnitzer Concert hall Wednesday evening for the stand-up vote, while hundreds of community members rallied outside in the freezing cold with signs that read "We've Got Your Back" and "Support Our Teachers."
The union represents about 2,900 teachers, counselors, school psychologists, and coaches.
"What's going on in Portland Public Schools (PPS) has shed light on a bigger problem: that for too long, education has been underfunded by design," said teacher Adam Sanchez during debate before the vote. "It's time to demand that the money flows into the classroom—not to corporations, not to testing and textbook companies, not to bureaucrats and high-priced consultants."
A citywide group of mostly high school students, the Portland Student Union, has emerged as a powerful force of activism and supporter of the teachers' fight. Its demands, which dovetail with the teachers' contract proposals, include smaller class sizes, funding for the arts, more time with counselors, and no school closures.
Students organized acts of solidarity with teachers in every one of the district's comprehensive high schools this week. At Cleveland High School, 600 students—half the student body—walked out Wednesday and marched to and around nearby middle and elementary schools, chanting "If you strike, we'll strike too!"
The vote passed by an estimated 98 percent, and union leaders set a strike date of February 20. If Portland teachers do strike, it will be the first time in the history of the association.
District Gets 'Aggressive'
When the current round of talks began last April, teachers had just agreed to forego a half-year's pay increases to avoid layoffs threatened by the district.
PPS claimed to be in financial crisis—but had recently taken out a lavish, no-bid contract with union-busting labor consultant Yvonne Deckard, promising her $15,000 a month to lead its bargaining strategy with teachers.
The union, meanwhile, had spent months developing its own positive vision for using the contract to improve teaching and learning conditions.
Modeled after the work done by Chicago teachers, "The Schools Portland Students Deserve" was presented as a preamble to PAT's contract proposal. It calls for equity of funding and programs across schools; lower class sizes and caseloads; wraparound services such as counseling and social work; whole-child curriculum including the arts and physical education; and an end to the misuse of standardized testing.
After two decades of constant cuts, Portland teachers feel stretched to the breaking point. The districts has increased the caseloads of special educators, counselors, and school psychologists, and reduced the number of arts, physical education, library, and other specialist positions. One professional is often assigned to serve the population of two or more schools.
Class sizes have increased—elementary classrooms are often 30 students or more—and classroom teachers are asked to do more with less support.
Teachers hoped the district would use the contract negotiation process as an opportunity for dialogue and collaboration with teachers. Instead, the district refused to talk about any of these issues, including class size. It argued these were "permissive" subjects, meaning that by state law the district is not required to discuss them.
Its initial contract proposal included over 75 significant take-backs. It would dramatically increase managerial rights, reduce workers' compensation and rights, and increase workload.
In September, district board member Matt Morton voiced the school board's intention to get "aggressive" with teachers. Its strategy has been to follow the minimum timeline allowed by law. The district called for mediation on September 16, the earliest date allowed, and declared impasse on November 20.
Another aspect of its strategy might be characterized as passive-aggressive: nobody with the authority to bargain was at the table. Neither a board member, nor Superintendent Carole Smith, nor the district's Chief Bargaining Agent Sean Murray, nor Deckard herself participated in a single face-to-face bargaining session with teachers until after the district declared impasse—so virtually no progress was made.
Superintendent Smith finally began to participate in December, resulting in some movement. But negotiations have still failed to resolve the issues most important to teachers, including workload.
The Surplus Surfaces
Throughout bargaining, the district has dismissed teachers' demands to reduce workload and add back teachers, calling our proposal too expensive.
This argument lost credibility in January, when—in a public hearing required by state law—the district revealed a budget surplus of $29.5 million dollars over two years.
A significant part of this money is the result of cutbacks to the Public Employee Retirement System; agreed-upon benefits were taken away from teachers and other state employees. Another part is because the district over-budgeted its per-teacher expenses by 20 percent. (The over-budgeting results in a lot of money in a slush fund, which can then be used for anything the district chooses—like union-busting labor consultants, for example.)
PAT amended its proposal to specify how the district could use a portion of these funds to significantly reduce teacher workload, lower class sizes, and start adding back programs that have been whittled away over the last two decades. Specially, it asked the district to create 176 new positions, at a cost of about $15 million; to reduce caseloads of special educators by 10 percent; and to reduce class sizes by 5 to 10 percent.
The district has rejected this, and said it is "out of ideas." Its most recent proposal does little to relieve workload or class size, eliminates money-saving early retirement benefits, and weakens teachers' professional autonomy and rights.
Building Solidarity
Contract negotiations have created a tide of new activists in the union. Leaders from school sites and union organizers are pooling their efforts to make face-to-face contact with every member.
Schools and weekly school board meetings are regularly flooded with a sea of blue, the color representing PAT solidarity. At nearly every board meeting, teachers have testified passionately and articulately about school conditions and what we need to serve our students.
Many teachers who previously kept to their classrooms have found their voice as public advocates for students and for public education. Bargaining committee member Steve Lancaster, for example, had never been active in the union before he was asked last year to join the team. Since then, he has become a very public and powerful voice for teachers at the bargaining table, at union meetings, and in the media.
Sanchez said the strike is "part of a larger movement to transform teachers unions and to fight back against a corporate culture that bails out corporations and bankers while starving teachers, parents, and students of the resources we need."
From the start of the bargaining process, a network of parent and community supporters has fought alongside PAT. Many of these relationships were forged in early 2013, when the union partnered with community activists to stop the closure of neighborhood schools in the Jefferson Cluster, a historically under-resourced part of town, which includes Oregon's only majority African-American high school.
Community groups such as Parent/Teacher Solidarity and Jobs with Justice have organized public forums, passed around petitions in support of teachers, and canvassed neighbors with information about what is happening.
When students marched into a school board meeting January 13 to deliver their list of demands, all but one of the elected board members walked out during their presentation.
Elizabeth Thiel is an English teacher at Madison High School, and member of PAT. She has two children who attend Portland Public Schools.
- See more at: http://labornotes.org/2014/02/portland-teachers-vote-strike#sthash.3TNLL2lf.dpuf