How AFT sells out to 'Common Core'... AFT Announces 'Top Contributors' Resources for Common Core State Standards
Susan Ohanian - January 01, 2014
First, a Recap: The AFT has a Share My Lesson Information Center for the Common Core State Standards. I've covered this before. Here's a press release AFT issued to justify its goofy lessons. Don't miss 10 Power Point Activities on Novel as Common Core Informational Text. Or the lesson teaching eight-year-olds to sound like bankers.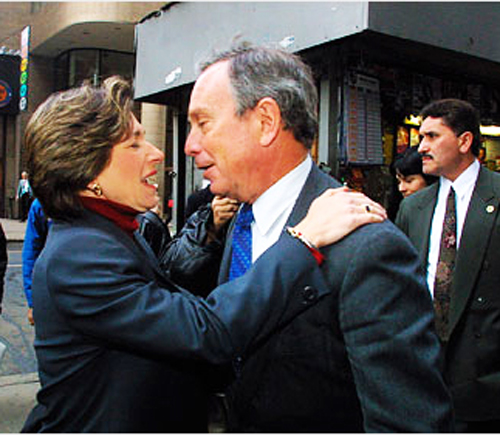 American Federation of Teachers President Randi Weingarten (left) and former New York City Mayor Michael Bloomberg (right). Things were so bizarre The Eggplant got involved with AFT Ships Out Common Core Avatar.
And more. Much much more. Just enter "Share my Lesson" into the Search on my website. After a short while, I just couldn't look at these lessons any more.
NOTE: None of the Teaching Channel lessons is available from links at the AFT press release below, but since they are listed, I'll include a note. Although the Teaching Channel received $7,270,492 in Gates money in 2013 alone, on Nov. 7, 2013, I received a message with this subject line: Susan, I need your help. It was from the CEO of the Teaching Channel, telling me this:
"If you make a donation of $50 or more, you'll receive a free download of our new eBook, Making Sense of Common Core: An Interactive Guide for Educators by Tch Teacher Laureate Sarah Brown Wessling. . . . "
Those who entered the sweepstakes had a chance at winning a free trip to the next Student Achievement Partners training conference [I'm not making this up] or a copy of Sarah Brown Wessling's ebook (which has a Compilation copyright © 2013 Teaching Channel. Compilation means it's a bunch of previous works).
I studied a lot of the lessons linked to the intro material offered in the AFT resources below. I am struck by how teacher-directed it all is. The teacher asks all the questions. Most of the lower grade Albuquerque project videos seem to explain what they're going to do--not what they actually did, but in one middle grade lesson we get the full monty. A teacher explains that they just about finished a lesson plan for "Gift of the Magi" but when Diane August,a managing director at AIR and a consultant on the Albuquerque work, came in, the issue of Lexiles came up and the teacher explanation begins, "When we Lexiled the text. . . ." They found its number was too low for the 8th grade formula and so they substituted Kate Chopin's "The Story of an Hour." Never mind that Prentice Hall puts the Chopin story in its 11th grade text. And Unit 1 of Prentice Hall Literature Common Core Edition Grade 9 includes "Gift of the Magi" in a unit on irony. But there are rules to be followed and the AFT-funded team in Albuquerque seems wedded to Lexile scores--following the Common Core rule of "grade level" text. I found some handouts for the Albuquerque treatment of Kate Chopin's "The Story of an Hour." The students are instructed to "Follow along as the teacher reads this text out loud. Then work with a partner to answer the questions." The very short text for which the students are to "follow along" has 8 declarative sentences. Here is the worksheet students are to fill out:
1. When was Kate Chopin born? Kate Chopin was born in _____/ 2. Why was Chopin depressed? Chopin was depressed because her ____ and her ____were dead. 3. What did Chopin do to feel better? Chopin started ____ to feel better. 4. When did Chopin start writing? Chopin started writing in the ____. *Bonus: How old was Chopin when she started writing? Chopin was ___________years old when she started writing. 5. What does "feminist themes' mean? Feminist themes means main ____that are in favor of ___ rights for ____. 6. Think about the role of women in the 19th century. Why was it important that Chopin's writing had feminist themes? It was important that Chopin's writing had feminist themes because __________. 7. Chopin was the first American to write about what topic? Chopin was one of the first American authors to write about the ____lives of __________________. 8. What is Kate Chopin best known for? Kate Chopin is best known for being one of the first ______ to write ____depictions of women's ________and __________.
Next, students are given sheets with individual sentences from the story, each followed by a question. The teacher reads each sentence,and the students answer the question about that sentence. Here's a sample:
Text (read aloud by teacher):She did not stop to ask if it were or were not a monstrous joy that held her. A clear and exalted perception enabled her to dismiss the suggestions as trivial.
Question: She was feeling two opposite things. What were they? She was feeling _____________ and _____________.
And on and on--through the whole story. This leaves me gasping for air. It also leaves me very very angry.
Credo: I know . . .
*this is the way David Coleman did it in his model lesson--to guarantee that everybody gets "complex text";
*this is intended for an ESL class, students who need help in learning English;
*this qualifies as cruel and unusual punishment;
students need to get their hands on lots of books they can read and enjoy--and ask their own questions about.
According to Education Week, Diane August presented the Albuquerque lessons on the Kate Chopin story at AFT's headquarters in Washington. Present were The Faithful: "a small audience of union leaders, language acquisition experts, advocates for ELLs, and federal education officials." I don't mean to pick on Albuquerque, though I would ask why their union president felt the need to keep appearing in the videos touting Common Core. Consultant Diane August is also there with words of wisdom about Common Core. Chicago's lesson on "What is Close Reading" also features a teacher question for every 4 or 5 sentences of text. Cleveland makes the same questions teachers have always asked "Common Core" by labeling them Text Dependent Questions.
"Why did the wolf want to blow the houses down?"
"Why was the wolf able to blow down the first two pigs' homes?"
Again, there didn't seem to be any room for student questions. Boston lists its project as "21st Century Lessons: free lessons created by teams of expert teachers." It is an Initiative of the Boston Teachers Union in Partnership with the Boston Public Schools & the American Federation of Teachers and includes lessons in math (middle school)and social studies (Ancient Greece, Ancient Rome, and GDP and Developing Nations. No language arts. Since math is not my specialty, I include no comments about the lessons provided by the AFT Common Core Math Cadre. I will admit I like the answers to this Name the Quadrilaterals activity, I don't know who came up with the activity, but I rather doubt they received any AFT money.
Reminder: In 2010, the U. S. Department of Education gave the AFT Educational Foundation $5 million as an Investing in Innovation grant. That same year, the Bill and Melinda Gates Foundation sent another $4,021,725 to the AFT. Then in June 2012 Gates kicked in another $4,400,000 to support the AFT Innovation Fund and work on teacher development and Common Core State Standards. The Pew Charitable Trusts and the Charles Stewart Mott Foundation. The Eli and Edythe Broad Foundation, Carnegie Corporation of New York, and the Ford Foundation have also supported the Fund. In 2011, AFT awarded a total of $800,000 in Innovation grants--to 5 locals. Two involved Common Core: Chicago Teachers Union (Illinois), to design instructional units that include curriculum, instruction and performance assessments aligned to the Common Core State Standards. The units will focus on K-3 math, elementary interdisciplinary content, adolescent and young adulthood math, career and technical education, and English language arts. ($600,000 over three years) Albuquerque Teachers Federation (New Mexico), to develop research-based professional development materials and model curricula that will help teachers of English language learners implement the Common Core State Standards. The project, a partnership with PBS-affiliate WETA, will focus on teaching ELLs in grades 1, 4 and 8. ($266,000 over two years)
Follow the links below and judge for yourself whether the money was well spent.
If people would follow the links below and read the surrounding lessons and handouts, Common Core would be dead tomorrow.
And now we get the Press Release from the American Federation of Teachers.
Common Core Content Partners on Share My Lesson
AFT
TES
Share My Lesson
No Author Claims Responsibility for this piece
Share My Lesson has partnered with organizations around the world to bring diverse, high-quality, free resources to Share My Lesson members. Here you'll find some of content partners who have contributed resources designed to help teachers understand and teach to the Common Core State Standards. We are adding new content partners all the time, so be sure to check back for more resources soon!
Albuquerque Teachers Federation: This project involved a partnership between the Albuquerque Teachers Federation and Colorín Colorado, a partnership project of PBS affiliate WETA and the AFT for educators and families of PreK-12 English language learners. It was made possible by a grant from the AFT Innovation Fund. In collaboration with Dr. Diane August, an expert on English language learners, a cadre of 15 teachers developed Common Core lessons in English language arts for grades 1, 4, and 8 that target the language and literacy needs of ELLs. Each unit includes a variety of activities scaffolded for ELLs of varying proficiency levels that can be adjusted as needed.
Featured Resources:
Student Engagement and the Common Core
Scripting Lesson Plans: Behind the Scenes
Introducing Different Versions of Cinderella
The Story of an Hour -- Introduction and Lesson 1
Burro's Tortillas Introductory Lesson
Chicago Teachers Union Quest Center: The CTU Quest Center received a grant from the AFT Innovation Fund to develop model instructional units. Teams of National Board Certified Teachers wrote four units: an interdisciplinary unit focusing on informational text for grades K-2; a geometry unit for K-3 math; an interdisciplinary unit focused on close reading for grades 3-5; and a high school mathematics unit on quadratics. A high school English language arts unit is in progress. Each unit includes lesson plans displaying instructional practice; suggested teacher support for student responses; adaptations for English learners; and an analysis of the CCSS to support educators in understanding the shifts in teaching practice. The lessons were peer reviewed by fellow grade-level and/or content teachers, and by specialists in English language learning. In addition, they were critiqued by Timothy Shanahan and John Baldwin of the University of Illinois at Chicago and Ava Belisle-Chatterjee of Columbia College Chicago.
Featured Resources:
Interpreting Key Components of Quadratic Functions
Building Better Classrooms: Cleveland Teachers Union: How can teachers prepare for the Common Core State Standards? One way is by using exemplar lessons that focus on the key instructional shifts required by the standards! With a grant from the AFT Innovation Fund, the Cleveland Teachers Union set out to create these lessons. The union recruited a skilled team of classroom teachers to write lessons for students in kindergarten through 2nd grade. A national expert reviewed each lesson using the EQuIP Rubric, a widely used tool designed to evaluate Common Core materials. Teachers received feedback on their work and made revisions, polishing their lessons to the highest standards. This school year, Building Better Classrooms will create lessons for students in grades 3-5. Featured Resources:
Cinderella Around The World Unit
Positions -- Where does it go?
Common Core Investigating the Wolf Unit Lesson 1 of 8
21st Century Lessons: A Boston Teachers Union Initiative: 21st Century Lessons is a collaborative between the Boston Teachers Union (BTU) and the Boston Public Schools that is funded by the American Federation of Teachers. We bring great teachers together to build high quality units of lessons that are aligned to the Common Core. We then upload these lessons where teachers can access them free of charge. Each lesson is part of a larger unit to help you plan for multiple days of great instruction! Featured Resources: Evaluating Expressions:
The Order of Operations
Common Core Introduction to Ratios
Writing Algebraic Expressions
Graphing Polygons and Finding Side Lengths
Teaching Channel: Teaching Channel is a robust resource for teacher professional development and lesson planning. A non-profit organization, Tch hosts a free online video library that provides educators with inspirational content, practical tools, and resources that are both aligned with the Common Core State Standards and categorized by various subjects and grades K-12.
NOTE: Follow the link to these lessons and you will get this message: "Resource unavailable. This resource may have been removed or made private."
Featured Resources:
Beyond Fingers: Place Value & the Numbers 11-19 - Kindergarten
Leprechaun Traps: Addition Within 100 - 1st grade
Multiplying Whole Numbers & Fractions -- 4th Grade
A Passion for Fractions -- 5th grade
Conjecturing About Functions -- 8th Grade
12 O'Quad High: Trigonometry in Flight -- 11th Grade
AFT Common Core Math Cadre: The AFT Common Core Math Cadre is made up of forty teachers from across the country from elementary, middle and high schools. They have been involved in reviewing the Common Core Math Standards and other related documents since before the standards were released. These teachers and coaches have had in-depth exposure to CCSS and are committed to helping others understand and implement Common Core so students will be successful. Featured Resources:
Arithmetic Understandings & Variable Expressions
Ribbon Fractions Unit
Quadratic Functions Unit
Whatever the topic, the AFT brings home the lesson loud and clear that a teacher always must proceed at her own risk.
� Susan Ohanian. blog. December 29, 2013
http://www.sharemylesson.com/article.aspx?storyCode=50012158#.UsA1NbSwXis
Index of Common Core [sic] Standards