Reverend 'Slim' Slimes Every High School Teacher on Chicago's North and Northwest Side
George N. Schmidt - December 19, 2013
By the time he had finished talking, the tall bearded man in the clerical collar had spoken for nearly five minutes, the chirpy voice of the Secretary of the Chicago Board of Education, Estela Beltran, not once calling the word "Time!" as she routinely did for most of the other people who had signed up for the two minutes each got to speak before the once-a-month meetings of the Chicago Board of Education. Beltran, one quickly noticed, that David Vitale, the Board President, had signaled that the time limits place on most speakers during Board meetings would not interrupt the rambling sermon-like remarks of Speaker Number 23, listed as "Walter Coleman" and Organization as the "Adlaberto United Methodist Church."
Coleman's remarks were among those many in favor of changing Chicago's Ames Middle School into "Ames Marine Military Academy."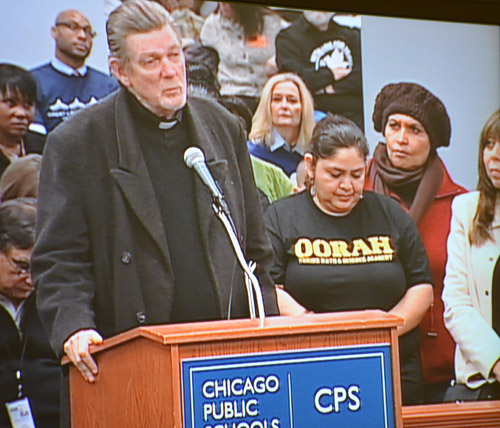 The Rev. Walter Coleman repeatedly told the Chicago Board of Education that children on the city's Northwest Side needed the Marine Military Academy because thousands were demanding admission to the existing school, which according to Coleman didn't have enough room for all of them. By the time Coleman had ended his lengthy sermon to the Board, observers were wondering why any students were attending the real high schools on the city's Northwest Side, so bad they must have been if what Coleman was saying were true. Substance photo by George N. Schmidt.Those who were paying attention wondered why the Time usually taken from most speakers at the Board had been eliminated as a stoppage on the spoutings of the man in the clerical collar. But Rev. Walter Coleman, later identified by a U.S. Congressman as "Slim." Coleman went on and on about how the high schools on Chicago's North and Northwest Side were unwelcoming to kids, but how the Marine Military Academy High School, which is currently located at 145 S. Campbell on the West Side, was being driven into massive success, a place where "2,500 students" want to get in but can't.