First 'Neighborhood Schools Fair' draws sixty real public schools for a day of exhibits and a celebration of the city's real public schools
Jean Schwab - November 17, 2013
Rousemary Vega described to the packed gym at the Neighborhood School Festival how she and her family had tried to keep their neighborhood school, Lafayette, open. They had unsuccessfully occupied it. They had spoken and protested at Board of Education meetings and they had gotten their dramatic story into the major media.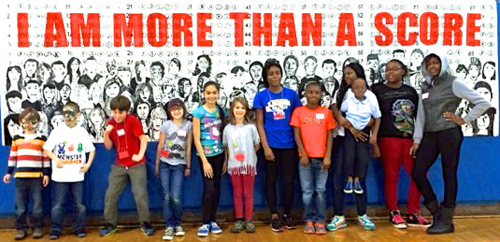 Another photo from the Neighborhood Schools Fair. Photo by Adenia Linker.But on May 22, 2013, the Chicago Board of Education voted to close Lafayette. And despite promises not to turn the buildings over to charter schools, less than six months after the Board voted to destroy Lafayette -- and the school's fine music program and other programs -- corporate media were reporting that "Chi Arts" was planning to move into the building. "Chi Arts", a so-called "contract school", is not quite a charter and has been seeking a permanent location for the past four years. Promises made by CPS officials to Chi Arts have been repeatedly broken.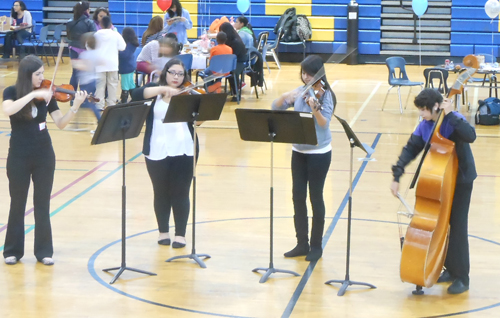 Curie High School's string quartet was featured at the Neighborhood Schools Fair. Substance photo by Jean Schwab.Vega and other parents didn't give up or become discouraged. The organized, and by November 16, they had brought together dozens of neighborhood schools for the first annual event.
Vega then told the audience on November 16, 2013 at Clemente High School how some of them got together and decided to creat the city's first "Neighborhood Schools Fair." Vega told the crowd that charter schools were advertising festivals for parents and doing an annual "Expo" for parents,.The charter schools' "expo", well financed by some of the wealthiest groups in Chicago and held at the United Airlines center at Soldier Field, began as a simple "Small Schools Expo" at Williams Elementary School. Massive corporate funding has made it a large event each year, and CPS has provided massive advertising for the annual event, including robo calls to all parents with children in CPS schools.
CPS did nothing to help the parents who organized the Neighborhood Schools Fair.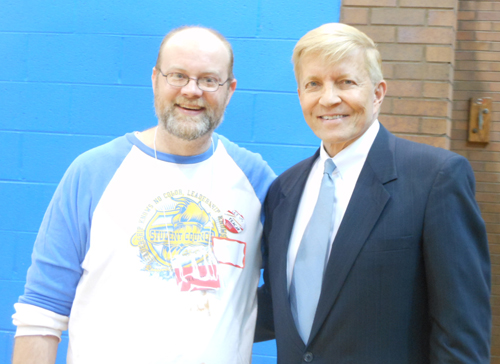 Among the neighborhood schools supporters was Alderman Bob Fioretti (Second Ward). With Fioretti is Tim Meegan, a teacher who helped organize the event. Substance photo by Jean Schwab.Vega and other parents joined together to plan a neighborhood school festival which would show the wonderful things happening in neighborhood schools. That is how the neighborhood schools festival came about at Clemente High on November 16, 2013.
There were sixty schools involved in the festival.
Each described what made their school special, like the music, art or special programs they each presented. There was delicious food from Smoke Daddys on Division Street. There were workshops for parents, activities for the children, and entertainment for all.
Roberto Clemente High School entertained with its steel drum band. That was followed by Curie High School had dancers and a string quartet. The Festival ran from 11:00am to 4:00 pm.