Another 'Safe Passage' shooting draws TV news to a West Side Chicago school
Kati Gilson - August 19, 2013
It's still a week before the children will be arriving at their "welcoming schools" across Chicago following the vote on May 22, 2013, by the Chicago Board of Education to close 49 of the city's real public schools, supposedly because the school system was facing a "billion dollar deficit" and supposedly because the school system could (eventually) save monty by the closings. Part of the claim about the closings said over and over by Chicago Public Schools officials was that every child whose school was being closed would go to a well-organized "welcoming school" along what CPS is calling a "Safe Passage" route.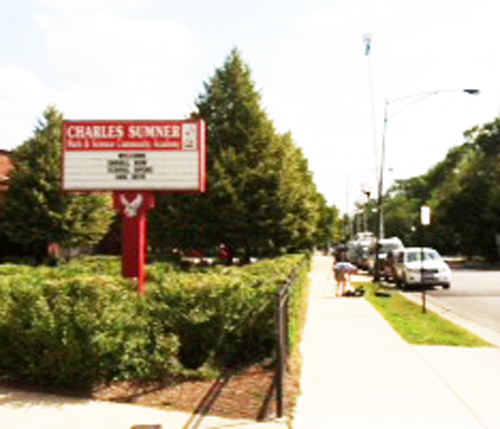 TV news trucks and other vehicles camped outside Chicago's Sumner Elementary School on August 19, 2013, following the even shooting the night before of a seven year old boy.One of those welcoming schools was originally planned to be Sumner Elementary on Chicago's West Side. After a last minute change, Sumner is on a Safe Passage route, but no longer a receiving school.
On the night of August 18, 2013, a seven year old boy was shot across the street from the school as he was bringing a bicycle into his home. Although he was in good condition by morning (after treatment at Mount Sinai Hospital), his mother told reporters that he was afraid to come out of the house.
And the police said that the gunshots one of which hit him came from the Sumner property.
According to one news report: "The mother of a 7-year-old boy who was shot by stray gunfire says he is 'traumatized' and now frightened to leave his West Side home. 

Tyvion Jackson was carrying his cousin's bicycle into his West Garfield Park neighborhood home when he was shot under his left arm and his shoulder, said his mother Tasha McDuffie.
"The boy had just returned from a picnic with his family around 9 p.m. Sunday. He was released from Mount Sinai Hospital this morning.


"'He's doing fairly well. He's just traumatized and he's afraid to come outside,'" a visibly frustrated McDuffie said today on her front porch.

 Tyvion is the ninth child age 7 or under to be shot in Chicago in less than two months, according to a Tribune analysis. His shooting capped off another violent weekend with more than 30 people shot, 6 fatally.


"Police said a group standing on a corner down the block from the home in 4200 block of West Fifth Avenue began arguing with someone sitting in a car. Someone from the group pulled out a gun and opened fire.

"
Jackson is not a student at Sumner.
