Trumbull WHITE OUT in the dead of night
Miriam Socoloff - August 16, 2013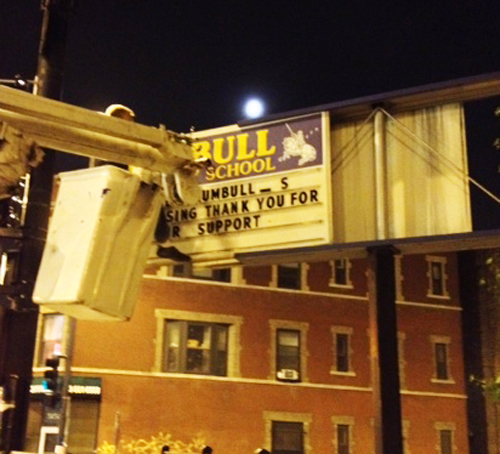 The cherry picker removing the Trumbull school sign on the night of August 15, 2013. Substance photo by Miriam Socoloff.It was nine o'clock at night at the corner of Ashland and Foster in Chicago. A cherry picker was working in front of what for more than 100 years had been one of Chicago's most venerable public schools. The task? Removing the Trumbull sign and replacing it with white panels, indicating that Trumbull, like dozens of other schools, no longer existed as a Chicago public school.
Trumbull was being "whited out" in the dead of night, when parents, students and teachers were least likely to be there to observe the work.
The white out was done less than a day after a U.S. District Court Judge ruled that Chicago Public Schools couldn't afford to keep Trumbull open. The judge had believed the claims by CPS witnesses that the Board of Education has a "billion dollar deficit" and had to ignore the specific rules of federal law, the Americans with Disabilities Act (ADA).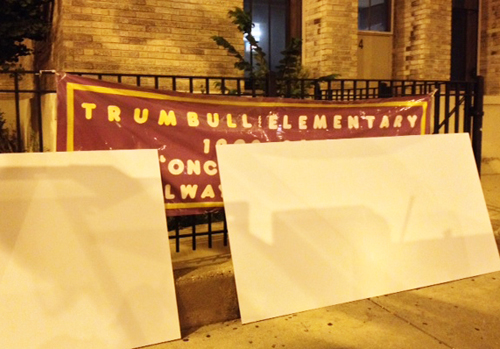 While the cherry picker was removing the Trumbull sign, the WHITE OUT panels lay in front of the Trumbull farewell banner awaiting placement. Substance photo by Miriam Socoloff.Within a hour, the truck was gone, and the sign which for decades had proclaimed Trumbull school had been whited out.