California city gets the usual barrage of verbiage about 'budget deficits' and 'underutilization' crises... Parents file lawsuit on behalf of poor families as Sacramento closes seven elementary schools following the neo-liberal attack on public schools with seven closings
George N. Schmidt - June 16, 2013
Sacramento California, where the school board is elected, joined the neoliberal racist attack real public school serving children who live in poverty with a vote to close nine of the city's real public schools. Last week, a group representing the children who will be affected by the closings filed a lawsuit challenging the school board's decision.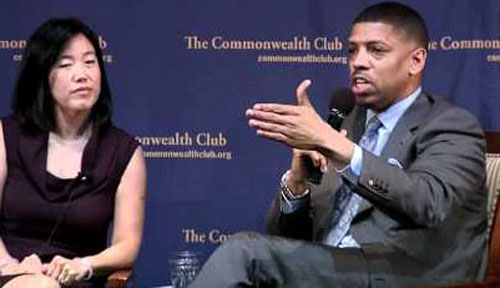 Despite the fact that both of their careers have been challenged for corruption, Michelle Rhee and her husband, Sacramento Mayor Kevin Johnson, were given the time for an appearance on the "Commonwealth Club" on national public radio. During the appearance, they used their time to trash real public schools, promote charter schools, and repeat their neo-liberal talking points with very little criticism from the questions that were allowed from the audience.The "First Lady" of Sacramento is Michelle Rhee, the former chancellor of the Washington, D.C. public schools who currently heads "Students First," one of the main astroturf groups promoting attacks on public education.
Rhee married Sacramento Mayor Kevin Johnson in 2011. Johnson's two terms as mayor of Sacramento have been marked by scandal at the charter school he operates ("St. HOPE"), including allegations of sexual misconduct and a financial scandal that resulted in St HOPE repaying nearly a half million dollars to AmeriCorps. Rhee and Johnson devote time to promoting charter schools and denigrating real public schools according to the usual neoliberal scripts. During his second term run for mayor, Johnson received the endorsement of most prominent California Democrats, including Governor Jerry Brown and Senator Diane Feinstein.
Despite the St. HOPE scandals and the questionable record of charter schools, Johnson's privatization work continues to be promoted by the ruling class. St. HOPE is the subject of a Harvard Business School lesson, and he reportedly joins Business School students for a luncheon discussion of the lesson following it. Money for Johnson's privatization projects began with "seed money" from the Gates Foundation. The vote of the school board was four to three at a March meeting (see account of the meeting below by dissident parents and teachers). All of the same wordings used in the Chicago school closings echoed through Sacramento during the debate. Community opposition to the closings is being led by "Hmong innovating Politics," a local group led by families from the Hmong community. A recent account of a lawsuit challenging the closings was published in PORTSIDE on June 15, 2013:
'A history of ntergenerational poverty and racial segregation'... Sacramento Shutters Seven Schools Filled with Poor and Minority Kids, by Steven Hsieh, June 13, 2013 on Alternet, www. strobertschool.org... Sacramento District Ignores Report Suggesting Closing Schools for Affluent White Kids, Instead Shutters Seven Schools Filled with Poor and Minority Kids...
The Sacramento city school district is poised to close seven elementary schools, disproportionately hurting students in low-income and predominantly minority neighborhoods.
In response, twelve students and their parents filed a civil rights lawsuit, asking a federal court to block the closures. The suit claims that the Sacramento City Unified District's decision "was motivated by an intent to discriminate against the minority populations" and will result in "a disastrous discriminatory effect on the poor, disadvantaged population which is served by these neighborhood schools slated for closure."
The complaint also notes that in choosing the schools it did for closure, Unified District ignored a report by a closure committee recommending the shuttering of four different schools in "older, affluent neighborhoods," each with a 'white' student body in excess of 40 percent of the enrolled students."
CBS Sacramento reports that dozens of parents and students rallied outside the courthouse Tuesday. Jonathan Tran of Hmong Innovating Politics, the group that organized the rally, told the station, "The district applied an arbitrary and illegitimate standard to target schools that are predominantly high in low-income and minority populations … At the end of the day, that is unacceptable."
According to the Sacramento Bee, "about 93 percent of students attending the seven closure schools are minorities, compared with 81 percent districtwide."
The lawsuit also puts the announced closures in the context of Sacramento's history of, "intergenerational poverty and racial segregation, in which people of color have been segregated as a result of public and private policies over a period of decades."
Despite these concerns and the closure committee's recommendations, district officials are waving off the lawsuit as a waste of time and money. In a statement, district superintendent Jonathan Raymond said:
"…it's unfortunate that the District must now spend tens of thousands of dollars to defend an unsubstantiated and baseless lawsuit. The decision four months ago to close seven of our most under-enrolled schools was precipitated by the current and ongoing budgetary burden of operating and staffing these schools."
SACRAMENTO SCHOOL DISTRICT 'RIGHT SIZING' PROCLAMATION FROM THEIR WEBSITE
District Right-Sizing: Closures of Under-Enrolled Schools
Over the last decade, enrollment in Sacramento City Unified School District has declined by approximately 10 percent, from a high of 53,418 in 2001-02 to 47,939 last year. Enrollment this year is down again by at least 800 students. The aging of our neighborhoods, the lure of new housing in suburbs beyond our borders, and the region's economic crisis have been cited as factors leading to this decline. We are projected to lose another 800 students in 2013-14. While we will continue to innovate programs aimed at attracting new families, we are unlikely to see an enrollment surge in neighborhoods hard-hit by job losses, foreclosures and California's shifting demographics. According to a report released this month by the USC Price School of Public Policy and the Lucile Packard Foundation for Children's Health, California is facing an "unprecedented decline" in its child population, a trend triggered by lower birth rates, fewer newcomers arriving in the state and a smaller population of women of child-bearing age.
SCUSD's struggles with declining enrollment have compounded the district's serious and severe budget problems, as fewer students mean less state funding. In the last five years alone, SCUSD has been forced to cut $146 million from our budget due to state cuts to public education, declining enrollment and a loss of one-time federal funds. Balancing our books has meant raising class sizes and reducing or eliminating librarians, nurses, teachers, counselors, custodians and assistant principals. These cuts have damaged our ability to continue to provide a high-quality education to every student on every campus. Despite passage of Proposition 30 and its promise of increased education funding, we are predicting another budget deficit for 2013-14 as our costs continue to rise.
Currently, SCUSD's elementary schools are operating at just 56 percent of enrollment capacity. This model is not fiscally sustainable and drains resources from other students and other schools. SCUSD operates 56 schools that serve elementary students. By comparison, Elk Grove Unified, which has substantially more students, has 39 schools that serve elementary students. San Juan Unified, with a similar number of students, operates 43. To "right-size" our district, staff is recommending the closure of 11 dramatically under-enrolled elementary schools, a deep reduction that is meant to reduce costs over time and address the structural imbalance that leads to under-enrolled campuses.
Right-sizing has benefits beyond those that are purely economic. Fewer elementary schools will mean fewer split-grade classrooms. Fewer elementary schools will mean more learning supports for every student at every school. Fewer elementary schools will also improve the district's ability to maintain our campuses, classrooms, playgrounds and fields, which will help keep students safer and healthier. Fewer campuses will allow the district to concentrate our financial resources for the benefit of students and families and lower our utility costs. By being at a larger school, students will have more opportunities for intervention and enrichment and teachers will have greater opportunities to collaborate with peers who teach the same grade level.
In addition, we are projecting a $2 million reduction in costs for 2013-14 through the closure of 11 campuses, and more savings over the years. Plans are being put in place to ease the transition as much as possible for families so that they are well taken care of during this process. Community meetings will be held so that every voice is heard as we move forward.
HMONG COMMUNITY REPORT ON THE SCHOOL BOARD MEETING:
The Serna Center [In SACRAMENTO California] was packed for nearly six hours Thursday night and into the wee hours of Friday, as parents, kids, teachers and supporters waited to hear the outcome of the board's controversial school closure plan.
And at nearly 1 a.m., they found out what many figured was already coming – a 4-3 vote to shutter seven Sacramento City Unified School District elementary schools.
The schools that will be closed are: Fruit Ridge, Washington, C.P. Huntington, Joseph Bonnheim, Mary Hopkins, and Clayton B. Wire. Three other schools slated for closure – James Marshall, Susan B. Anthony and Bret Harte – were removed from the list early Thursday.
"There's nothing like watching a done deal happen," said Darlene Stevens, following the 4-3 vote to close seven schools, including Midtown's Washington Elementary.
While the plan originally called for the closure of 11 schools, that list had since been picked apart, and on Thursday, Superintendent Jonathan Raymond recommended removing three from the list. He'd previously removed Tahoe, which will be discussed at a future meeting.
"No" votes were cast by Christina Pritchett, Diana Rodriguez and Gustavo Arroyo.
The deciding "yes" vote was cast by Jay Hansen, the newly appointed representative for area 1, which includes Midtown. Other "yes" votes were cast by Board President Jeff Cuneo, Vice President Patrick Kennedy, and Second Vice President Darrel Woo. The closures go into effect for the 2013-2014 year.
The vote came in after hours of impassioned speeches from hundreds of parents, children, teachers and community activists who opposed Raymond's "right-sizing" plan. Threats of recalling board members were made before and after the vote. In a presentation, Raymond reminded everyone of the "consequences of inaction," which includes a deficit of between $5.1 million and $11 million for the 2013-2014 school year, which is due to declining enrollment and rising costs. The projected savings of closing the schools is about $15 million over 10 years, he said.
The Serna Center on 47th Avenue was filled to the brim, and overflow audience members watched the meeting outside the room on TV screens. While the numbers started dwindling as the hour crept closer and closer to midnight, and then beyond, many stayed watching and waiting for the board's decision.
And once it was made, most got up and left.
One attendee in particular, Jessica Arriaga, wasn't just disappointed, she was "worried because there were a lot of questions they couldn't answer," she said.
And there were questions that went unanswered. When pressed by Rodriguez about the transportation displaced students would receive if attending an after-school program, Raymond couldn't say with certainty whether they'd be able to be bussed home.
Many parents brought up the fact that their schools predominately serve low-income, minority students, who already have less advantages than their more privileged peers. At one point, Arroyo showed a map of the affected schools, the majority were in the southern part of the city.
For Arriaga, a single mother with three kids, the effects go beyond finances and simply placing her children at another school. The psychology of the children wasn't ever considered, she said. "Their minds aren't set up like ours, to just go with it," Arriaga said.
Arriaga said the plan was rushed "because they wanted it done under the radar,", so that the community wouldn't have enough time to prepare alternative solutions or organize.
And it's not just her kids she's worried about. Arriaga considers herself a good parent, but not all children's parents are able to provide the guidance and nurturing needed for such a transition, she said.
"What about kids whose parents aren't involved," Arriaga said. "I just don't think they thought this all the way through."