Protests began early on historic day in Chicago... CPS security began pushing people -- especially reporters -- around a little after the sun came up
Kati Gilson - May 23, 2013
Protestors were marching and chanting when I arrived at Chicago Public Schools headquarters at 125 S. Clark St on the morning of May 22, 2013. The crowd of protestors slowly grew as the time got closer to the Board of Education meeting, which was scheduled to begin at 10:30. By 8:30, people were already lined up in the lobby and down the arcade at CPS to speak and attend the board meeting. CPS security obviously had ordered to be pushy and aggressive. Reporters were pushed around like everyone else, and there were more reporters at CPS that day than at any time anyone could remember (including the strike of September 2012).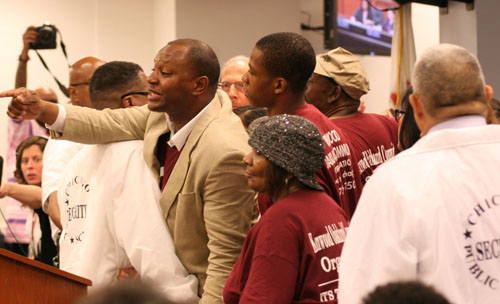 The first community leader to be forcibly removed from the Board of Education meeting by CPS security was Shannon Bennett, of the Kenwood Oakland Community Organization (KOCO). Bennett's experience working for the improvement of Chicago's schools, over decades, exceeds that of the ten highest paid CPS officials now working for the Board of Education appointed in May 2011 by Mayor Rahm Emanuel, but those years of experience have not only been ignored by the Board members, but insulted at every turn in recent deliberations on school closings. At every point where security followed the fascist planning of Emanuel's Board members, security, and "Chief Executive Officer," the TV cameras (see above right) were ordered to focus on the bland visage of the Board secretary, Estela Beltran, who has carefully qualified for her work. Substance photo by David Vance.Everyone knew the day would have historical significance -- Chicago was planning on closing the most public schools at one time in the history of the United States of America. After seven months or "Commission" hearings, "community hearings," and finally "Hearing Officer" hearings, the agenda for the meeting stated that Barbara Byrd Bennett, the current "Chief Executive Officer" of the nation's third largest school system, was proposing that 53 elementary schools be close, six be subjected to "turnaround", and eleven be put into "co-location."
Many in the crowds were angry, since as early as October 2012, when CPS first asked to be allowed to break a law which requires that the Board publish its annual closing list by December 1, people knew that Mayor Rahm Emanuel was demanding that 50 schools be closed, and since both the Board and the CEO were appointed by Emanuel, many viewed the intervening six months as theatre, not reality. Rahm wanted 50 schools to be closed as early as October, so it was only a question of how the list was going to be compiled and rationalized by his appointees on the school board and in the executive offices of America's third largest school system.
The people assembled for the meeting, many of whom had taken off from work or school, had lots to say.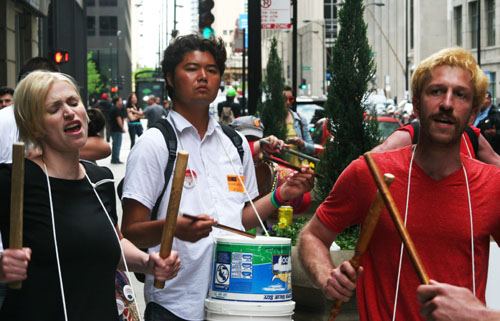 A drum circle was part of the protests against the massive school closings handed down by Rahm Emanuel's fascist regime in Chicago on May 22, 2013. Substance photo by Kati Gilson.Carlos Enriquez, who identified himself as a "Union Square activist", praised the Chicago Teachers Union. "The role the union has played from the strike onwards has been brilliant," Enriquez told Substance, "and it's quite clear what side the union is on and what side the board is on based on the support of community parents and student. I'm a big fan of the way the union and teachers are fighting".
Coleen McGinley talked about how Barbara Bowman, former head of CPS "Early Childhood" and Arthur Arnolds, Professor at the University of Minnesota, have agreed to support Dewey Elementary School and commit $440,000 as part of I3 grants over the next two years. McGinley also said there was a four-year grant in the works. She said the U.S. Department of Education says early childhood education is the best money return of any social program and that President Obama emphasized Pre-K education in his recent State of the Union address.
Adele Barkdsdale, who says she is a "citywide community activist", asked, "Why are the politicians and the mayor playing games with the families and children in CPS? This is a long long plan, started in 1995 when they started tearing down CHA and moving people out of communities near their schools and when they started building 'mixed income' housing. They promised they'd move the ousted poor families back in, but they didn't. That's why they city and the schools are in the shape they're in now."
While the main CPS claims during the tumultuous six months leading up to the May 22 Board meeting were about the "underutilization crisis," others were noting that CPS has an overcrowding crisis as well.
Mary Cunat, Principal at Wildwood Elementary School on the Northwest Side, had this to say: "We are at 175 percent capacity and going higher until 2017 by district projections – which we think are inaccurate. We know we are on the ten-year capital plan even though we were told verbally by various board people that we were on a list for an addition Our mobile unit is 13 years old; it was a temporary solution. I'm short two classrooms next year, and I don't know what I'm going to do with my 7th and 8th graders who won't have homerooms. We have to have off site kindergarten next year". Cunat and the Wildwood parents have raised these questions politely at previous Board meetings, joined by their alderman. CPS has done nothing.
Valerie Fuller told Substance she came to speak for Clara Barton Elementary, which CPS claims it needs to "turnaround."
"Clara Barton was taken off the turnaround list [at the last minute, according to the May 22 Chicago Sun-Times]," she told Substance. "Our plan was to say we should be off, but we are here now to thank the board for taking us off and support those on the list to be closed and to be turned around." Fuller said that the organized parents, teachers and community leaders from Barton supported all the schools that shouldn't be closed or turned around.
Saria Lofton, a certified school nurse, was angry over the Board's plan to close Henson Elementary School on the West Side.
"Henson has a full functioning clinic," Lofton told Substance. "It would be a travesty to close it down. They have a full-time social worker and a full-time nurse practitioner and a new 'social emotional component' that is fully functional." In a city where most schools see a nurse once or twice a week, Henson is providing the kinds of services that are needed by all children, but most of all by the poor African American children of Chicago's West Side, one of the most impoverished communities in the USA.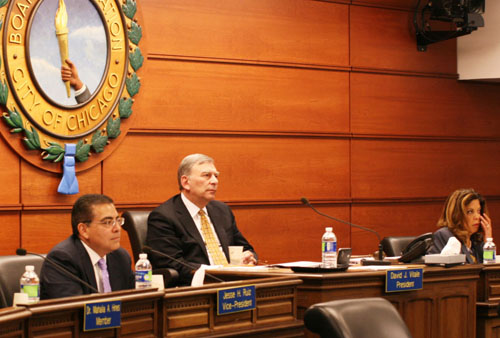 At each of the six or seven times when CPS security was ordered to pull away the microphone and podium from speakers who were objecting to the Board's looming vote on the massive school closings, the members of the Board of Education carefully stared impassively in the middle distance. Above, the two lawyers on the Board, Jesse Ruiz (left) and Andrea Zopp (right) wait to cast their historic votes during the time when their security forces were forcing Shannon Bennett of KOCO away from the meeting. Substance photo by David Vance.It was supposed to be a public meeting, but as usual the public was viewed by the Board of Education as the enemy. By 10:00, protesters had filled the long hall (called the "Arcade") outside of CPS headquarters and were chanting as people lined up waited to be allowed to attend the BOE meeting. So much press were on hand for this historic event that many were asked to wait in the hallway to be called in to "register" at the press table. Reporters and public were jostled and shoved by CPS officials and CPS security, who seemed to have been told to stop the press. Some were respecting press passes; some not so much. It was a tumultuous start to what would turn into a long day.
