Boardwatch: Parents reject the Board's transition plan to close Jesse Owens school
Brandee Stanton - April 04, 2013
The following are the remarks I made at the April 3, 2013, Chicago Board of Education meeting: Your draft transition plan for the proposed closure of Jesse Owens Community Academy, located in the Lake Calumet network on the far South Side of Chicago, in the West Pullman community, has been rejected. Jesse Owens is stated as being 68% underutilized, while Gompers is 55%. The requirement to get removed from the list was 70%, and Jesse Owens is closer to the requirement than Gompers, yet they are still being kept open.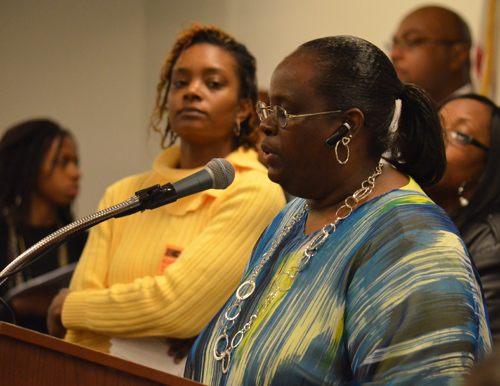 Brandee Stanton and Mary Rattler spoke to the Board against its plan to close Jesse Owens elementary.The letter I received from Dr. Burnett in March is full of terms such as grade alignment, shared attendance boundaries, offering less than K-8 programs individually, and transition to a better performing school… You say Gompers is a better performing school but Jesse Owens serves Pre-K to 3rd grade, while Gompers serves grades 4 through 8. How can you compare the academic proficiency of Pre-K through 3rd graders to that of 4th through 8th graders?
Jesse Owens has our own assets! We already have a library! We already have air conditioning! We already have 2 Pre-K programs! We have a science, technology and math lab! We have a full day science teacher! We have after school programs that include homework help, visual arts, yoga, cheerleading, and basketball to supplement what can't be implemented during the regular school day.
Finally, Owens has been revitalized with new leadership this school year. Our principal has Doctorate in Curriculum instruction and Masters in Early Childhood Education with 29 years of expertise. Our Assistant Principal has 8 years of experience teaching 3rd graders, 2 years as an Adjunct Professor for Dominican University teaching new teachers math methods and provides Professional Development focusing on Mathematics across the city. Out Lead Literacy Teacher is now the REACH Evaluation Coach for the city.
I'm a product of CPS. I graduated from Poe Classical School and the Junior High and High School Programs at Morgan Park High school. I have been a licensed practical nurse for the past 15 years as the product of the Chicago Public Schools Practical Nursing Program. I am one semester away from getting my Type 09 certificate so I can teach high school chemistry. I am leaving a job for one that may not be waiting for me!
Will you snatch my job from under me like you are trying to snatch our schools from under our children? I want to see CPS' 'lesson plans' on how the plan to implement these changes by the start of the school year in September. It's impossible. Do not close Jesse Owens Community Academy!