'Out of a possible 810 students, the administration of Seattle's Garfield High School was able to test only 118...' Teachers and students who boycott tests speak of their experiences at CTU 'More Than a Score' forum
Sharon Schmidt - March 25, 2013
CTU President Kaaren Lewis, Seattle teacher Jesse Hagopian, and several other speakers "enlightened, inspired, and energized" participants at a special community forum on standardized testing, said one teacher who spoke at the end of the meeting at Mount Carmel Missionary Baptist Church on March 19.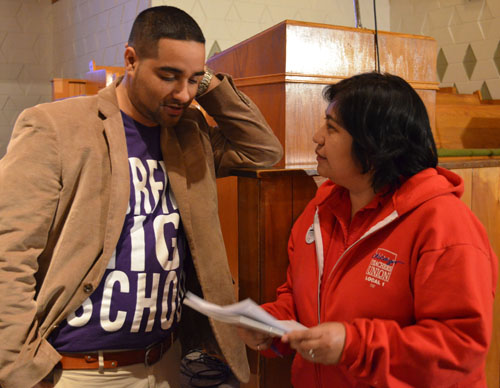 Jesse Hagopian (left) and Tracy Barrientos speak before the forum. Substance photo by Sharon Schmidt.Approximately 100 people attended the event, sponsored by More Than A Score a coalition of the CTU, Parents 4 Teachers, Raise Your Hand, and PURE. CTU Testing Committee co-chair Tracy Barirentos moderated the meeting, noting in her opening remarks that public education is in "crisis mode" because of excessive testing, which CPS is increasing in grades K-2.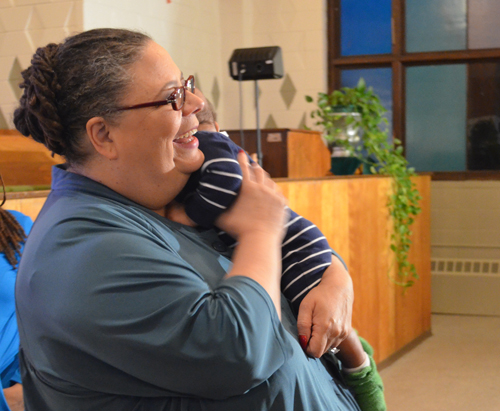 CTU President Karen Lewis hold baby Malcolm, son of Anne Carlson, a co-chair of the CTU Testing Committee before the meeting.The forum highlighted large groups of students and teachers who stood together to boycott tests, resulting in national attention and wide-spread support. Other speakers and forum attendees explained how individual students can also be protected from unnecessary tests when their parents opt them out of district tests.
Gage Park High School senior Leslie Leon spoke of a recent student boycott of the NAEP test at the school. Education Week published her account on March 7 blog post.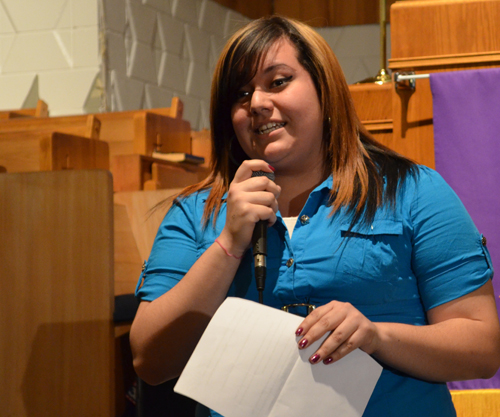 Gage Park senior Leslie Leon said dozens of students at Gage who are sick of being defined by their test scores refused to take the NAEP. Leslie said Gage Park students felt unsafe due to two recent sexual assaults and discouraged by the demise of after school programs and sports. She said that students felt that the administration "cares more about tests than our safety" and that "our programs are not a priority."
"We're being defined by our standardized tests; that's not who we are," Leslie said. When students were told to take another standardized test— the NAEP — the students refused. Leslie said that dozens of students who were pulled out of class to take the test refused, even when bribed with promises of Subway sandwiches and threatened with the loss of their prom.
"The tests don't help us," she said. "We need to be safe, to have stuff to look forward to. We will be trying to get the word out, to have our voices heard the we're not just a test score."
Following the boycott, students spoke at an LSC meeting at the school. In addition, she said that she and other Chicago students will meet with students in New Orleans and Los Angeles later this year.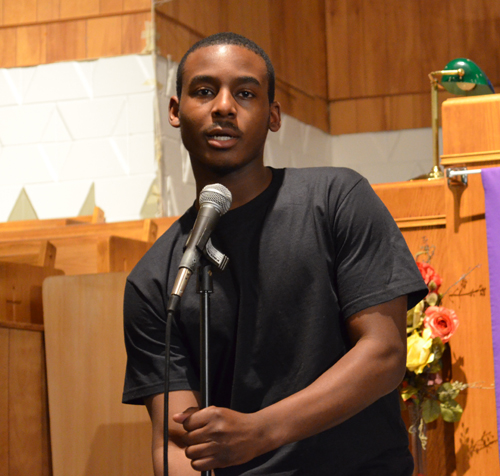 Lincoln Park High School graduate Malcolm London performed his piece High School Training Ground. He said a new group for students against high stakes standardized testing will meet on Sat. March 30 at 3 p.m. at Young Chicago Authors, 1180 N. Milwaukee.
For info: malcolmxlondon@gmail.com or info@morethanascorechicago.org

Students for Organizing,
Not Students being
Organized by Standardized Tests

• Join other students to understand the role high stakes testing is playing in undermining great teaching and learning in OUR schools. Test scores are a key in school rankings and closings, student tracking, teacher evaluations and all too often give a limited view of OUR classrooms. Tests unfairly discriminate against schools with low income students, students of color and students with disabilities.

•We will discuss the many options for high school students becoming involved in our growing movement in OUR schools.Lincoln Park High School graduate and spoken word artist Malcolm London performed his piece "High School Training Ground," which can be viewed on You Tube. He said that Young Chicago Authors would begin organizing around the issue of standardized testing and were planning to meet on March 30.
Hagopian, a union delegate at Garfield High School in Seattle, spoke about the teacher boycott of the computerized NWEA MAP test, in which the entire Garfield faculty refused to administer the tests in January.
District administrators attempted to test students, but parents and students stood in solidarity with the teachers, choosing to opt out. Out of a possible 810 students, the administration tested only 118.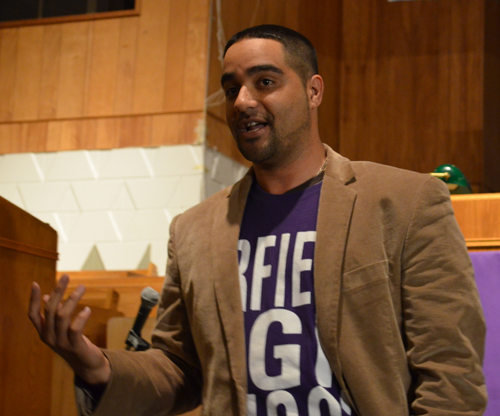 Hagopian said many schools have been boycotting tests for a long time. These schools include the Chicago Lab School.Following Garfield's lead, five other schools in the district joined the boycott. The district threatened teachers with 10 day unpaid suspensions, however at this time no one has been disciplined. The next scheduled administration of the test is in April, however the faculties of the five Seattle schools remain committed against it.
Hagopian spoke about the eugenics movement that developed standardized tests to show the superiority of whites. The tests don't show learning, he said, they show "access to resources." He said that U.S. Education Secretary and proponent of test-based school reform Arne Duncan says "education is the civil rights issue of our generation." Hagopian noted that maybe Duncan is right, but not in the way Duncan suggests, and that boycotts were a major part of the civil rights movement.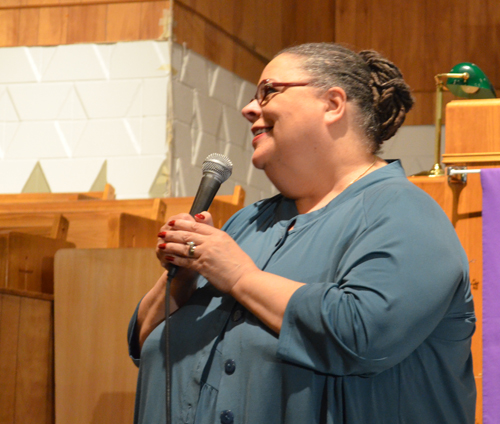 Karen Lewis suggested Michelle Rhee wouldn't be able to speak at the forum with all the Bibles in the church.Karen Lewis said standardized tests are designed to rank and sort, contributing to racial discrimination. "The playbook" used by urban district mayors and privatizers like the Gates, Walton, and Broad foundations, Lewis said, calls for closing low performing schools.
"We need to take back our schools from people who don't send their children to public schools but will close them down and tell you it's good for you," Lewis said.
"For Lewis and education advocates in attendance, testing has become part of the war on public education — a war that has now reached a crisis point," the CTU March 20 blog report on the event states. "As CPS has increased the number of tests its students are subjected to staring in kindergarten, injustice grows through a mult-million dollar industry that infiltrates the district with evaluations that are unfair, biased and that consume significant classroom time despite being of little value in the actual education of children."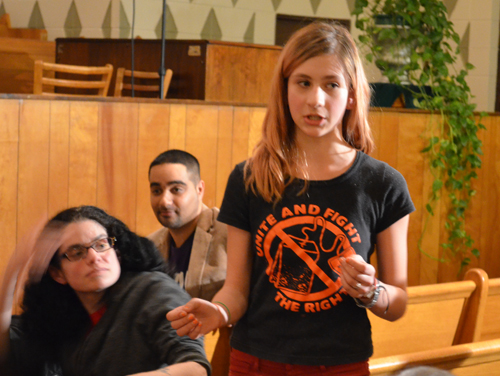 Skinner elementary eighth-grader Daisy Maass said opting out of the MAP was a relief.Participants of the forum questioned the speakers and spoke of their own experiences. Skinner 8th-grader Daisy Maass said she just opted out of the MAP and was relieved not to take the test.
"The MAP makes you feel awful," she said. "Each question gets harder. It's stressful."
Daisy said that, like many other CPS students who opt out of tests, she enjoyed reading a book instead of taking the test. More Than a Score representatives Tracy Barriento and Julie Fain,advised parents to opt out their children.
"Data makes the system run; don't give them data," a participant of the forum said. A teacher who said she was "enlightened, inspired, and energized" asked what she could do.
"Spread the word," Barrientos said. "Question what your school is doing, join the testing committee, opt out your children, advise other parents to opt out, and join the rally on March 27 at Daley Plaza." 