Rahm tells bankers parents are the problem with CPS... 'The real problem is not just the education of our children,' he said, 'We have parents that can't be parents....'
George N. Schmidt - March 16, 2013
On the day his appointed "Chief Executive Officer" decided to try and explain why she had successfully ordered her principals to remove a world famous book from the libraries and classrooms of the third largest school system in the USA, Chicago Mayor Rahm Emanuel was in New York City at a meeting of bankers on the 50th floor of the Park Ave. building which houses JP Morgan Chase (which, as we reported earlier, had just been blasted by the U.S. Senate for lying about $6.2 million in losses by the bank's London office...).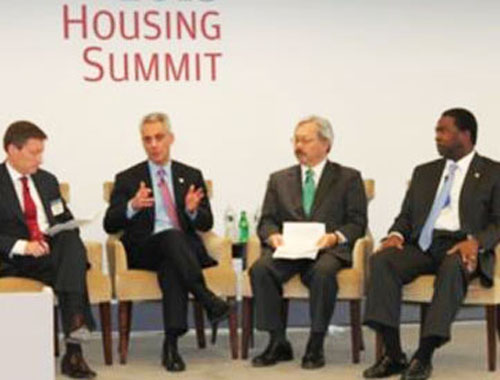 Rahm Emanuel on the panel. Mayor Rahm Emanuel appeared at a New York housing panel with Jacksonville, Fla. Mayor Alvin Brown (far r.) and San Francisco Mayor Edwin Lee (inner r.). (DNAinfo/Jill Colvin)
Without noting that Chicago's mayor spends ten times as much of his time meeting with corporate executives, Chicago's "Mayor's Press Office" on March 15 sent out a press memo stating that Rahm would be in New York at JP Morgan Chase. Rahm was apparently on a panel discussion about housing and schools, and said some things that were reported despite the fact that the access of mainstream (even corporate) reporters to the event was limited.
According to the Chicago news site DNAinfo, Rahm told the bankers that a problem with Chicago's public schools was that parents don't know how to do their jobs.
HERE IS THE COMPLETE REPORT. THERE HAS BEEN NO RESPONSE FROM THE MAYOR'S PRESS OFFICE SINCE HE RETURNED TO CHICAGO:
Rahm on Education Woes: 'We Have Parents That Can't Be Parents' Updated 28 mins ago. March 15, 2013 3:43pm. By Jill Colvin and Alex Parker
NEW YORK – Chicago's efforts to improve education opportunities for young children is going to take more than a multimillion dollar investment in universal kindergarten and corporate partnerships, Mayor Rahm Emanuel said Friday.
It's going to take better parents.
Appearing at a housing panel in New York alongside mayors from San Francisco and Jacksonville, Fla., Emanuel touted Chicago's new universal kindergarten program, a $15 million effort set to debut in the new school year.
"For God sakes, I ain't waiting for the federal government to give me money, because it's not gonna happen," he said.
And one big barrier to children's success in the classroom? Bad parents, the mayor said.
"The real problem is not just the education of our children," he said. "We have parents that can't be parents.
"We have too many kids, literally, from a broken home."
The mayor said the city is making headway in connecting parents to their kids' academic success, pointing to an initiative sponsored by Walgreens that rewards parents with $25 gift cards for picking up their child's report card.
Another program uses 12 parent engagement centers at schools across the city. The program allows parents to learn digital skills while interacting with their children at home and at school.
"As I always say, the most important door a child walks through for their education is the front door of the home. If that home is not right, nothing else in the classroom can supplement it," he said.
Emanuel wants to tie after-school program enrollment to parents picking up report cards.
"You know, you vote, you get a sticker. We'll give you a sticker when you pick up your kids' report card, and then you can enroll them in after school [programs]," he said.
Too many parents, he said, lack the skills to prepare their children for the real world.
"We have a lot of kids who aren't ever going to, at home, get soft skills: showing up on time, dressing appropriately," he said. "All that comes with the work experience."
He said the city needs to invest in projects that will help children learn skills and values that will translate to jobs.
"[We] have too many kids in homes where none of that value structure, and the pieces that come with it, get there," he said. "What is missing here is that parental piece in helping us."
Jill Colvin is City Hall reporter for DNAinfo.com New York
Read more: http://www.dnainfo.com/chicago/20130315/chicago/rahm-bad-parents-hinder-learning-opportunities-for-kids#ixzz2NeAiYUUc
