Is RTAC group planning to grab a fourth seat on Chicago teachers pension fund Board of Trustees?... RTAC Florida luncheon meeting features Walter Pilditch, pension trustee, reporting on Illinois pension challenges -- and 'other matters'
Al Korach - February 21, 2013
On February 19th 2013, my wife Marlene (a retired clerk) and I drove the 135 miles from Margate Florida to Estero Florida to attend the Southwest Retired Teachers Association of Chicago (RTAC) luncheon. I was hoping to meet with many of my former teacher friends and retirees. There were only about 40 people in attendance. Most were teachers that retired and moved to Florida -- or so called "Snow Birds" like myself that stay for six months.
While much of the meeting was no surprise to those of us with decades of union activism (I served at every level except on the staff of the Chicago Teachers Union, including vice president of the pension trustees), there was one major surprise. Apparently, with the blessing of RTAC, there will be another move to change the composition of the pension fund trustees. As Substance reported nearly two years ago, supporters of Chicago Mayor Rahm Emanuel tried to replace the 12 (mostly elected) trustees with a group of trustees appointed, like the Chicago Board of Education, by Chicago's mayor.
But more of that later.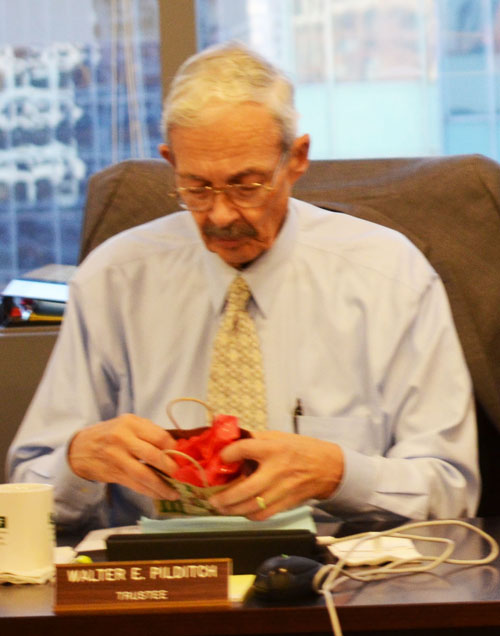 Chicago Teachers Pension Fund (CTPF) trustee Walter Pildicth at the October 2012 meeting of the trustees. Substance photo by George N. Schmidt.I was pleasantly surprised to see Jackie Mooney, the former chairwoman of the CTU Social Committee and vice president for the CTU Retiree Functional Group, still vigorous and vivacious. At age 92, she was surprisingly fit and energetic. We reminisced about much past CTU history. The other retirees in attendance were equally pleasant to meet with.
The real reason for the meeting was to listen to Mr. Walter Pilditch, long time member of the Chicago Teachers Pension Fund, update us on current or possible future happenings that could affect both retired and current teachers.
Because of the age of this retiree group there was much interest in the medical insurance. When I served on the pension Board we were able to pay 100% of the cost. As time went by and the amount of funding stayed the same while costs escalated we were having difficulty servicing the membership with funds available. As I understand it we are going to drop from 60% to 50%.
It is no secret that the state is in deep financial trouble. This is a problem that we did not create but I'm sure that they will try to make a solution subsidized by the retirees. My feelings are that new teachers coming in will have a different pension program. Dan Montgomery President of the IFT talks about "Shared Sacrifices". He's talking about active members contributing an additional 2% phased in over the next 2 years. Is he talking about the state teachers and the Chicago teachers?
So far the legislature is engaged in talking but little action is taking place. I suggest following the RTAC website for more info. There will be an attempt to install a fourth retiree to the pension board. When and how will have to be determined. Other items included such topics as applying state tax to pensions, consolidating our fund with others, plans to restore Chicago Pension Tax Levy.
I was glad to hear that we have divested in stock from companies manufacturing guns. It was a relatively small amount but shows our social awareness. I told the group that based upon my insight I would venture to state that; "Hostess Twinkies will be on the shelf before any meaningful gun legislation is passed". These divestitures are only symbolic.
Mr. Pilditch spoke of the problems receiving pension payments from Charter Schools. He told the group that some did not contribute to the fund until threatened with court action. He spoke of the possibility that the number of active teachers could possibly equal the number of retirees. I again reiterate that some pension legislation only affects the downstate teachers fund while some only affects us. As of the writing of this article the State Legislature is doing nothing. The most current issue is the attempt to restore the states annual subsidy.
A comment was made regarding the great support the CTU had during the last strike. The mayor realized that this is not a group to be pushed around. As an 83-year-old former activist I still miss the action but I miss it from Southern Florida. Plan for you retirement long before you have to. 