CPS leaves hundreds in the cold in Logan Square as huge protests continue at 'Fullerton Network' hearing February 11
Larry Duncan - February 11, 2013
Altough the doors were scheduled to be opened at 6:30 p.m. on February 11, 2013, at the Armitage Baptist Church on Kedzie Ave. for the Logan Square ("Fullerton Network") school closing hearings, security guards kept them closed for nearly 20 minutes. Then they began letting in only ten people at a time intermittently. Meanwhile about 400 teachers, community leaders, parents and freezing children were made to stand out in the bitter cold and wind. They were finally let in and filled to the walls the big church room.
Eventually, everyone got inside, and the hearing began. The crowd protested the attempt by Phillip Hampton, the current "Chief Officer for Family and Community Engagement" (FACE) to present another one of the CPS Power Points. Instead, the parents, teachers, and community leaders demanded to speak against the proposed closings.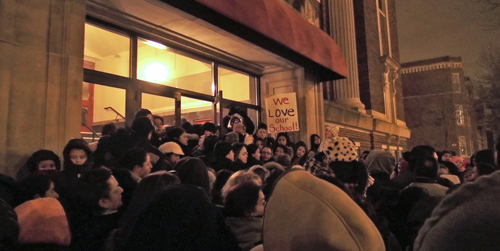 Part of the large crowd that was forced to wait in the cold and wind while CPS officials refused to allow everyone inside for the "Fullerton Network" hearings on February 11, 2013. Photo by Labor Beat.A more complete report will be published at Substance later.
Hearings will continue for the rest of the month, according to the CPS website. Protests are planned for each of them. CPS officials have said they will announce a smaller list of schools to be closed on February 13.
2/11/2013, Fulton, 7:00-9:00pm, First Baptist Congregational Church, 1613 W. Washington
2/11/2013, Fullerton, 7:00-9:00pm Armitage Baptist Church, 2451 N. Kedzie
2/13/2013, Austin-North Lawndale, 7:00-9:00pm, Greater Galilee Baptist Church, 1308 S. Independence
2/14/2013, Lake Calumet, 7:00-9:00pm, Olive Harvey College, 10001 S. Woodlawn
2/16/2013, Ravenswood-Ridge, 11:00-1:00 a.m., Truman College, 1145 W. Wilson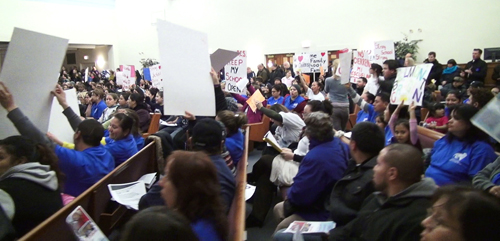 Part of the crowd inside as protests drowned out the Power Point CPS officials tried to present at the "Fullerton Network" hearing on February 11, 2013. Photo by Labor Beat.2/18/2013, Englewood-Gresham, 7:00-9:00pm, Liberation Christian Center, 6810 S. Ashland
2/19/2013, Burnham Park, 7:00-9:00pm, St. Anselm Church, 6045 S. Michigan
2/20/2013, Skyway, 7:00-9:00pm, South Shore Cultural Center, 7059 S. Shore Dr.
2/21/2013, Pershing, 7:00-9:00pm, Fuller Park Field House, 331 W. 45th St.
2/23/2013, O'Hare Network, 11:00-1:00 a.m., Wright College, 4300 N. Narragansett
2/25/2013, Rock Island, 7:00-9:00pm, Woodson Regional Library, 9525 S. Halsted
2/26/2013, Fulton, 7:00-9:00pm, First Baptist Congregational Church, 1613 W. Washington
2/27/2013 Garfield-Humboldt 7:00-9:00pm Mt. Vernon MB Church, 2622 W. Jackson
2/28/2013 Fullerton 7:00-9:00pm Armitage Baptist Church, 2451 N. Kedzie