Skyway network hearing February 7, 2013 deliberately held in the small and hot space... Skyway Network Hearing: The CPS "Dog and Pony" Show Continues
David Vance - February 09, 2013
Skyway "Network" elementary schools came out strong on Thursday, February 7, 2013 to defend their schools against the claim that many of them should be closed because Chicago Public Schools face an "underutilization crisis". More than 350 parents, teachers and staff and family supporters came with questions and energy about the proposed but still secret school closings. The "Skyway Network," on Chicago's far south side, was the scene of this night's hearing.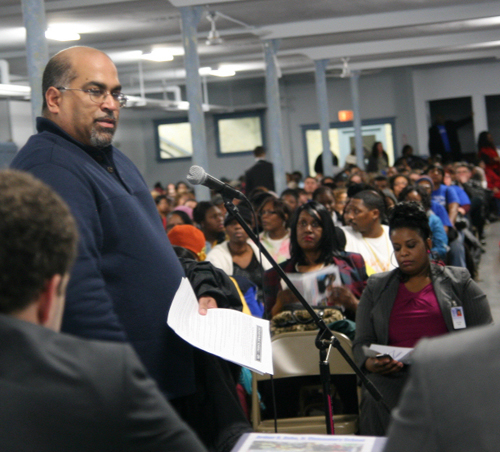 As the Ninos Heroes LSC chairman spoke, the crowd continued to grow in the too-small rectory basement for which CPS officials had scheduled the "Skyway" hearing of February 7, 2013. Substance photo by David Vance.Unfortunately, but in the view of many deliberately, CPS held this meeting in a long narrow basement, the Lady of Peace Rectory, at 79 and Jeffery. In a part of the city that contains some of the largest public school auditoriums and churches in Chicago, why was "Skyway" crammed into a small and increasingly hot space at a Catholic school rectory?
The rectory space became overheated quickly with no ventilation in the tight space packed with wall to wall chairs and people.
Most of the Skyway Network schools came with one purpose — to defend their schools. They wanted the CPS Skyway Network Chief of Schools, Mrs. Latanya McDade (annual salary $151,000), to listen. While most speakers explained the vital role their school played in the neighborhood and the dangers of closing them, other speakers questioned the argument and "data" CPS was providing to supposedly justify the claim that many schools are "underutilized" and should be closed.
"Data can be manipulated" said the speaker from Powell.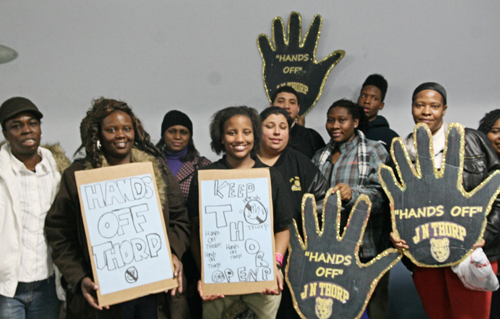 Parents and students from J.N. Thorp Elementary displayed their unique signs for the February 7, 2013 hearing about closings in the "Skyway Network." Substance photo by David Vance.Mr. Ocie Banks from the newly built Powell Elementary, located at 75th and South Shore Dr., testified that he couldn't believe what CPS was saying. He believed that Powell should be a "Level 1" school. He wanted Barbara Byrd Bennett present in the hearing, but observers noted that neither the school system's "Chief Executive Officer" nor any of the seven members of the Board of Education was present.
A speaker from Ruggles Elementary followed by explaining we needed to look at the hidden data inside 125 S. Clark., the CPS main office building.
The speakers from Arnold Mireles Elementary School, who brought the largest contingent of supporters, talked about how "We are family."
From Avalon Park came the same theme of family with long tradition and support for their neighborhood school.
New Sullivan's speakers had everyone applauding. Charles Bessett ended his 2 minutes with a direct demand, to CPS representatives, "You took the high schools off the list. Now, why don't you take the elementary schools off the list!?"
He was followed by the 8th grade teacher who talked about defending all the schools. Public education is a right. Loud applause followed.
The LSC speaker from Ninos Heroes, Mr. Hamilton, turned around with the mic to address both Mrs. McDade and Phillip Hampton, the CPS "Chief Officer of Family And Community Engagement" ($144,000 per year), that Ninos is a safe zone in the middle of neighborhood violence; that children would suffer if they had to travel through other gang zones to reach the CPS non-neighborhood school a mile away.
JN Thorp speakers stood proudly with "Hands Off Thorp" signs. Mrs. Scotesa Chatman and her 8th grade daughter sang the school song and Mrs. Emma Agurrie stood with her son (now in high school). Mrs. Agurrie explained that we are in a poor neighborhood, but we have many students that go on to selective enrollment schools. They are prepared by the strong academic program at Thorp.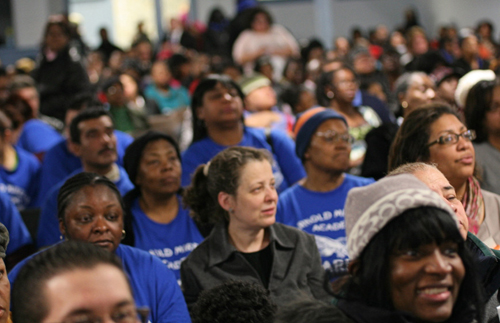 Parents and teachers from Mireles elementary school were joined by supporters from high schools in the area. Substance photo by David Vance.Every school wanted the same thing; more funding, smaller classroom student numbers and good schools for everyone. Our students deserve more, "not packed into classrooms on top of each other." And lastly toward the end one speaker summed it up perfectly; this "dog and pony show" that CPS is doing has to end.
And note, almost forgotten is that half way through the school speeches, the Chief of Schools, Mrs. Latanya McDade encouraged the schools that had already presented to attend one of the break-out sessions. As one group stood to leave, chanting was loud enough to be heard, "Don't go, Stay, Stay." And, perhaps there was a slide show by CPS that tried to convince the parents that they needed to believe in their school closing crisis plan. But, from the audience who stayed, they wanted to hear the other schools. Every school had a story to tell.
The last school Yale, to make their name known, came marching from the rear of the hall to the front. They came in an organized manner in unison chanting and caught everyone by surprise. And, of course they were applauded for their show. And, perhaps that is what the Skyway Network schools need to do, plan a march to make CPS listen.