Reward increased to $40,000... Chicago Police notice issued February 1, 2013
George N. Schmidt - February 02, 2013
On February 2, 2013, Chicago police announced that the reward money for information leading to the arrest and conviction of the murderer of Hadiya Pendleton had been increased to $40,000. The CPD notice said: "Please note the increase in reward money being offered in the Hadiya Pendleton investigation is now $40,000 (see below and attached). The latest contribution of $10,000 was offered by St. Sabina, bringing its total contribution to $15,000."
EWARD INCREASED FOR INFORMATION ON MURDER OF HADIYA PENDLETON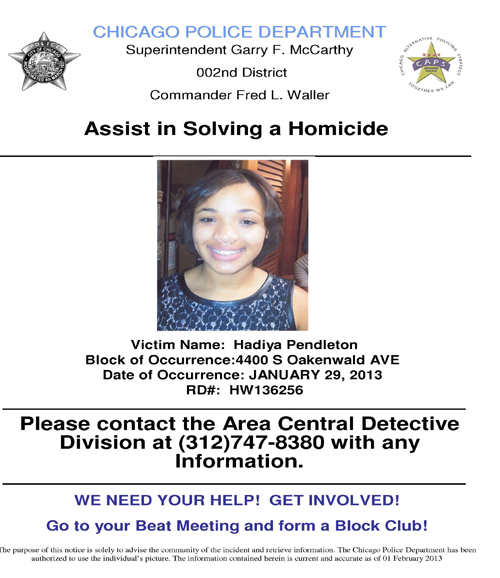 Chicago Police notice issued February 1, 2013.The amount of the reward being offered for information leading to the arrest and conviction of individuals responsible for the shooting death of 15-year-old Hadiyah Pendleton has been raised to $40,000. The incident occurred on January 29, 2013 at approximately 2:20 p.m. on the 4500 block of S. Oakenwald. Anyone with information regarding this case is urged to call Area Central Detectives at 312-747-8380.
Chicago Police Department
Office of News Affairs
(312) 745-6110
Fax (312) 745-6999
Assist in Solving a Homicide
Victim Name: Hadiya Pendleton
Block of Occurrence:4400 S. Oakenwald Ave.
Date of Occurrence: January 29, 2013
RD#: HW136256
Please contact the Area Central Detective Division at
(312)747-8380 with any Information.
CHICAGO POLICE DEPARTMENT
WE NEED YOUR HELP! GET INVOLVED!
Go to your Beat Meeting and form a Block Club!
The purpose of this notice is solely to advise the community of the incident and retrieve information. The Chicago Police Department has been authorized to use the individual's picture. The information contained herein is current and accurate as of 01 February 2013
Chicago Police Department
Office of News Affairs
(312) 745-6110
Fax (312) 745-6999