'A new way of testing'?... National testing expert Monty Neill of Fair Test helps Chicago
Jean Schwab - January 26, 2013
A new way of testing? It was an astounding meeting entitled "Assessments that Make Sense" sponsored by FairTest, Parents United for Responsible Education (PURE), CReATE, Parents 4 Teachers, CTU, The Illinois Association for Multilingual Multicultural Education, VOYCE and Raise Your Hand. It was held on Chicago's South Side on Thursday, January 24, 2013.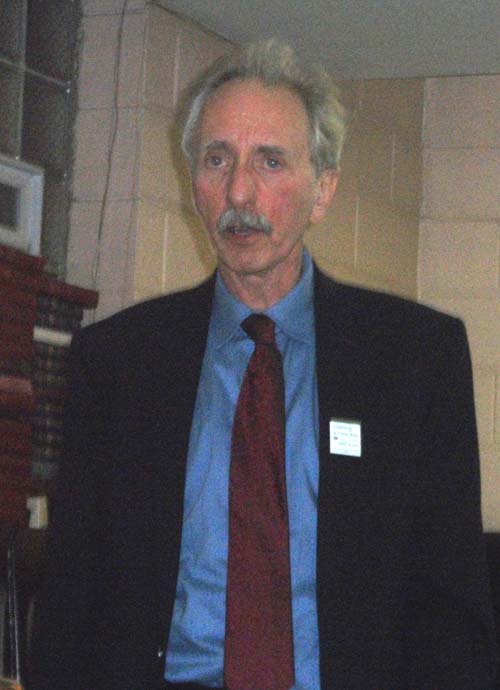 Monty Neill of Fair Test speaking in Chicago on January 24, 2013. Substance photo by Jean Schwab.Why was it so astounding? It makes sense, could turn around educational practices for the next century, and is so easy.
Monty Neill, executive director, at the National Center for Fair and Open Testing (FairTest), amazed the audience with his common sense presentation. Neill discussed performance assessments in New York using students not too different from those in the Chicago Public Schools. The Consortium is made up of 26 schools which, while following federal guidelines, use task portfolios related evaluations of student learning. It is an integrated system that revolves around the student.
According to a handout on FairTest, the Consortium's assessments are created by teachers and rooted in project-based curricula, teaching and learning. The student population of the Consortium's 26 public schools located in New York City mirrors the city's student body (two schools are outside NYC). They have nearly identical shares of blacks, Latinos, English- language learners and students with disabilities. However, the Consortium dropout rate is half that of NYC public schools and graduation rates for all categories of students are higher than for the rest of NYC public schools, while Consortium rates for ESLs (English as a second language) and students with disabilities are nearly double the city. The goal is to demonstrate college and career readiness and to qualify for graduation.
All Consortium programs require students to complete four performance-based assessment tasks (PBATs). These include an analytic essay, a social studies research paper, a science experiment, and an applied mathematics problem. They include both written and oral components. Neill shared that the tasks reflect common core standards along with other surprising comments.
The first interesting fact was that a student can actually choose the book he wants to read, with teacher agreement, and analyze the book orally or in writing. Imagine today's students choosing a book and doing an analytic report? Another surprising test feature is that a student can pick the math problem to solve. The student and his family are interviewed about his interests and learning habits. The teacher also writes an evaluation of the student's current performance. The instructor keeps work samples and observation notes of the student's progress.
The teacher designs rubrics and curriculum, and accurate evaluations of student work samples are independently re-scored by an outside evaluator for both reliability of scoring and the challenge level of teacher assignments. According to Neill: If you want to find out what kids know and can do, look at their actual work. This helps us evaluate higher thinking skills and deeper knowledge than do standardized tests.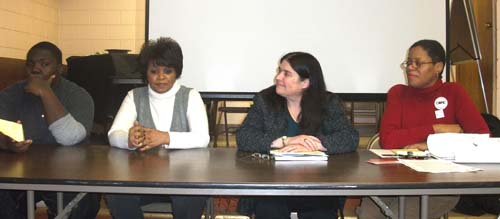 Panelists at the January 24 forum. Left to right: Akeem Wright, a CPS student and VOYCE member; Linda Hudson, CPS parent; Josie Yanuas, Exec Board member of the Illinois Association of Multilingual Multiculural Education; and Kimberly Bowsky:,CPS teacher. Substance photo by Jean Schwab.A panel discussion followed Dr. Neill's presentation.
Participants included: Linda Hudson: CPS parent whose son was unfairly labeled and treated after a reading test was taken from him for talking in class. Kimberly Bowsky: CPS teacher who uses projects, and different methods to teach and evaluate concepts. Josie Yanguas, Exec Board member of the Illinois Association of Multilingual Multiculural Education. Yanguas stated that the standardized tests do not address the strengths of ESL learners. For example, many of the students may know the colors in two languages instead of one but do not get credit for this knowledge.
Ahkeem Wright, CPS student and member of Southwest Organizing Project and VOYCE, stated that he would rather take a test that reviews what he is actually learning rather than a test that gives multiple choice answers and may or may not contain materials that are used in class.
During the question and answer period a high school student told the audience that she had her mother write a letter to opt out of taking the MAP test.
The URL for the PURE report is http://pureparents.org/?p=20278
THE REPORT FROM THE PURE WEBSITE FOLLOWS HERE:
Better than tests
If not standardized tests, then what?
That question was soundly answered last night at the forum, "Assessments that Make Sense" in Bronzeville (photos coming)
A room crowded with parents, teachers, students and community members from all over the city heard Monty Neill present two successful alternatives to standardized testing accountability:
the Performance Assessment student project-based model used in New York in place of state Regents' exams, and
the Learning Record, a teacher- based observation and reporting system that has been used in dozens of Bureau of Indian Affairs schools and in California and New York City.
High school students assessed in the Performance Assessment model, who demographically include far more low-income, English-language learner and special education students than the state overall, have shown better high school graduation rates and college enrollment and graduation rates than stdents across the state.
Why? Dr. Neill suggests it's due to a curriculum, instruction and assessment system that is student-based, not test-based. Students are all evaluated using the same standards and scales across four major subject areas, but they choose their own topics and methods, which makes them more engaged and serious about their work.
Panelist Ahkeem Wright, a student at Gage Park High School and a member of Southwest Organizing Project and VOYCE, illustrated this point by saying that he would be more interested in math if the problems were about yardage on the football field than what they usually ask.
Josie Yanguas, Board member of the Illinois Association of Multilingual Multicultural Education, pointed out that students who are bilingual would be considered an asset in any other country, but our English language test centered nation judges them as deficient.
CPS teacher Kimberly Bowsky talked about an assessment she used to evaluate her students' understanding of a series of films on civil rights she had shown. Rather than requiring them to write a report using academic language – which may take up to 7 years for some students to develop – she asked them to create pictures. The samples she showed us did indeed eloquently present important concepts from the films.
CPS parent Linda Hudson shared her story about the CPS promotion policy, which has been told here before. Linda suggested that her son's creativity was considered out of place and that the ISAT, combined with CPS's "multilpe barriers" retention policy, did a poor job of showing what he was able to do.
Questions from the audience were excellent – the biggest applause line was for an 8th grade student who was already opting out of the tests and standing up to administrators who were trying to tell her that she couldn't.
You can read more about the alternative assessments Dr Neill talked, and view the power point presentation he used.