BOARDWATCH: Teacher exposes Board's ridiculous testing policy, notes MAP has been panned by Arne Duncan and Dept. of Education
Anne Carlson - January 23, 2013
[Editor's Note: The following is the text that Drummond Elementary (Montessori) School teacher Anne Carlson read to the January 23, 2013 meeting of the Chicago Board of Education. None of the six members of the Board who were present, nor CEO Barbara Byrd Bennett, answered any of the facts presented by Ms. Carlson -- including the explosive fact about the MAP tests -- although they were observed reading the materials that she distributed to them].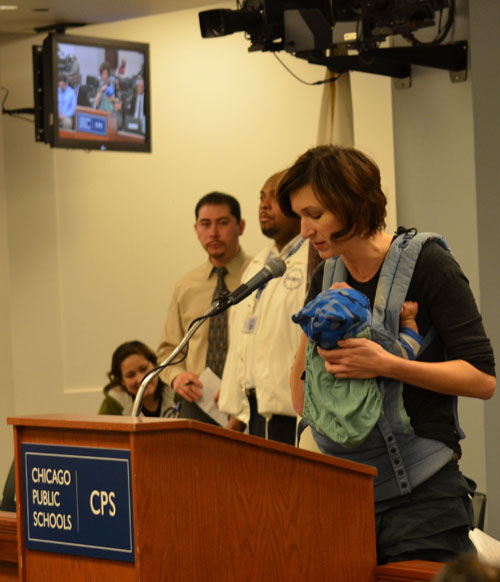 Drummond Elementary School teacher Anne Carlson told the Board about the ridiculous amount of overtesting, saying she was "reporting child abuse." Carlson and other speakers at the end of the line had to wait until nearly 2:00 p.m. to speak at the January 23 Board meetings, because the Board placed nearly two hours of reports before any of the public was allowed to begin "public presentation." Substance photo by George N. Schmidt.Good afternoon! My name is Anne Carlson. I am a parent of three children, two of whom attend a CPS school. I am a teacher at Drummond Montessori School where I teach 4th, 5th and 6th graders in a self-contained classroom. I have 31 students.
I am also a mandated reporter and today I want to report the child abuse that is occurring in our schools. It is called excessive, high-stakes standardized testing.
Why am I calling this abuse? Here's why.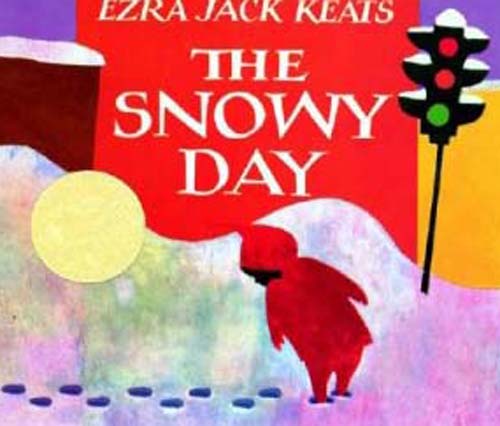 Instead of moving from "Goodnight Moon" through Ten Minutes to Bedtime (and hundreds of other stories and books), Chicago's pre-K and kindergarten public school children are now drowned in DIBELS, at a cost of millions of dollars a year. And instead of then moving towards "Where the Wild Things Are" and beyond, the children in Chicago's real public schools are force fed yearly changing sure-fire testing programs from "Scantron" (in 2010 and 2011) to MAP/NWEA (in 2012 and 2013) instead of libraries and books. Above: One of hundreds of alternatives to the MAP that Chicago children are being starved of during the Rahm Emanuel austerity years, while Rahm's own kids get loads of books and reams of stories at the University of Chicago Lab School, where the rich kids get to do.1. Some kindergarten students are taking up to 14 tests per year. This is criminal. At this age, children should be listening to read-alouds of books like Snowy Day by Ezra Jack Keats, not sitting in front of a computer screen.
2. K-2 teachers have cut guided reading groups from their schedules because there simply isn't enough time to instruct with all of the assessments. At these grades, most tests are given one to one with the teacher, which amounts to a lot of lost instructional time.
3. The Measures of Academic Progress (MAP) test is administered on computers. During the testing window, other students are not able to visit the lab to complete research projects. There is a wide range of how long students take this test because it is computer-adaptive. One of my students took 225 minutes to complete the initial test. Yes, 225 minutes to complete it over several days. Think about all of the instructional time lost.
4. There is a wide disparity among CPS schools in terms of how much testing is being delivered. I teach at a Level I school so we are only administering the mandated tests. However, for Level 3 schools, even the optional tests are mandatory. So the word optional is just a carrot on a stick and doesn't follow the true definition from Webster's: "involving an option, not compulsory".
5. I am passing out to each of you a new report signed by Secretary of Education Arne Duncan, former CEO of CPS. Here's the punch-line: "Overall the MAP program did not have a statistically significant impact on student reading achievement in either grade 4 or grade 5." The brave teachers at Garfield High School in Seattle who boycotted the MAP test this month did so because the test is useless at the high school level. Now Arne Duncan himself has confirmed that it is useless in elementary as well.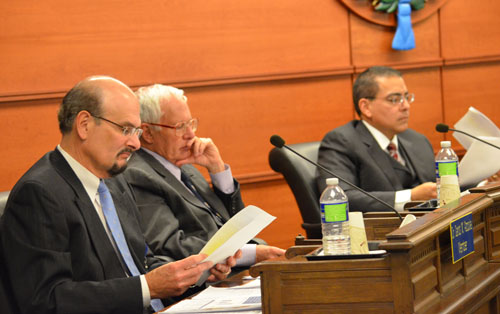 Board of Education members Carlos Azcoitia, Henry Bienen, and Jesse Ruiz read the materials distributed by Anne Carlson during her remarks. Substance photo by George N. Schmidt.6. Speaking of Duncan, let's not forget a very important decision made during his term. In December 2002, this Board decided to eliminate the CASE test because there were so many problems with it. We can learn from history. I call on you to do so, and to end the child abuse I've just described.
Thank you for your time and attention.