Have you heard the one about 'underutilized seats' and the need to save money by 'right sizing'?... No -- not Chicago and Barbara Byrd-Bennett, but... Philadelphia -- and William Hite Jr. -- talking from same script about need to close schools
George N. Schmidt - January 01, 2013
Maybe the reason Chicago's corporate media aren't reporting on the "right sizing" of the Philadelphia public schools by their latest out-of-town schools chief because of a "fiscal crisis" and massive "underutilized seats" is because the story is almost identical to the one they've been telling in Chicago -- so why bother repeating the same "facts." But as Chicago schools enter the year 2013, Philadelphia propagandists are working from the same script -- and with some of the same actors -- as Chicago.
William R. Hite, Jr. in Philadelphia, like Barbara Byrd Bennett, is a mercenary from out of town who comes to the city to screw the public schools. "Underutilized"? "Underperforming"? "Underfinancing"? Even the vocabulary is the same. One would think the next thing you know, they'll be using the same Power Point slides, and swapping their bureaucratic underlings (all of whom will be easy to identify because none will have ever taught in their city's public schools, despite the fact that they are paid in six figures).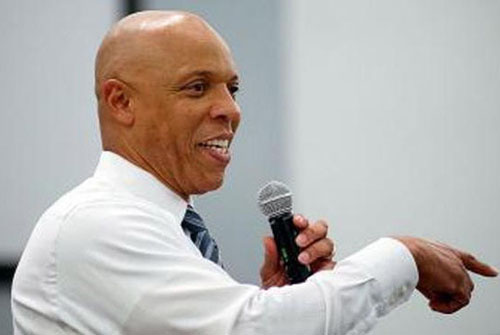 William Hite Jr., recently appointed superintendent of Philadelphia's public schools after major corruption allegations dogged his time as chief of the schools in Prince Georges County Maryland, is cast in the same corporate mold as Chicago's Barbara Byrd Bennett, a mercenary dispatched to the cities working from the same union busting privatization and disinvestment script put forward by the neoliberal establishment. Across the cities of the USA, the neoliberal attack on public schools is unblushing about its racist attacks on the public schools in urban USA that serve the poor -- and the black and brown. What you can read about underutilization in Chicago in the Chicago Sun-Times is about the Philadelphia schools in The New York Times. It's already been done to Detroit (by Barbara Byrd Bennett and others) and will soon be coming to a big city school district near you).
On the last day of 2012, the New York Times ran a major story in its national edition reporting on the latest attack on Philadelphia's public schools -- in almost the same terms used in Chicago:
PHILADELPHIA SCHOOL DISTRICT PLANS TO CLOSE DOZENS OF SCHOOLS. By JON HURDLE
Published on line in The New York Times December 30, 2012. In print in the national edition December 31, 2012.
PHILADELPHIA — Like many public schools here, University City High School is underused, underfinanced and underperforming.
William R. Hite Jr., the schools superintendent, says the closings will help keep the district solvent. More Photos »
Nearly 80 percent of its 11th-grade students read below grade level in statewide tests this year, while 85 percent failed to make the grade in math. Last year, about only a quarter of its students participated in precollege testing like the SAT.
Largely because of the lure of local charter schools, the school is one-quarter full, with fewer than 600 students for its nearly 2,200 seats. It needs major work on its infrastructure, including lighting and heating systems, that would cost an estimated $30 million.
Now, facing deep financial problems, the Philadelphia School District has proposed an unprecedented downsizing that would close 37 campuses by June — roughly one out of six public schools, including University City. If the sweeping plan is approved, the district says it will improve academic standards by diverting money used for maintaining crumbling buildings to hire teachers and improve classroom equipment.
The 237-school district faces a cumulative budget deficit of $1.1 billion over the next five years, after $419 million in state cuts to educational financing this year. The district's problems are compounded by the end of federal stimulus money and rising pension costs.
Even after borrowing $300 million to pay the bills for this academic year, the district faces a deficit of $27.6 million, a figure that officials say will rise sharply in coming years.
Its problems are worsened by having to maintain buildings that are drastically underused. Among 195,000 student "seats," 53,000 are empty, according to the district's new superintendent, William R. Hite Jr., who argues that the solution is to close the schools, sell their buildings and transfer students into those that remain open. Some middle schools would be converted to elementary schools, and vice versa, and many students would be moved to different schools, sometimes in different neighborhoods.
In all, 17,000 students and more than 1,100 teachers would be affected by closings, program changes and new grade configurations. Schools that would be closed were selected on the basis of their physical condition, usage, academic record and cost per student.
The proposal, announced on Dec. 13, is the outcome of a two-year process that began long before Dr. Hite's arrival on Oct. 1. Without the closings, he warns, finances will deteriorate to the point where the district itself will be in jeopardy.
"We run the risk of talking about a district that is no longer financially able to operate," Dr. Hite told a noisy meeting of about 450 parents, students and teachers at Martin Luther King High School in the Germantown neighborhood on Dec. 19, at which district officials were trying to sell their plan.
Although the district has been able to borrow enough to operate this year, it has reached its credit limit, Dr. Hite said. "We no longer have the ability to borrow that kind of money going forward," he said.
Other large cities, including Chicago, Detroit and Washington, are also considering school closings because of declining enrollment, competition from charter schools and overcapacity, said Michael Casserly, the executive director of the Council of the Great City Schools, an advocacy group for urban public schools.
But Philadelphia has been hit hard by state education financing that has been among the lowest per student of any major city, Mr. Casserly said. "The state's historical lack of spending has had an eroding effect on the district," he said.
The proposed cuts — which are scheduled to be voted on in March by the School Reform Commission, a state organization that oversees the district — have ignited angry protests from teachers, students and parents. They argue that children, particularly in their elementary years, should not be forced to attend school outside their neighborhoods; that academic improvements would be disrupted; and that students attending new schools would be victimized because of longstanding inter-neighborhood rivalries.
At University City High, the announcement produced shock and disbelief, said Timothy Stults, the principal, who has overseen academic improvements since taking over leadership of the school in 2009. He now wonders whether his work will be undone by the impending closing.
"I had some level of emotion, some frustration" in response to the district's announcement, Mr. Stults said.
Under his leadership, the proportion of students attaining the state proficiency or advanced standard in reading rose to 22.4 percent this year from 6.7 percent in 2010. Math proficiency increased to 14.4 percent from 3.6 percent over the same period.
"In many respects, this school was the worst school in the city," Mr. Stults said. "That's no longer the case."
For some students, anger over the planned closing of University City High has been replaced by an understanding that the proposal reflects the poor condition of their building, not academic performance. Students are now focusing on how to keep the school community together, albeit in a different location.
"Emotion turns into logic," said Matthew Gillian, 18, a senior who is helping in the search for alternative locations for University City students at schools that remain open. "It makes you understand why certain things have to happen."
A version of this article appeared in print on December 31, 2012, on page A10 of the New York edition with the headline: An Ailing School System Sees a Fraught Path to Solvency.
Hite's corruption, like Barbara Byrd Bennett's, preceded his move to Philadelphia, as reported below:
Philly's 'broke' school district boosts salaries of 25 nonunion workers.
As the Philadelphia School District continues to deal with a financial crisis, several members of the teachers union are angry over the district's recent decision to give raises to non-union members.
The school district awarded raises to 25 non-union employees, a move that the district called a "necessary part of doing business." The Philadelphia Daily News reports the 25 staffers received a total increase of $311,351 in salary, which averages out to $12,454 per year. This is the same tactic previously used by Dr. William Hite in PGCPS school district before he left for Philly. In Prince George's County for example, Ms. Monica Goldson "Goldson" was given a huge raise in suspicious circumstances together with others close to Dr. William Hite Jr. Unfortunately, in these circumstances, money that could be allotted for classroom supplies to further the education of youth, and to increase homeless children's participation in the educational system, is being used elsewhere.
Recently, there has been an unprecedented increase in homeless individuals living in the United States because of hard economic times, thus, Dr.Hite and his colleagues who are involved in this illicit act, should reconsider returning the money to the treasury, and allotting it to its respective educational needs. What is quite disturbing about these practices is that, one employee received a 49% raise, for example. This particular employee had only been in the system for approximately three years and now makes over 100k. (Read more here), (here) (here), (here) and (here). It's time!