Guns. Guns. Guns.
Al Korach - December 23, 2012
I thought I'd wait a few weeks to try and let things settle down before I entered into the gun debate. At this stage of my life (83), I've been through this before. Based upon past experience, I would bet that Hostess Twinkies will be back on the shelf before any meaningful gun legislation is passed.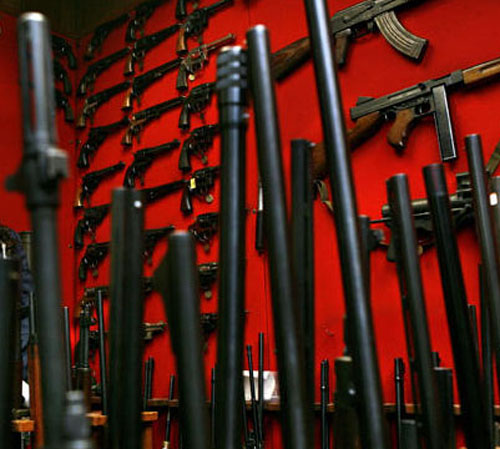 Gun shop display.I agree that some type of legislation is needed. As a retired Lieutenant Colonel (U.S. Army) who does not own a gun, I've seen the misery firearms cause. For the life of me I do not see the necessity of owning a 30 Caliber automatic rifle with a 100-load magazine to hunt rabbits or anything. If you want a rabbit you can get one at most supermarkets.
This country was settled with the need for a gun. The original settlers needed a firearm for hunting and protection. The need for hunting was obvious and protection from the "Indians" who became hostile as we proceeded to steal their land. As we transferred to modern times, the romance of the gun came along with us.
The romance continued in the form of dime novels, campfire stories, the "quick draw" became legends. Much of it was B.S. embellished by movies and TV. The legend of a variety of gunslingers over the years has been much embellished. For many the need to own a gun became an obsession whether they needed it or not. Many wealthy individuals amassed large and valuable collections that just hung on their walls.
Why do people own guns in our society? The simple answer is they can. There are also psychological and even sexual reasons involved. All states have laws governing the use, sale and purchase. Some require certain documentation that one has to only take the time to provide. Other states only require that you are breathing. There are currently 89 guns for every 100 Americans. We are culturally enmeshed in the 2nd Amendment for over 200 years.
I recall as an elementary school child playing "Cowboys and Indians" on the West Side of Chicago. I did not realize until many years later that it was racist. The cowboys were the "in group" and the Indians were the "nerds".
Other countries have enacted meaningful gun legislation that has had a positive effect on reducing the death rate. Australia, England, New Zealand have don it.
We currently find that a number of teacher pension funds have invested in firearms firms. California is currently looking over its investments. I'm sure other pension funds are looking over their portfolio. In responsible investments you are required to get the best return on your investments. In other word the biggest bang for your buck. We got out of tobacco, which unfortunately is still a great investment.
The NRA is doing its job — Protecting the rights of their members. They are doing a great job with their lobby, TV adds and literature.
I recall as a youngster asking my father to buy me a Red Ryder BB gun. It's going to take a lot of work to change the attitude of our society. I'm not sure it will be an easy job. God bless this country. We have a lot of work to do.
