MEDIA WATCH: WBEZ 'Truth Squad' confirms that CPS 'school age children' numbers were deliberately misleading... March 31 2013 deadline promises major tumult in April and May
James Patrick - December 17, 2012
After checking out numbers reported at substancenews.net and by the Chicago Teachers Union refuting claims by CPS about the need to close schools because of a drop in the number of "school age" children in Chicago, WBEZ's "TRUTH SQUAD" reported on December 11th that:
"Chicago school officials and the head of an independent Commission on School Utilization have said enrollment problems are caused by a loss of 145,000 kids in the city between 2000 and 2010, an 18 percent decline. But actual declines in Chicago Public Schools enrollment have not been anywhere near that severe.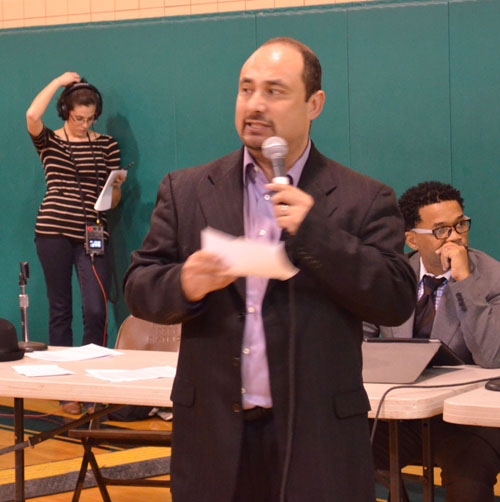 WBEZ radio reporter Becky Vevea (rear, covering the December 14, 2012 Commission hearing at Horner Park Field House) along with Linda Lutton have been responsible for increasingly accurate coverage of Chicago Public Schools stories for the city's public radio station. This is taking place despite persistent efforts by CPS officials and the propagandists in the 18-member CPS "Office of Communications" to spin every story through CPS talking points. Substance photo by George N. Schmidt."Overall enrollment in Chicago Public Schools has declined 6 percent in the last 14 years, a loss of 28,289 students. In that time, CPS has opened more than 120 new schools, many of them charters, shifting enrollment patterns. The percentage of students attending traditional schools has dropped 17 percent, while the percentage in charter schools (most housed in non-CPS buildings) has increased. School officials say they have not analyzed whether opening new schools has exacerbated the number of empty desks in Chicago. The district has said it wants to open at least 17 more new schools this fall."
Readers of Substance should also read the entire story with details and a chart of enrollment changes over time, and an analysis of plans to add new charter schools. Additionally, the CPS' "Utilization Report" is at:
http://cps.edu/About_CPS/Policies_and_guidelines/Pages/qualityschools.aspx.
As of December 17, 2012, the CPS "Utilization Commission" has completed its last two scheduled meeting. Outspoken opposition to the proposals and criticism of the members of the Commission continued growing throughout December. The number of concerned parents, educators, LSC members and even aldermen had been showing up at these sessions. The public's input has been overwhelmingly against school closings, and in support of stronger neighborhood schools. Major confrontations are expected in the coming week (December 17 - 22) before the school board meeting on Wednesday (December 19), at which the Board is expected to approve further charter school expansion despite the school closing plans.
The Commission hearings were controversial from the beginning. The Commission cut off public testimony after little more than an hour at the Dec. 10th meeting at Marquette Park, and cut off testimony after less than two hours at Horner Park on December 17, according to Substance reporters who were at both events. As successive hearing progressed, the Utilization Commission Chair Frank Clark and CPS' Barbara Byrd Bennett couldn't seem to get their stories straight. Clark told the press he wasn't planning to come up with a specific "hit list," while Burd Bennett said, bscially: "Oh yeah, he better!"
In effect, it looked more and more like Mayor Rahm Emanuel and Barbara Byrd Bennett want the Commission members to put their names on the "Death Warrants" for every school CPS wants to close. Maybe Frank Clark didn't know that's what he was signing up for? He certainly looked confused as he tried to navigate the two hours he spent at Horner Park on a Friday night, December 17, before leaving behind a wall of security, according to Substance staff there.
Parents are becoming more and more angry at the CPS lies:
http://www.catalyst-chicago.org/notebook/2012/12/08/20682/parents-teachers-and-activists-argue-against-school-closings
Most public school stakeholders believe that CPS' attempts to close schools before creating a meaningful, community-driven 10-Year Educational Facilities Master Plan doesn't make any sense.
The majority of Chicago Educational Task Force (CETF) members opposed the March 31st 2013 announcement of School Actions, which was passed in Springfield after intense lobbying from CPS and because of the approval for the change by State Senator Iris Martinez, who had been sponsor of the original Task Force legislation (SB 630). Taks Force members have vowed not to be deterred from seeking public reaction and input on CPS' school closings, alternatives to closings, and public plans for the future of pubnlic schools, and what reforms people in the communities believe are needed to hold CPS accountable.
CEFTF meeting, the Task Force have also heard from the 6,000-member RAISE YOUR HAND coalition about their research on Class Size and school utilization. The Raise Your Hand study helps to put CPS' flawed data on "under-utilization" in a real-world perspective. CETF people are also hearing from LSCs already mobilizing to plan for their schools' futures.
The CEFTF meeting calendar for 2013 will be forthcoming: For more on the CEFTF, go to: www.isbe.net/CEF
Barbara Byrd Bennett and Mayor Emanuel may have outsmarted themselves by extending the deadlines. What many folks don't realize is that while the School Actions announcement deadline was changed to March 31st, 2013 the state reform law was not entirely "gutted." Public Act 97-0474 (formerly SB 630) STILL REQUIRES THAT . . .
-- CPS must hold 3 hearings on ALL proposed School Actions - after the 3/31/13 Announcement. The public will get 15 days' notice BEFORE any hearings can be held, but the Board must still wait 60 days BEFORE making final decisions.
-- CPS must still prepare and disclose DRAFT SCHOOL TRANSITION PLANS for each school on the 3/31/13 "hit list." Those plans MUST at a minimum maintain the social service supports students had been getting at any Receiving School they go to.
-- CPS can't put off doing the Master Plan for as long as the Mayor and CPS had hoped (2014): Instead, CPS MUST disclose a draft 10-year Master Plan BY MAY 1st, 2013, and adopt the Final Plan by October 1st, 2013.
