EDITORIAL: Sun-Times version of Barbara Byrd-Bennett's 'Rebuilding Trust' — lies, hypocrisy, deceptions and cynical conflicts of interest?
George N. Schmidt - December 12, 2012
It's been a little over a month since once again Chicago's corporate media proclaimed the latest version of the corporate school reform "miracle" following the abrupt (but golden parachuted) dumping of Jean-Claude Brizard and the installation of Barbara Byrd Bennett by Mayor Rahm Emanuel. The Sun-Times, in a rather bizarre editorial considering the previous 18 months (or, in some of our opinions, the previous 17 years) proclaimed that Barbara Byrd Bennett had a recipe for "building trust" (or restoring it, as the case may be).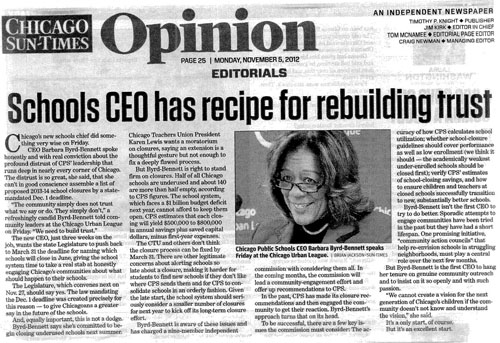 The November 5, 2012 Sun-Times editorial gave credit to Barbara Byrd Bennett for 'rebuilding trust' just when she was beginning a campaign of hypocrisy, lies, and deceptions.Even in an era when many people's attention span is limited to the flight of one flock of Angry Birds, that was a hoot. Byrd Bennett came to Chicago from Detroit, with a previous stop as a school administrator in Cleveland (and with the imprimatur of the Broad Foundation and the approval of various other corporate outfits). So... Chicago can expect the same "success" in the management of our public schools that we can visit and view in Detroit!?