Plutocrats funding 'Parent Revolution' organizing tour across the USA for propaganda movie... The Real Audience for 'Won't Back Down' May Not Have Been Moviegoers
Julianne Hing - October 09, 2012
[Editor's Note. Those of us who thought that "Won't Back Down" was just a nasty propaganda movie with an A List cast (including the minor characters) may have missed the forest for the trees, so to speak. Hollywood is apparently teaming up with the same billionaires who have been funding the Astroturf groups Chicago has come to know (Advance Illinois, Stand for Children, Democrats for Education Reform (DFER), and Education Reform NOW!) to bring a new front group into town behind the glitter of Hollywood stars. Meet "Parent Revolution." The following analysis was published on Sunday, October 7, 2012 by Color Lines and distributed by Common Dreams (http://www.common dreams.org/view/2012/10/07-2). A growing body of analysis, including this one, is showing that "Won't Back Down" is really being utilized to promote and build well-financed "Parent Trigger" cadre groups in different cities across the USA. That is certainly the case in Chicago, where the buses to take people to the screening of the "Won't Back Down" were filled by UNO and paid for by undisclosed philanthropists. How many poor people in Chicago will be loaded on to buses for the next round of "Parent Revolution" propaganda and have their pictures taken with members of the scab cast of "Won't Back Down"? Coming soon to a community struggle around charter schools in a Chicago ward near you. The URL for colorlines is http://colorlines.com/archives/2012/10/ wont_back_down_goes_on_ tour_in_cities_debating_the_parent_trigger.html]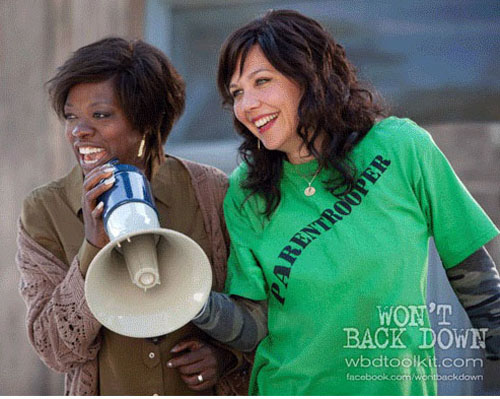 Won't Back Down stars are featured in the "Parent Revolution" Won't Back Down "Toolkit" as the charter school road tour begins in October 2012. Substance has been unable to determine whether poor parents who join the "Parent Trigger" campaigns financed through "Parent Revolution's Hedge Fund millions will get their pictures taken with the millionaire actresses who helped Hollywood create the latest propaganda piece of union busting and privatization. Can life, in fact, imitate art? Organizers leading a controversial new school reform movement are doing their darndest to try. Starting this week, the education reform group Parent Revolution kicked off a national 32-city tour with "Won't Back Down," the slick new Hollywood movie featuring the hot-button fight around a policy called the parent trigger. Parent Revolution wants to inspire parents to do what Oscar-caliber actresses Maggie Gyllenhaal and Viola Davis do in the film: Take over their failing schools.
Critics — including teachers' unions and many of public schools' staunches defenders — warn that real life educating isn't that simple.
Parent Revolution's idea is to host the film, which traces a fictionalized community's fight to overhaul a struggling public school, and win over crowds. Screenings are free and accompanied by post-screening discussions with activists who discuss the film's themes and make an ask of the audience: Sign up to join the movement or stick around to learn more. The first stop: Buffalo, N.Y., where parents and the school reform organization Buffalo ReformED have been organizing to win the parent trigger for several years.
The parent trigger is a policy, promoted by the Parent Revolution movement, that allows parents whose kids are in public schools that have been deemed to be failing to demand an overhaul of the campus if more than 50 percent of parents sign a petition calling for change. In 2010, California became the first state to pass a parent trigger law, but since then a growing number of states have followed. In 2011, lawmakers weighed the idea in 22 states. In Buffalo, folks are gearing up for the next state legislative session, when they hope to introduce the parent trigger again.
Activists supportive of the parent trigger called the Buffalo screening a success. "I heard a lot of clapping in the crowds, and people were crying and laughing especially at the end," said Hannya Boulos, executive director of Buffalo ReformED, which is organizing to pass a parent trigger law in New York.
"We're using the movie as a chance to re-motivate and organize folks," said April Popescu, regional advocacy director for Parent Revolution. She flew out from Los Angeles to attend the Buffalo screening, and someone from Parent Revolution will travel with the film to each of its showings. The film is a key part of Parent Revolution's organizing strategy to get local communities to support not just the law, but the possibility of pulling the trigger in their own
communities. "Our goal is to inspire. Our goal is not to spark a debate or create an issue or a fight," Popescu said.
And yet, debate and acrimony is seemingly all that trails the parent trigger. In California, where the policy has been implemented twice, both efforts have landed communities in court, with school districts and parent activists fighting against efforts to bring in charter schools to replace neighborhood schools.
Like just about everything in the education reform world, it's a controversial tactic with clear lines of support and opposition. The mainstream and bipartisan education reform movement, including Education Secretary Arne Duncan, have embraced the idea. While the teachers unions and progressive public school defenders have been deeply skeptical, arguing that it only creates the illusion of parental empowerment while fast-tracking the path for replacing public schools with private and charter schools.
And it wasn't all supporters in the Buffalo theater this week, attendees report. Ina Downing, an activist with Alliance for Quality Education, a statewide educational equity organization, headed to the screening to hand out fliers about the policy and warn audience members about the politics behind the film. "I just want to share the facts with parents," Downing said, whose primary organizing issue is a campaign to address the racially disparate school discipline rates in Buffalo and around New York State.
"I know all about poor performing schools," Downing said. With 10 grandchildren and five godchildren in Buffalo city schools, she says she's well-aware of the levels of dysfunction there. "But my concern is that parents know the facts. I know what the parent trigger promises, but it's still fed by corporations."
That's something of an overstatement, but the web of connections to corporate interests is clear. The parent trigger as a policy has been backed by conservatives and an increasing number of liberals whose education reform ideology is based in market principles and a belief that increasing competition and punitive accountability measures will improve poor performing schools. The Hollywood version of the policy is no different. Walden Media, which produced the film, is owned by Philip Anschutz, who has also supported ALEC, the conservative legislative advocacy group that adopted the parent trigger in its model policy lineup. And the film's distributor is owned by Rupert Murdoch, who has made moves into the $500 billion U.S. public education sector with his News Corp.
Samuel Radford, president of Buffalo Schools' District Parent Coordinating Council, isn't bothered in the slightest by these connections. "My issue is not to judge who comes to help," he said. "That's like me needing a life raft thrown to me, and me concerned about which boat it comes from? I don't get that thinking. I'm willing to listen to anybody that's willing to take the time, attention and resources to turn around failing schools."
Radford, who heads a parent organization which has coalesced around the parent trigger as its main legislative campaign, sat on the post-film panel and did his part to encourage folks to get involved with their upcoming legislative fight. Seven of his kids have gone through Buffalo city schools, and he's got three more boys scattered throughout the district.
Neither is he concerned about the lack of
evidence-based research behind the parent trigger and
the turnaround models it'd lead to. The loudest voices
opposing the parent trigger are teachers unions whom
Radford believes have only their self-interests at
heart. Criticisms of the parent trigger sound too much
like excuses for failure to him. "Forty-four of 58
Buffalo city schools are in the bottom 10 percent of
New York state," he said.
But he's not alone in his frustrations with Buffalo
schools. "I've seen children pushed through just
because," said Downing, "and I've dealt with a teacher
that was treating my children unfair." Still, she
opposes a policy that would attempt to wipe the slate
of a school clean. After parents pull the metaphorical
trigger on their kids' schools, policies generally
allow parents to choose from one of a list of drastic
turnaround options, which include shutting the school
down entirely; replacing the staff and administrators;
or bringing in an outside charter school operator to
run the school. But there is no such thing as wiping
the slate clean with schools, Downing says. "You have
to look for solutions in schools, not punish students
and teachers. Giving up and starting new, that's like
throwing salt on an open wound. .. It's going to burn."
During its opening weekend, "Won't Back Down,"
incidentally, had the worst opening in box office
history for films released in over 2,500 theaters. Box
office analysts took gleeful jabs at the film's
numbers, noting that 20th Century Fox could easily send
the film into the world with little at stake because
"Won't Back Down" was financed by Walden Media, the
publishing and production company behind the
pro-charter education film "Waiting for Superman." But
the film, so poorly received by the wider U.S.
moviegoing crowds, may not have been meant for them
anyway. This week Parent Revolution hosted "Won't Back
Down" screenings in Fort Wayne, Ind.; Jackson, Miss.;
Cincinnati, Ohio; and Baton Rouge, La. (c) 2012 Color
Lines Julianne Hing
[Julianne Hing is a reporter and blogger for Colorlines.com covering immigration, education,
criminal justice, and occasionally fashion and pop culture. In 2009 Julianne was the recipient of USC Annenberg's Institute for Justice and Journalism fellowship, which funded a reporting project on the impacts of criminal deportation on immigrant families. Julianne's writing has appeared on AlterNet, Common Dreams, Hyphen Magazine's blog, The American Prospect's blog TAPPED and Ta-Nehisi Coates' blog at The Atlantic. Julianne tweets at @juliannehing.]
[Editors' Afterward. Anyone visiting the "Parent Revolution" website from the average community organization or parent group will immediately notice that this is a very well-financed organization, able to pay dozens of national and regional staff to do its work. Below is a list of the staff that were featured on the "Parent Revolution" website on October 9, 2012, at the time Parent Revolution was beginning its road show:
Management, Communications, Advocacy, Campaign and Operations Team
Ben Austin Executive Director
Gabe Rose Deputy Director
Alexandra BissonnetteSpecial Projects Manager
Taneen JafarkhaniLegal Strategist / Program Manager
Jody Edwards Director of Finance and Operations
Brittany Breithaupt Administrative Assistant
Larry Irvin Development Manager
Christina Vargas Policy Director
David PhelpsNational Communications Director
Derrick EverettDeputy National Communications Director
Ryan Donohue Deputy National Advocacy Director
John Yi Regional Advocacy Director
April Popescu Regional Advocacy Director
Shirley Ford National Director of African American Affairs and Community Engagement Officer
Organizing Team
Pat DeTemple Senior Strategist
Christina Sanchez Organizing Director
Maureen DouglasOrganizing Director Deputy
Alvaro Pereyra Data Manager, IT, Web Developer
Iain Padley Campaign Coordinator
Alfonso Flores Lead Organizer
Maribel Gonzalez Lead Organizer
Mary Moran Lead Organizer
Rafael Serrano Lead Organizer
Yuritzy Anaya Lead Organizer
Jessica Nolan DaughertyLead Organizer
Maria Alvarado Organizer
Nancy Vargas Organizer
Aida Rodriguez Organizer
Jesus Sanchez Organizer