Florida educator running a gritty Chicago 'network'... Southeast side rally greets chieftain Harrison Peters in the shadow of what were once Chicago's steel mills
Susan Zupan - September 18, 2012
On Friday, September 14, 2012 a Chicago Teachers Union (CTU) rally and picnic was held in the park behind Jane Addams Elementary School located at 10810 South Avenue H on the southeast side of Chicago. When word got out that the Chicago Public Schools (CPS) Network Chief from the Lake Calumet and Far South Side Network, Harrison Peters, was scheduled to visit the school, CTU District Supervisor (D.S.) and Jane Addams CTU delegate Sue Garza organized the local rally.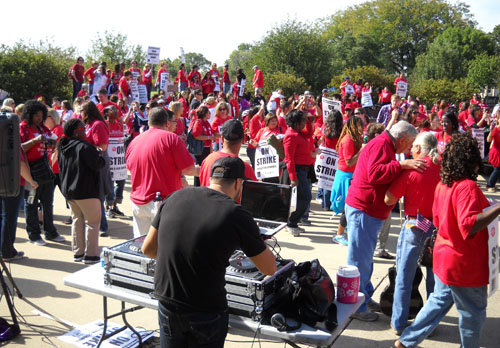 Some of the strikers who gathered at Jane Addams school on Chicago's southeast side to greet carpetbagger "Network" chief Harrison Peters on September 17, 2012. Substance photo by Susan Zupan.Other local schools in attendance included George Washington High School. Elementary schools including Virgil Grissom, Henry Clay, George Washington, Gallistel Elementary Language Academy, John L. Marsh, and Douglas Taylor. When Harrison Peters arrived, CTU members and supporters from the southeast side blocked the entrance to the school's parking lot.
Reportedly he was driving a car with Florida license plates. Mr. Peters came to Chicago in 2011 after holding a position of principal in Charlotte, North Carolina; he was a principal in Orlando, Florida prior to that. He applied for the position of superintendent in Reno, Nevada during the past school year. [This reporter wrote at the beginning of the 2011-2012 school year about Chief Peter's "RAT Sheet" checklist. (See "Can you smell a rat…" on the September 2011 page of substancenews.net.)
Strangely enough, on this year's same duplicated sheet, what was supposed to be DRAFT left out the R and F thus spelling DA T across the page. The checklist thus has earned the new nickname of "DAT RAT" sheet.]
In Chicago, the CTU strikers and supporters forced Peters to drive in a circle around the block, two blocks in this case because the Jane Addams campus on one city block is connected to the city park to its south. Reportedly the Network Chief finally found a place to park, got out of the car, and walked into the school as if nothing was happening as the crowd of hundreds of students, parents, community members, teachers and other school personnel greeted him with some of the CTU chants by this time familiar to millions in Chicago.
After the crowd's welcome to the Network Chief, the rally/picnic resumed with brief speeches. With all of the schools coming together for the rally, the theme of union solidarity was demonstrated; an injury to one will be an injury to all. The daily chant heard by all of these local schools from the megaphone of their megastar, powerhouse, CTU D.S. continued at the rally: "One Day Longer - One Day Stronger!" There was music, dancing, food, (non-alcoholic) drink, socializing, relaxation, and a demonstration of solidarity on the southeast side of Chicago at the end of the first week of the CTU strike.
