Hey Rahm we're no fools we won't let you ruin our schools'... Marshall High School rally
Kati Gilson - September 13, 2012
Thousands of teachers — the final estimate was as many as 10,000 — were still pouring into the grass behind Marshall High School as Tara Stamps, from the Jenner Academy of the Arts, led the crowd in rousing chants and cheers. Despite the third day of picketing from 6:30 a.m. til 10:30 a.m. and marches downtown on Monday and Tuesday, the crowd of teachers, parents and community members from the north and west sides was boisterous. They danced and sang along "Ain't no stopping us now" and "R E S P E C T". The rally, organized by the CTU, included strikers from the following so-called "Networks" (the latest CPS version of what everywhere else is a subdistrict): Northwest HS, Ravenswood-Ridge, O'Hare, Fullerton, Austin-Lawndale, Fulton, Garfield-Humboldt, and West Side HS were these. Elsewhere two other rallies were being held, with almost equally large turnouts.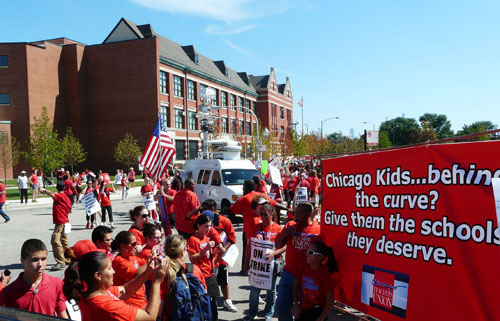 Striking Chicago teachers begin to assemble on September 12, 2012 for what later became a rally and march of around 10,000 people at Chicago's Marshall High School (building in the background). The teachers and supporters held a rally, then marched through the West Side "ghetto" of Chicago, where thousands of parents, students and citizens cheered them. Substance photo by Kati Gilson.Drums beat, bells rang and fists soared as the crowd change "Hey hey ho, ho, Rahm Emmanuel's got to go".
Ms. Stamps said "Because of us SEIU some of the engineers and maintenance guys in our buildings refuse to cross picket lines and will join us on the picket line". Another popular song was "Rahm Rahm, Rahm, Rahm, Rahm, Rahm, Rahm, Rahm, hey hey, goodbye".
"Hey Rahm we're no fools we won't let you ruin our schools" was chanted by the thousands in the crowed.
Other chants led by Ms. Stamps included "Students and Teachers under attack, what do we do stand up fight back! Parents and teachers under attack, what do we do stand up fight back!", "Education is a right! That's why we have to fight! "We are the Union, the mighty mighty union!" "1, 2, 3, 4 Rahm Emmanuel Close the door, 5, 6, 7, 8 education cannot wait"
Earlean Green, Marshall High School LSC has this to say, "Some questions I'd like to know: Why is the public schools paying for private schools? When our students go to Charter Schools and, they don't come up to par the first thing they do is put them out they send them back to the public schools but they don't send the money with them they keep the money. When they come back to the public schools and they don't come up to par we going to teach them no matter what. And when they don't come up to par they put the teachers out. Does that make sense? NO!" She also asked about why the lottery money wasn't going to the schools."
Reverend Paul Jakes told the crowd "I represent neglected, abused and totally looked over children, I come to give the teachers a red apple today". He told them they've done well in standing up for the students and they were receiving encouragement from the faith community. He told the crowd "Believe in yourselves. If you keep faith you can overcome. Never let temporary situations have a permanent affect on your destiny. You are commended for helping children all around Chicago."
He talked about the need to have smaller class sizes, better text books, art as well as brining back wood shop, electrical shop and home economics. "Bring it back two help our children" he said. He then told the crowd to "Hold on, keep fighting, stay fired up! Keep marching and keep telling the story. Tell Rahm you won't give up!"
The next stop was a march through the neighborhood, north on Kedzie, west on Madison, south to Jackson and back to Marshall, which is at Adams and Kedzie in the heart of Chicago's "West Side".
Parents and children waved from doorways and windows cheering as the parade marched by. Chants and songs filled the air as the group wound its way through the neighborhood with a parade of dogs, babies in strollers, children on bicycles, children holding signs supporting their teachers, families marching with teachers, cars honking and police offering their support. There were endless signs and banners with school names, slogans representing nurses, teachers, parents and students, each one more colorful and creative than the last. When the parade returned to Marshall the crowd milled around chatting with each other.
Despite the rapid pace of the past three days and more to come, the crowd continued to gather and gradually trickled away as folks went home to rest up for tomorrow. A crowd that should have been exhausted was ready to take on the next event. And the story continues…..
