'SCAB FOR CHILDREN' is born... Scab 'Astroturf' group (Stand for Children) gets complete Robo-Call list of all parents...Scab for Children backs CPS and Mayor One Percent, attacks CTU in phony 'Tele Town Hall' on evening of Day Three
George N. Schmidt - September 12, 2012
It was the evening of Day Three of the Chicago Teachers Strike of 2012. I had made dinner (when your wife is a picket captain at a large real Chicago public high school, that's a good idea) and was watching "The Harlan County Wars" (Holly Hunter et al) with Sam (sixth grade at O.A. Thorp) and Josh (second grade at Thorp) so they could get a better sense of how difficult some strikes could be and how there is never an excuse for being a scab.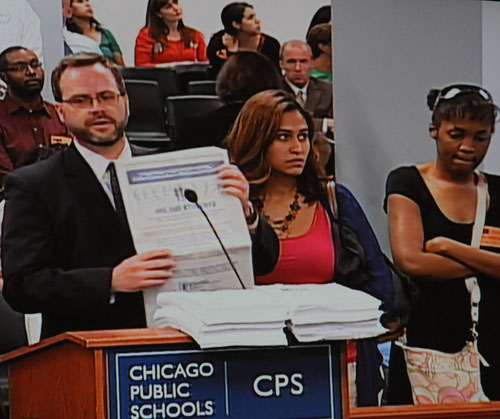 Michael Butz (holding papers) took the time during the April 27, 2012 meeting of the Chicago Board of Education to present the Board with support letters, supposedly signed by CPS parents, for the "Longer School Day." Butz, who told the Board he is the parent of a child at Disney Magnet School, was one of the "parents" featured on the "Stand for Children" Tele Town Hall on September 12, 2012, when Stand lied about the CPS deficit and the state of negotiations and asked parents to protest to the Chicago Teachers Union. With Butz, above, is Rebecca Nieves-Huffman, who alternately represents "Democrats for Education Reform" and "Education Reform Now" in front of the Board of Education and in Chicago media (where she has been given more Op Ed space than any teacher this year). Stand for Children, Democrats for Education Reform, and Education Reform Now! are all "astroturf" groups — phony grass roots groups who actually get millions of dollars from the billionaires who are trying to dictate school reform. Billionaire Board of Education member Penny Pritzker alone raised more than $300,000 for "Stand for Children" during the last ten days of 2010, during the time when "Stand" was helping dictate the Illinois "Performance Counts" law that became the union-busting law "Senate Bill 7." Substance photo by George N. Schmidt.And suddenly, my phone rings and its our old "friend" Mary Anderson. Anderson, a lawyer who used to work for Illinois Attorney General Lisa Madigan, is head of that billionaire Astroturf group that calls itself "Stand for Children." Mary Anderson is an Astroturf kind of friend — our actual friend and leader, Karen Lewis of the Chicago Teachers Union, has been calling "Stand" "Stand on Children" since they pushed a thing called "Performance Counts" against the union in Aurora and Springfield back in 2010 and 2011. That push (financed by $3 million from generous parents with names like Pritzker and Crown) helped give us SB7 in Illinois and helped make all this education reform possible.
Parenting is nothing if not multi-tasking, so I had to decide whether to continue with our lesson in scabs or do my parent thing in the "Stand" Tele Town Hall. At the moment I decided to hang out with Mary Anderson, I didn't realize the two would merge before bedtime.
About two hours later, after the end of "Harlan County Wars" Sam said, "That's a great movie...." and I agreed. By the time my time with Mary Anderson and the "Stand" version of my fellow parents was over, however, I was ready to suggest, next time I see Karen Lewis, that we stop calling this outfit "Stand On Children" and from now on call them "Scab On Children."
Why? Read on.
Sharon and I are CPS parents. We are also Chicago Teachers Union members and delegates. Contrary to the lies corporate America has been spreading for a quarter century, most CTU members are also CPS parents. (Anyone who wants to know how that Big Lie about CTU people not sending their kids to CPS schools can ask me sometime; I outed the lie and the liar 30 years ago, but she went on to corporate glory as a pundit and the lie has been part of the corporate conventional wisdom ever since...).
And as a result or our being parents, we had been picked by CPS and "Stand" to be part of a lopsided and rather silly "Tele Town Hall" with "other parents" like us???!
My friend Mary Anderson (whom I had met at a couple of meetings of the Chicago Board of Education before she stopped ducking those leaving the "Stand" public work to this Ivy League guy with the bullet head named "Juan Jose Gonzalez") wanted me to be part of their "Tele Town Hall" about the strike. She didn't ask, actually, but just beamed me up, Star Trek sort of style, into "Stand" land. And Voila! the Schmidt family, after a day when all of us had been on the picket lines, was part of another Astroturf rendering into an alternative reality, where Friends of Rahm get to meet the last six "parents" in Chicago who "opposed" Chicago Teachers Strike of 2012.
How could I say "No." The last "Tele Town Hall" or two I'd taken the time for had been real call in shows, one sponsored by the CTU and the other by the ever-electronic Jean-Claude Brizard. And in each, CTU members or parents (in our family, adults are both) were actually able to call in and ask real questions in real time.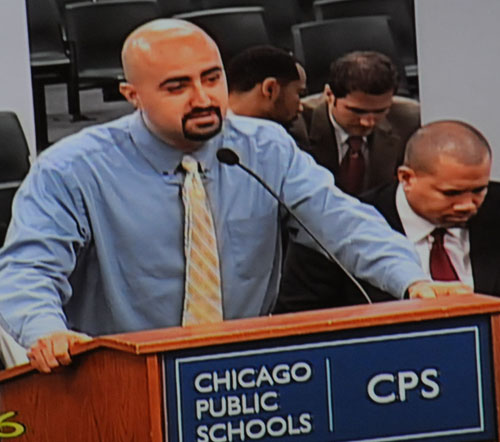 Stand for Children's Juan Jose Gonzalez speaking to the April 25, 2012 meeting of the Chicago Board of Education. Substance photo by George N. Schmidt.And within two minutes, I had lots of questions, especially for the "parents" who were out there in cyberspace narrating the woes forced on them and their children by the CTU and the strike. Each one finished and then we were zapped to the next one, without any chance for a question, so I was taking notes as fast as I could. One of the "parents" I was listening to was a guy named Michael Butts (they don't spell their names, and I wasn't allowed to interrupt) who said he had a kid at "Disney" and he wanted the strike to end and wanted us to ask the CTU to end it. I had seen Butts speak on behalf of "Stand" at some Board of Education meetings (they had a handful of parents who seem to enjoy being in front of the microphones, and they always make sure they have their diversity in politically correct lines). But no sooner had Butts finished then we were all whisked away to the next parent, who also wanted CTU to STOP! This parent was "Cindy Simmons" who supposedly has a child (or children) at Goodlow and wants all of us parents to call CTU and demand that the union call of the strike.
Ms. Simmons was gone before I could ask a question when I began to realize that I wasn't going to get to ask any questions. "Stand" had other notions of how democracy works. There was what used to be "A pause for a word from our sponsor" at which Stand for Children told me if I wanted to send a message to the CTU telling my brothers and sisters in the Union to STOP THE STRIKE all I had to do was "PRESS ONE." Unlike most of these menus, there was no "PRESS TWO TO ASK A QUESTION" or 'PRESS THREE TO TELL THE BOARD TO STOP LYING" or any other "options." "Stand for Children" was giving me just one parental option in this one "PLEASE PRESS ONE NOW."
And then we were back with my fellow parents about how bad things were. A guy who said his name so fast I couldn't get it told me that it was (apparently) the teachers' fault that his kid (at a school whose name wasn't provided either) had missed 85 and a half days of school in first grade and was therefore behind by second grade, and it was obviously the fault of the teachers' strike that the kid, apparently now in third grade, was falling further behind. As most fans know, Stand's position on all things educational is that the fault of any problem (including a kid who is truant for more than 12 weeks of school in first grade) is BAD TEACHERS. According to this guy, the strike has "handicapped" his child's ability to catch up now that he is in third grade (at that school whose name I didn't catch; they say these really fast). Then I heard from a guy named "Jose" who speaks for "Stand" and told me that CPS has been very generous, but that CTU just isn't telling us any facts. According to Stand's Jose, the latest CPS offer has been a 16 percent pay raise, a five-month reassignment pool for teachers who lose their jobs, and maternity leave are among those things CPS has generously offered, and which the CTU has crudely rejected. Jose also told me that CPS has a "665 million deficit."
I couldn't wait to ask "Jose" about those Stand for Children facts, but there was no way a parent could talk back at this point. We were being force fed Stand's facts and then told to "PRESS ONE" to send a message to CTU against the strike. "All we've seen is rhetoric from CTU," Jose assured me. Then it was back to the "parents" while this parent waited for the button to ask a question and Sam said from the background "This is a really good movie..." as the Holly Hunter character in "Harlan County Wars" got herself locked up with her kids for blocking scabs on the UMWA picket line during the 13-month Harlan County strike of 1973 - 1974. That was a very bad moment for "parent" Michael Butts to return to assure me that he really likes teachers. Honest. "We support our teachers," the Disney parent told me. But, he went on, we have to face "economic reality" and the facts are that CPS is being really nice about evaluations and recall rights and my fellow parent Michael didn't understand why the teachers (whom he really really supports) were striking his son's school and picketing down there by Lake Michigan.
Then another 'PLEAE PRESS ONE NOW' interrupted. If I hadn't been paying attention and taking notes, I might have pressed one thinking I could ask Jose some questions about that "Deficit" claim Stand had just made. Or ask Mr. Butts why he was getting a few facts crooked, if not downright wrong.
But it was not to be.
The Stand for Children September 12, 2012 Tele Town Hall, which ad been co-sponsored by CPS (how did they get our home phone number) went on to tell me:
'ALL WE'VE SEEN IS RHETORIC FROM CTU..."
And then send me back to PRESS ONE NOW. And in case I'd missed it, the final words were.... "We are asking parents to press one now to call on the union leadership to end the strike now..."
And then it was over. No chance for any parent who got the call and stomached the Tele Town Hall to ask any questions of "Stand" and its panel of "parents." No chance to ask about those "deficit" lies or that crazy version of what CPS had offered.
Meanwhile, Sam was still wearing his CTU tee shirt and watching Holly Hunter in the Harlan County Wars. "This is a really good movie," he said again.
"Sorry I was busy," I said. "What's going in in the movie?" The miners and their wives and supporters were behind one pickup truck with guns aimed at a convoy of scabs behind some other trucks.
"Dad," Josh said, "the miners only have pistols, but the scabs have rifles and shotguns..."
Sam and Josh had spent part of the summer learning about hand weapons, although not in preparation for the strike. In Harlan County Kentucky, we were reminded in the movie, everyone was legally able to carry a weapon, so the union organizer with the pistol in his belt was acting legally — as were the scabs, one of whom later murdered a picket...
The boys wanted to know whether I was going to be able to watch the rest of the movie with them, which I was. Right until the miners finally voted to accept a contract after a 13-month strike. Then Josh, Sam and I had a brief discussion of what a contract was. I told them that was what their mother and thousands of union teachers would be enforcing once we had voted to agree to one and end our strike. "Who was that on the phone?" they asked again, as we were finishing the part of the movie where the characters explain why they are "Local 1974" of the United Mine Workers of America (UMWA). That answer is similar to explaining why the Chicago Teachers Union is "Local One" of the American Federation of Teachers (which is what it says on Sam's CTU tee shirt).
And then we were back to why I had to miss some of the movie with my sons as Day Three of the Chicago Teachers Strike of 2012 ended.
"Who was that on the phone, Dad?"
"Just some group called 'Scab for Children' that gets lots of money from rich people, like the scabs in the movie we just saw..." I told them. They really didn't want to hear any more about that part of our evening. So I told them the story about how in one CTU strike some scab inside the Lane Tech Scab Center had called the police and told them that I had threatened the scabs with a gun from the CTU picket line (it was during the 1987 strike). "Did you rally have a gun?"
The cool guy answer would have been "Yes," that I was doing a CTU picket line like those miners and wives in "Harlan County Wars." But the truth was "No." The police had received one of those anonymous phone calls and had to frisk me and check my car and our picket line after that scab call. All they found was a box of .38 caliber Dunkin' Donuts, some .9 mm Maxwell House coffee (in 2012 we're serving Chock Full 'o Nuts). I asked them for the name of the complaining witness. As you know, cops can't arrest you unless they've seen the violation (they hadn't seen me with a gun) or there is someone to sign a complaint (it had been an anonymous call, just like scabs do...).
"Scab for Children." That's just one of those groups that bring in scabs when union workers go on strike.
