STRIKEWATCH: Feminist pioneer is 'proudly wearing red'... Gloria Steinem announces her support for Chicago teachers strike
George N. Schmidt - September 10, 2012
At around the same time CTU President Karen Lewis was confronting more than 50 reporters from Chicago and around the USA about the Chicago strike, the CTU was hearing from one of the pioneers in the 20th Century fight for justice. Gloria Steinem announced her support for Chicago's teachers.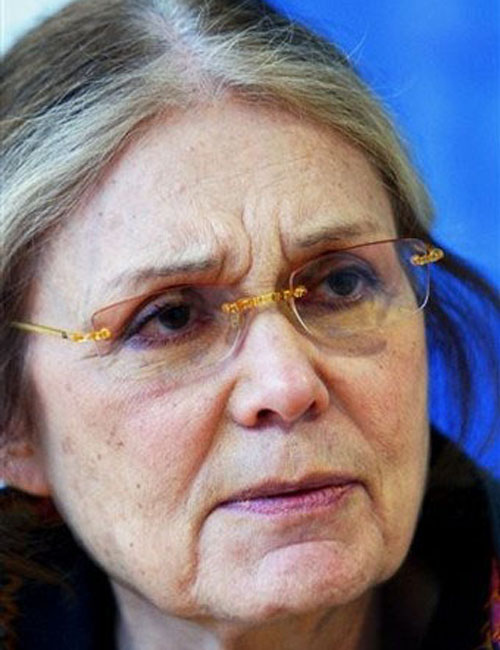 Feminist pioneer Gloria Steinem told the CTU on September 9, "Tonight I proudly wear red..." in support of the Chicago teachers' strike of 2012. Gloria Steinem supports teachers in Chicago strike.
Sunday, September 9, 2012
For Immediate Release
NEW YORK CITY –
Gloria Steinem, Co-Founder of the Women's Media Center, released the following statement this evening:
"Tonight, I proudly wear a red t-shirt in support of the Chicago Teachers Union strike. They have been forced to strike — for the first time in 25 years — by the false economy of firing and penalizing the experienced teachers most needed by the students and by new teachers; by lengthening the school day as warehousing without educational services, healthy school buildings, and paid teachers; by what they have the knowledge to call the "apartheid-like system" of differential discipline policies; and by what seems to be a national tactic of demonizing teachers in order to turn public schools into corporate profit centers.
"For instance, three years ago, a Stanford Study found that 'students in charter schools are not faring as well as students in traditional public school.' I'm glad to see that in a recent poll, twice as many Chicagoans trusted the Chicago Teachers Union, not the Mayor, when it comes to public education.
"As an 87% female workforce, and one that is nearly half African American and Latino, the Chicago Teachers Union know what their students need. This is why this country needs unions, collective bargaining, and mayors who recognize, honor and fairly pay the people our children know – and who know our children." Steinem continued, "I join my colleagues at The Women's Media Center, in calling on the media to ensure that women are part of this story — as teachers, parents, union members, and as journalists."
Gloria Steinem, is an author, organizer and co-founder of Coalition of Labor Union Women and the Women's Media Center. She is also proud to be a member of SAG-AFTRA and the Authors Guild.
The Women's Media Center was founded in 2005 by Jane Fonda, Robin Morgan and Gloria Steinem. The Women's Media Center works to make women and girls visible and powerful in the media and level the playing field. It does this through media advocacy campaigns, media monitoring for sexism, creating original content, training women and girls to participate in media, and connecting women experts with the media. The Center has offices in Washington, D.C., and New York City.
For more information, contact Cristal Williams Chancellor, WMC Media Relations Manager, cristal@womensmediacenter.com or 202-642-2962.
###